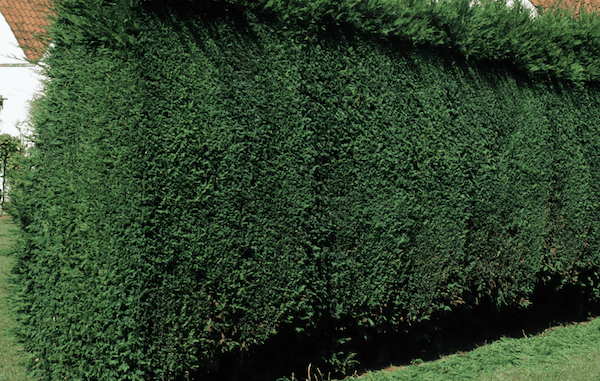 Best known for privacy and security, the Leylandii is arguably one of the best conifer trees you could ever have. Not only does it suffice where traditional fences won't, but also adds a natural touch to your landscape.
If you seek a fencing solution that is well-suited for any weather, here is everything you need to know about Leylandii.
Not your ordinary Conifer
Commonly known as the Leyland, this tree originated from Britain and was first introduced as a hybrid between two species. It is championed for its hardy nature and dense foliage, hence making it a favourite to many in the U.K.
Growing up to 3 feet every year, the Leylandii doesn't wait around to deliver your desired results. However, its fast-growing rate has brought about mixed reactions from the general public ever since its existence. Friends and neighbours have fallen victim to disputes caused by the length of Leylandii hedges
Given its sensitivity, you have to be cautious about planting it appropriately. As you read on, you will discover credible pruning strategies to maintain an environment-friendly Leylandii.
Adaptation and Uses of Leylandii
Whilst many use the tree primarily for outdoor purposes, Leylandii can be planted in different forms to suit people who would rather nurture the smaller version of it. The three forms are:
Bare-Root
Involves digging off a young Leyland from the field during the winter period. Soil is completely shaken off the roots and tree is replanted elsewhere for different adaptations. Pretty ideal for creating small fences.
Root-Balled
Contrary to the bare-root, this version keeps all the roots intact. The roots are covered by sacks to retain the soil, then planted carefully in any desired location. It is mainly used to create tall boundaries, but not as tall as normal Leyland trees.
Pot-Grown
For enhanced growth, you could opt to grow Leylandii in a container. After the plant is well-established, you have the choice to replant it outside or maintain it as an indoor plant. According to previous studies, this is more successful when done in warm conditions.
What most gardeners don't know is that the Leyland has a specific type meant for growing hedges. They are cost-efficient for small-scale gardeners and provide a strong root system.
In addition, you could also get the Golden Leyland Cypress; a type of Leylandii that grows at a slower rate and has an amazing golden colour throughout Summer and Spring.
Other noteworthy reasons for planting Leylandii
Minimal maintenance all-year long
High resistance to pests and diseases
Takes a wide range of planting positions and environments
Its compact design helps reduce air and noise pollution, whilst acting as a windbreaker
Livens up the environment by providing shelter to birds.
Your ultimate goal as a gardener should be- experiencing the best out of your Leylandii trees. To achieve this, you need to study the surroundings and understand the different variations involved.
In case the sharp-pointed conifer fails to meet your environmental conditions, a superior alternative would be the Western Red Cedar. It is equally attractive, has a rich brown texture, and doesn't grow as tall as the Leylandii. By far, it is much easier to maintain.
Cultivation and Nurturing
One of the best things about this shrub is its evergreen nature. As a result, it maintains its foliage throughout the year.
For starters, the Leyland can grow in a variety of soils (loam, chalk and clay soils), but thrives best in well-drained soils. Exposing Leylandii to full sunlight brings out the best in them. Nonetheless, they could also thrive in partial shade.
Unfortunately, they grow taller during windy conditions. But you don't want your trees toppling over to the neighbouring premises. The only way to mitigate this would be to prune frequently. People living in sheltered sites have nothing to worry about; the trees will be less likely to exceed the normal size.
Here's how to plant Leylandii hedges effectively:
Always ensure the ground drains water evenly to prevent stunted growth. At the same time, it should not drain faster than usual. Adding drains and organic matter helps solve drainage issues.
For easier maintenance, always plant each tree 18-24 inches from each other. There is no deeper regret than having trees fighting for space. Digging a trench could also do the job. You are at liberty to choose what you want.
There is no special way of doing this. Mixing some quality farm manure inside the dug holes gives you a better shot at superior hedges. However, it is important to mix the compost evenly, as its rich nutrients can damage the root system.
Planting the trees in the holes
Basically involves placing the trees in the trench/holes, ensuring the stem is above the soil. Planting too deep can destroy the tree in the long run.
Regular watering and putting stakes in the ground will help to support the tree as it grows.
Pruning and Maintenance
Most farmers and gardeners are used to trimming the fast-growing tree once per year. However, it is advisable to do it twice or thrice; just to be on the safer side. Ideally, you would have to deal with fewer clippings when you prune more often.
Once the Leylandii attains your desired height, you should cut off the tip. This encourages the bush to grow at the base and helps develop a solid hedge. For trimming tall hedges, the most recommended tool is the long reach hedge trimmer, but a normal garden shredder could also work.
The ideal time for trimming is summer and spring, to give way for new foliage during winter. Cutting too far could render the tree useless, as it may fail to regrow; a mistake made by many gardeners.
After pruning, you don't have to worry about disposing of the chippings. Simply mix them with compost and use them for mulching.
Precautions and Additional tips
You could opt to improve soil nutrition by using fertilizer; though not essential.
Always remember: it is easier to prune twice a year, rather than waiting a few years to perform rigorous pruning.
Letting your Leylandii overgrow will only lead to disputes with people; always have your neighbours in mind. Maintain an average height of 6 feet.
Don't mistake well-drained soils with water-logged soils. The latter could damage your trees.
On the whole, the longer your Leylandii, the more precautions you would need to take. Maintain a reasonable size to have an easier time.
FAQs
Can Leylandii roots cause damage to buildings?
Leylandii roots maintain a height similar to the size of the tree. The longer your tree is, the longer the roots. This, however, does not mean they can damage a building. The only buildings that can be affected are the ones built before the 1950s since they currently have weak foundations.
Where can I get Leylandii seeds or cuttings?
Leylandii seeds are rare and therefore not used for planting. Instead, you could buy cuttings from online stores such as hedginguk.com, or borrow from a friend. Through the forms of planting discussed above, you should be in a position to do it on your own.
(Visited 1,614 times, 2 visits today)