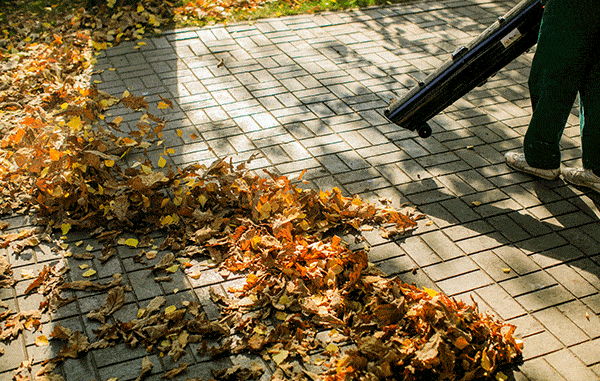 Autumn: the season of blue skies, misty mornings, beautiful sunrises and a bright red glow in the sky as the sun sets at the end of the day. Sound perfect? It very nearly is, but it's also the time of year when you're no longer able to see your garden lawn, driveway, patio or borders thanks to the ever-growing carpet of dead leaves; fallen blossom; and other windblown garden debris that has blanketed your outdoor area!!!
With leaves strewn every which way, your garden can be left looking messy. Garden cleanup is a necessary evil but a leaf vacuum is guaranteed to make the job quicker and easier.
The best leaf vacuums are a must-have piece of kit. They suck up dead leaves; shred, grind and mulch them into tiny pieces, before storing them in a detachable bag, which can then just simply be emptied into your garden waste bin, or onto your compost pile.
Although it's not a job any of us particularly enjoy, it's important to clear dead leaves and other garden debris off your lawn. If left, the decaying matter will limit the amount of sunlight the grass is exposed to and can harbour diseases, which in turn will affect the health of your lawn and can be difficult to get rid of once they have taken hold. If you want a healthy green lawn come next summer, you need to keep your garden clear over the colder months.
Best Pick Leaf Vacuum
Bosch ALS 2500 Electric Garden Blower and Vacuum
Variable blowing speed up to 300 km per hour for light sweeping to remove sticky, wet leaves
2500 W motor gives powerful performance with up to 800 cu m per hour volume flow rate; adjustable handle and padded shoulder strap for comfortable use without pain in shoulders or arms
Long working time thanks to shredding ratio 10:1 - more compact leaves for composting. Variable airflow speed: 280 - 300 km/h
Lightweight 3.2 kg (blowing function) and 4.4 kg (vacuuming function) for effortless collection of garden foliage
Collection bag with zip and second handle for easy emptying, 45 litre capacity means less time emptying
Last update on 2022-05-07 / Images from Amazon Product Advertising API / As an Amazon Associate I earn from qualifying purchases
Only got 5 minutes
Once you've established that leaves in your garden are a problem, the first thing you'll find yourself asking yourself is 'Do I need a leaf vacuum or a leaf blower?'
The main difference between leaf vacuums and leaf blowers is that blowers only move the leaves around – the removal of the leaves you'll have to do manually.
Leaf vacuums effectively 'suck up' dead leaves into a detachable bag or lightweight box, which can then simply be emptied into your garden waste bin.
There are leaf blower vacuums which include both functions and will change between modes with just the touch of a button.
Leaf vacuum Vs leaf blower
| | | |
| --- | --- | --- |
| | Advantages | Disadvantages |
| Leaf vacuum | You don't need to spend time picking the leaves up manually | Unless you have a powerful model, there may be occasions when the vacuum struggles to pick up wet and/or a large volume of leaves Some can be tricky to switch from blow to vacuum mode |
| Leaf blower | Typically quicker and easier to use than a leaf vacuum Less susceptible to damage as they don't internalise garden matter | Doesn't pick up leaves |
If you're happy that a single function leaf vacuum is capable of clearing your garden with just the one mode, that's great, however, if you're still undecided, then a leaf vacuum combi model is likely to be just what you're looking for.
The best leaf vacuums will be combi models: 2-in-1 or 3-in-1 models allow you to switch between blowing, vacuuming and mulching modes, meaning no leaf is safe as you have a mode for shifting even the most stubborn garden waste.
2-in-1 blower/vacuum combi models tend to have blow and vac tubes which are lay parallel to each other; changing modes takes nothing more than the flick of a switch. Not only is this convenient, but it also gives you a better chance of clearing particularly stubborn blockages by changing from vac to blow mode.
3-in-1 models enable you to:
Blow your leaves into a tidy pile
Vacuum up the leaves
Fit more leaves into the collection bag, before emptying them into the bin as garden waste, or fertiliser onto your compost pile
Once you've decided on a single/multifunctional leaf vacuum, you then need to consider the following factors to narrow your search down when it comes to choosing the brand and model that's right for you:
How big is the outdoor area I'll be using my leaf vacuum to clear?
Handheld or backpack – how much weight can I comfortably handle?
Electric, petrol or cordless?
Storage space
Desirable additional features
Budget
Warranty
There's a lot of brands and models out there claiming to be the best but be wary of cheap, lightweight models. The best leaf vacuums are capable of clearing sodden, dense garden leaves easily. What you definitely don't want is a vacuum not fit for the purpose that struggles to pick up even damp leaves and 'leaves' you thinking a sweeping brush and shovel would have been the quicker, easier option!!! Spending that little bit more on a robust, highly-powered leaf vacuum is likely to make clearing your garden easier, quicker and stress-free.
Best Budget Leaf Vacuum
Last update on 2022-05-07 / Images from Amazon Product Advertising API / As an Amazon Associate I earn from qualifying purchases
Types of Leaf vacuum
Cordless
If you have a relatively small garden, patio or driveway, you are likely to be able to get away with a cordless leaf vacuum. These have a run time of roughly 15 minutes on a fully charged battery. Movement is unrestricted as there are no cords or cables to slow you down or get in your way.
Electric
Electric leaf vacuums are ideal for clearing larger outdoor areas as they have a constant source of mains power. They're usually lightweight due to them not having to carry their fuel/power, which means easy carrying and stress-free manoeuvrability. The best electric leaf vacuums tend to generate significantly less noise than petrol vacuums – ideal if you have neighbours you don't want to disturb, young children, napping or you're sensitive to noise.
Petrol
Petrol leaf vacuums are significantly more powerful than electric or cordless models. They're heavy-duty and so are the preferred option for larger gardens and professional use. As with any petrol-fuelled machine, they're fairly heavy and the engine can be quite noisy, so before buying, check you're able to carry the weight comfortably and consider investing in a pair of ear defenders if you intend on using the vacuum regularly or for long periods of time.
In terms of running a petrol leaf vacuum, you'll, of course, need to keep a supply of fuel and oil and make a point of having it serviced regularly, just as you would a car, to keep it running efficiently. As with any petrol machine, the better care you take of it, the longer it will last.
Number crunching
A leaf vacuum needs a decent level of power to do its job well, particularly if it's a combi model. So, when comparing models, it's worth casting your eye over the numbers – compare the air volume and airspeed levels of several models before deciding on the one that's best for you.
The greater these numbers, the easier you're going to find your garden clear-up so, unless you're looking for your leaf vacuuming to substitute a session at the gym, you want the highest air volume and airspeed you can get for your money.
Air volume is measured in cubic feet per minute (cfm) and will give you an idea of how capable the machine is in terms of breaking up and lifting heavier garden matter that has accumulated on your turf, like heaps of wet leaves or piles of dirt.
The faster the airflow speed, the more powerful the result. Measured in mph, the best leaf vacuums come with variable speeds so you can choose which suits you best. You'll need a high setting to vacuum stubborn garden waste such as leaves caught between decking boards or wet, dense garden material.
Additional features
The best leaf vacuums will make clearing autumn leaves a breeze.
The following features/accessories can make a huge difference when it comes to ease of use and the time it takes to clear your outdoor area:
Carry straps/shoulder strap
Leaf vacuuming, especially when working on a large area, can be a laborious, tiring job. The best leaf vacuums will come with padded shoulder/back straps which distribute the weight of the vacuum so you're able to work for longer without your arms aching.
Wheels
Some vacuum/blower/mulching combi models come with handy wheels which makes them easier to manoeuvre and move in and out of storage.
Mulching blades
If you've gone for a mulching leaf vacuum, look for a machine that has metal, rather than plastic, mulching blades. Metal blades are more hard-wearing than plastic and are less likely to snap or chip if you accidentally vacuum something other than leaves or other soft garden matter. As well as the material, make sure the mulching blades are easily accessible – in the case of a blockage, you need to be able to access the blades easily and safely.
Leaf vacuum collection bag
It's worth looking at the size and quality of the garden waste collection bag on the leaf vacuum models you're considering. You want a good-sized, hard-wearing, waterproof bag, which is easy to empty and detach/attach from the vacuum housing.
Compact design
Ideally, your leaf vacuum will need to be stored inside for most of the year so it's protected from the cold and wet. If you do need to store your vacuum outside, ensure it's protected with a snug-fitting waterproof cover. Whether inside or outside, most of us only have limited storage so look for a compact model, ideally with a detachable hose and/or nozzle, which can be stored in a garage, shed or outbuilding without taking up too much room.
Leaf vacuum safety guidelines
Check your outdoor area is clear of hazards like branches, rocks and toys before you begin.
Avoid using your leaf vacuum on a windy or wet day: either of these conditions can make the job much more stressful, and in some cases more dangerous, than it needs to be. Wait for the weather to calm down before attempting to clear your garden.
Secure long hair, and either remove or tuck in any long, baggy clothing or jewellery that could get caught in the vacuum.
Wear eye, ear and hand protection – goggles, gloves and ear defenders are recommended, particularly if you're using your leaf vacuum for long periods.
Be aware of your surroundings – to avoid accidents, ensure that family members and pets stay a safe distance away from where you're working.
Avoid using your leaf vacuum when your feet aren't firmly on the ground – it is not advisable to use your leaf vacuum when stood on a roof or ladder.
Take notice of any unusual smells or sounds coming from your vacuum. Should your vacuum start sounding or smelling different than normal, switch it off and contact the manufacturer?
If you have a mains-powered leaf vacuum, always remember to cut the power supply i.e. unplug the vacuum when not in use or when changing attachments.
Best of the Rest
Last update on 2022-05-07 / Images from Amazon Product Advertising API / As an Amazon Associate I earn from qualifying purchases
Sale
Flymo PowerVac 3000 3-in-1 Electric Garden Blower Vac, 3000 W
Powerful, easy to use garden blower and vacuum with 16:1 shredding ratio
Innovative conversion system and 10 m cable
Ideal for easy clearing or leaves and garden debris
The distinct tool-less quick-change feature easily converts from blower to Vacuum
Last update on 2022-05-07 / Images from Amazon Product Advertising API / As an Amazon Associate I earn from qualifying purchases
VonHaus 3 in 1 Leaf Blower - 3000W Garden Vacuum & Mulcher - 35 Litre Collection Bag, 10:1 Shredding Ratio, Automatic Mulching Compacts Leaves in Bag with 10m Cable
THE ULTIMATE TIDYING TOOL – The VonHaus 3000W Leaf Blower is ideal for tidying lawns, patios, driveways and more. Its powerful 3000W motor blows, vacuums and mulches leaves into material suitable for composting. Please note this product is corded not cordless, it features a long reach 10m cable.
MULCHING FEATURE – The garden vacuum compacts leaves in the generous zipped 35-litre capacity collection bag at a shredding ratio of 10:1, which means less time spent emptying the bag and more time making your garden clean and tidy.
IMPRESSIVE FLOW RATE – Its powerful performance delivers optimum efficiency and ensures your garden will be looking neat and tidy in no time.
HARNESS & WHEELS – Includes a shoulder strap harness and wheels allowing you to work in comfort for prolonged periods, a 10m power cable, as well as a thermal cut-out safety feature. Dimensions: (L) 119 x (W) 17 x (H) 32.5 cm. Weight: 3.56kg (although as the collection bag is filled the product will feel heavier).
PERFORMANCE – For optimal performance use on dry leaves. When used on wet leaves the outlet into the collection bag can be prone to blocking. This would need manually unblocking by switching off and unplugging the leaf blower. Removing the collection bag and clearing the blocked outlet. MANUFACTURER 2 YEAR WARRANTY INCLUDED
Last update on 2022-05-07 / Images from Amazon Product Advertising API / As an Amazon Associate I earn from qualifying purchases
Frequently Asked Questions
What is mulching?
Mulching is the shredding of leaves and other garden foliage by plastic or metal blades into tiny pieces. The mulching process allows you to collect more waste before having to empty the bag of your leaf vacuum. The higher the mulch ratio, the better – this means you're able to collect more in one go e.g. a mulching ratio of 3:1 means you can collect 3 mulched leaves for every 1 un-mulched leaf, meaning you can fill the bag to 3 times the capacity you would be able to if you were vacuuming the leaves without mulching.
Breaking the leaves down also speeds up the decomposition process – ideal if you'll be throwing them on your compost pile when you're done
How much do I need to pay for a decent leaf vacuum?
Leaf vacuums start at around £25 for a basic model. The more functions and extra features a vacuum has, the more you'll pay, with the very top models going for around the £300 mark. Combi models are the most expensive – the higher the airspeed, air volume and mulching ratio values, the more power you're getting and this means a higher price but you are, in effect, getting two or three garden tools in one.
Will my leaf vacuum harm the environment?
If you go for a petrol leaf vacuum, like any engine that burns fossil fuels, fumes and emissions will be generated, which can be harmful to the environment. However, many models now come fitted with specialist filters, which result in significantly fewer exhaust fumes being emitted whilst maintaining increased levels of fuel efficiency – this reduces the negative impact on the environment.
(Visited 418 times, 1 visits today)