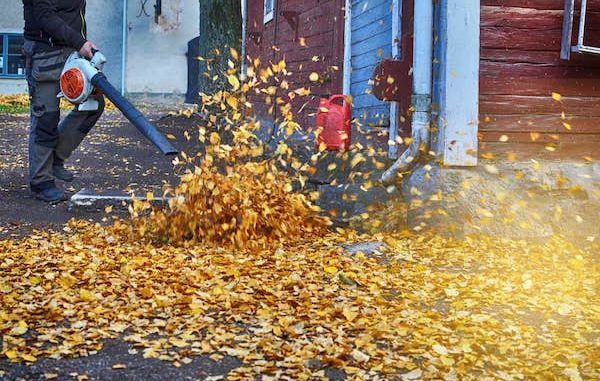 Leaves covering your garden is the burden that many garden lovers have to deal with. They discolour your decking and paving, and turn your lawn into a muddy mess! Yet no matter how many times you go to the effort of trying to sweep or rake them up, they fall back down just as fast! It really is the most thankless task!
If this sounds familiar, and winter seems a long way away, with all the leaves removed from the trees, then a leaf blower is definitely a necessary purchase for you and for your garden! This invaluable tool will save you hours of work, by simply blowing all of the leaves in your garden into a pile, making them so simple to dispose of! Our article aims to provide you with everything you could need to help make your purchase of a leaf blower a smooth one!
Best Pick Leaf Blower
Last update on 2022-05-16 / Images from Amazon Product Advertising API / As an Amazon Associate I earn from qualifying purchases
Only Got 5 Minutes?
Although choosing the right leaf blower is crucial, we also understand that the longer it takes you to make your purchase, the more leaves you have falling into your garden and taking over! Finding the best leaf blower for you is crucial as one that is not suitable for your garden, or for you could lead to the job taking even longer, you having to replace your leaf blower, you giving up completely and resorting back to raking your garden!
We have put all the main information you could need in this part of the article so that you can get out purchasing your leaf blower as soon as possible!
Fantastic Features!
Regardless of what style or model of leaf blower you are considering purchasing, there are some main features that you want to look for in all models…
Power – The power of leaf blowers is often advertised in two ways (which can make it a little confusing for anyone new to the leaf blowing world! Cubic feet per minute (CFM) is how far the leaf blower can push the leaves in the area you are working with. Whereas miles per hour (MPH) is how fast the leaf blower can push the air out of the nozzle. One without the other will not make the best leaf blower for you so it is important to understand how they both work…..

The higher the amount of both CFM and MPH the better (but you also need them to be close together!)

BOTH are necessary for the best leaf blower, so you are better going for lower amounts, that are closer together, than a high CFM with a low MPH, or vice versa.
Nozzle size – It is best to look for a leaf blower with a narrow nozzle, the narrower it is the better able it will be to blow the leaves away. It is also easier to control where you are sending the air – and the leaves!!).
Handles and straps – Chances are if you are considering purchasing a leaf blower then you have a considerable number of leaves to remove – which means you are going to be using your leaf blower for a reasonable amount of time each use. This means you need to find a model with comfortable handles and straps, to make holding your leaf blower easier and avoid fatigue.
Noise level – Leaf blowers are not the quietest of tools, and choosing one that is particularly loud will dramatically affect your experience with your leaf blower (and your relationship with your neighbours!). Make sure to look for a model which offers reduced noise levels!
What to Look For
Here are the main things that you need to consider before purchasing the best leaf blower…
Corded or cordless models?
Most leaf blowers on the market are cordless, as this will allow you to move around your garden as you please, removing the leaves from even the furthest of corners. However, some electric cordless models only have a battery life of around 20 minutes, meaning that you will have to buy a second battery! There are some corded electric models available on the market for if you are wanting something with that bit more power.
Petrol or electric?
Petrol leaf blowers usually have a longer lifespan and will be better able to tackle larger jobs (such as a large number of wet leaves that are harder to move). Equally, petrol leaf blowers will save the problem of having to be connected to mains electricity or having to charge batteries (although you will have to remember to buy fuel). But try to remember that electric leaf blowers tend to be quieter, will vibrate less and are easier to maintain than petrol leaf blowers. So make sure to consider what is most important to you!
Best Budget Leaf Blower
Cordless Leaf Blower Werktough 20V B001 with 3.0A Battery and Fast Charger Leaf Sweeper Blower
1.A great family DIY gardentools, although not suitable for professional big jobs which you need some much bigger size and drived by gasoline or electricity,also very expensive.This is a perfect tools for small light jobs,powerful blower with very light portable weight,fast charger,good quality battery.It is also can perform a good job on deck.If you are for family use,you will never disappointed and we really wish you enjoy good working fun.
2.20V cordless blower Li-ion battery 3000mAh,fast charger
3.Max blower velocity:180 km/h , Max air volume:5m3/min,No-load speed:13000 rpm
4. light,ergonomic joyful design with soft grip handle
5. 2 years warranty and battery are sharing with other cordless machines
Last update on 2022-05-16 / Images from Amazon Product Advertising API / As an Amazon Associate I earn from qualifying purchases
Weight
The weight of your leaf blower is important because, for most models, you are going to be carrying it around whenever you want to remove the leaves from your garden. The point of buying a leaf blower is to make your life easier, not harder if you're having to carry a particularly heavy tool! Handheld models tend to weigh around 4-5kgs, whereas backpack models weigh between 8-9kgs. Heavy-duty walk-behind leaf blowers are considerably heavier – upwards of 40kg! Although you are not having to carry this type of leaf blower you will still be having to push it, so it is still important not to go for a model that is too heavy if you are wanting to use it for extended periods of time.
Type of leaf blower – handheld, backpack or walk-behind
When purchasing a leaf blower you have three types to choose from. The right one for you and your garden really depends on how many leaves you are having to remove and how big your garden is.
Handheld – Handheld leaf blowers are arguably the quickest to get working with and the easiest to use – just pick it up and go. You will benefit from being able to move it around to get into all the smaller places and corners that are hard to access, as it is not attached to your back. However, you could end up with sore arms if you are completing a longer job! In general, they are the least powerful of leaf blowers, but they will still be able to work on most average-sized gardens.
Backpack – If the garden that you are going to be working with is larger, and you have a lot of leaves to deal with, then we would definitely recommend a backpack leaf blower. They are easier to move around and leave you able to work for longer as the weight of the leaf blower is spread through your back, instead of just your arms. You will also tend to find that the motor and mechanisms are more powerful. But they aren't perfect! Backpack leaf blowers won't be suitable for gardens with lots of tight spaces as it will be harder to get into these spaces with the device on your back.
Walk-behind – Walk-behind leaf blowers are really only needed for commercial use or very large gardens! They are essentially a big fan on wheels that you can push along your garden, allowing you to move almost any debris left in your paths, such as damp leaves and rubbish! They are a lot more expensive, and require more maintenance so you need to be sure that such a big device is necessary before purchasing!
Blow and vacuum combined
Some leaf blowers come with leaf vacuums included as a feature. You will be able to attach a bag onto the back of the device and then switch between blowing the leaves into a pile and vacuuming them up into the bag on the back of the device. They will usually be more expensive but offer you the best of both worlds! The fact that It is so simple to switch from one mode to the other, means that you can get your work completed in half the time, whether it be blowing leaves close to your bins/compost heap, or simply vacuuming up leaves that are further away! If you can afford the extra cost then this is definitely something to consider.
Leaf Blower Maintenance
It is important to make sure that you complete regular maintenance to your leaf blower if you are wanting to be able to rely on it year on year. We have provided information below to help keep your leaf blower in tip-top condition. Following these simple steps will prepare your leaf blower to be ready to be stored away for winter! Remember that preventing anything from going wrong with your leaf blower is better than having to pay for repairs. we would recommend starting it up occasionally during months when it is not needed to allow the motor to run and stay in good working order.
Make sure to remove any debris or dirt from around the leaf blower (particularly if it is a blow and vac combined model).
Make sure to empty the fuel tank as much as possible before winter. Don't worry about wasting the fuel left in your tank – we have a solution! Simply add a fuel stabilizer, mix it, and then empty the tank into a container. This will help to preserve the fuel so that it can be used again when you next need your leaf blower.
Once you have removed all the fuel, make sure to restart the leaf blower and keep it running until it is fully empty of fuel.
What is Right For Me – a Leaf Blower or a Leaf Vacuum?
Leaf blowers will save you a huge amount of time when trying to rid your garden of leaves, but they aren't perfect for everyone. Leaf blowers will do exactly what they say on the tin – blow your leaves wherever you want in your garden. Admittedly this will be done considerably faster than doing it by hand with a rake but you still have to then pick up your leaves to dispose of them! A leaf vacuum will save you having to do this, as it sucks up the leaves into a bag, which you can then simply empty.
Both devices will be suitable for different homes and people, so it is important for you to think about what is right for you…A leaf blower is usually quicker and easier to use, but a leaf vacuum will save you time in the end. But remember that you will have to take the time to keep emptying the bag if you have a large number of leaves that have fallen. It is worth mentioning that leaf vacuums can be prone to getting blocked and can sometimes struggle to suck up damp leaves or can even suck up things that you don't want them to!
Best of the Rest
Last update on 2022-05-16 / Images from Amazon Product Advertising API / As an Amazon Associate I earn from qualifying purchases
Hyundai HYBV26 26 cc Petrol Hand Held Blower/Vacuum
Lightweight, versatile machine that can be used as a blower or vacuum collector
Integral shredder mulches vacuumed debris to maximise collection bag capacity
Powered by a Hyundai 26cc easy-start two stroke engine producing 0.9hp
Robust fabric collection bag with delivery spout adds minimal weight to machine
Supplied as standard with single over-shoulder support harness for vacuum operations
Last update on 2022-05-16 / Images from Amazon Product Advertising API / As an Amazon Associate I earn from qualifying purchases
Last update on 2022-05-16 / Images from Amazon Product Advertising API / As an Amazon Associate I earn from qualifying purchases
Frequently Asked Questions
What warranty comes with leaf blowers?
Most leaf blower warranties tend to be between 2 and 3 years. Make sure to look for a leaf blower with at least a 2-year warranty – it is important to remember that you are only going to be using your leaf blower for a few months throughout the year, so any less than a 2-year warranty will actually not leave you covered for very much!
What type of budget will I need for a leaf blower?
The prices of leaf blowers can vary in price from around £50 to £500 (although this extreme end of the budget is usually for more commercial, heavy-duty leaf blowers), depending on whether you are wanting electric or petrol and the other features that you are looking for. Although more practical, cordless models will also be more expensive than corded models.
Are there any quieter leaf blowers?
Some leaf blowers have been awarded the Quiet Mark (an internationally recognised award for equipment that is particularly low in noise when in use). This is something worth looking for if you are wanting to avoid using ear defenders or upsetting your neighbours!
(Visited 145 times, 2 visits today)