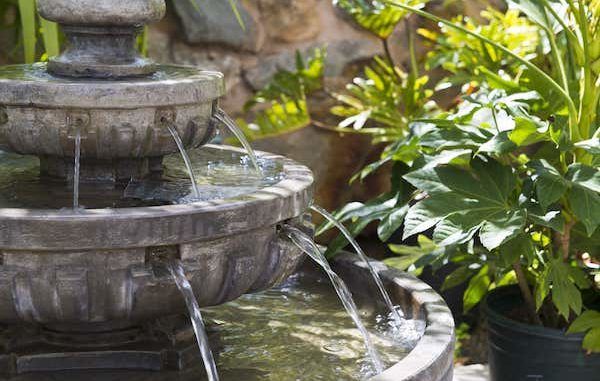 Powered by nothing more than energy from the sun, a solar water feature will add a touch of magic and tranquillity to your outdoor area. Whether you have a large or small garden, a veranda, a backyard, balcony, or terrace, there's a solar water feature out there to suit your space, surroundings, and style of garden.
A solar water feature is not only aesthetically beautiful, creating a stunning visual display, but the sound of running water is also well-known for its therapeutic properties – it's well-documented that the presence and sound of flowing water have the power to calm and soothe, helping to lower blood pressure and heart rate. It's also proven to have a positive effect on mental health, being regarded as an effective natural stress reliever. Whether you're just having the best day, suffering from low mood or depression, or just need somewhere to relax and get away from it all, your garden is your haven and a solar water feature would be the ideal addition to your special place.
Decoratively appealing; versatile; attractive to wildlife; and leaving no carbon footprint are just some of the reasons why anyone who enjoys spending time in their outdoor area should invest in a solar water feature. Add to those the fact that the only outlay you'll have to make is for the feature itself, seeing as a solar water feature generates all the power it needs from the sun, and it's a win-win situation!
If the idea of putting your feet up and relaxing in your garden on a warm, hazy summer evening, glass in hand, is sounding more and more like just what you're looking for, then you're definitely in the market for a solar water feature.
Best Pick Solar Water Feature
Solar Water Feature Terracotta Cascade Water Feature With Solar LED Lights
2021 Model with 2.5W solar panel and 200LPH pump: Genuine ceramic terracotta solar water feature
LED light included - great for night time use. Includes battery charger and mains indoor power adaptor
Solar powered - highly economical with Battery backup in case of emergencies
Makes an ideal gift or present. Auto 3 hour per 24 hour timer included
360mm (w) x 310mm (d) x 530mm (h)
Last update on 2022-07-17 / Images from Amazon Product Advertising API / As an Amazon Associate I earn from qualifying purchases
Only got 5 minutes
Solar-powered Vs mains powered
So what makes a solar water feature so much better than mains powered?
Straightforward installation – just add water
No cables or wiring
Low maintenance
Environmentally friendly
Energy efficient
Zero running costs
A solar water feature is powered solely by energy from the sun. The solar panel and water pump are connected. Once the panel is exposed to sunlight, a voltage is generated which is then directed to the pump, powering the submerged impeller inside. It's as simple as that.
Picking your water feature
There is a huge range of solar water features available in different styles and sizes. Whether you're buying your solar water feature for your backyard, balcony, decking or pond area, traditional or contemporary, there's no doubt you'll be able to find a solar water feature that's in keeping with the style and feel of your outdoor area, and one which is aesthetically pleasing and to your personal taste.
There is a range of styles available with the majority made from rattan, resin or stainless steel – chosen for their durability and ability to withstand even the harshest of British winters.
The best solar water features are also fitted with LED lights giving you the option of illuminating your solar water feature at night or during the darker months.
Key consideration points
Appearance
When it comes to choosing a solar water feature, looks most certainly do matter!!!
You're going to want to choose a feature that complements the layout, design and existing features in your garden, whether this be by choosing an eye-catching, unmissable 'Look at me!' design, which serves as the new focal point for your outdoor area, or by going for a more understated, natural design, which is in keeping with your existing garden layout.
Sound
It's important to choose a solar water fountain that has the tone and noise intensity that you're looking for, as this does vary significantly between models and is dependant upon the feature's size and power capacity. Be clear how much you want to be able to hear your water feature – are you thinking of a bubbling stream? Running a bubble bath? Or just a faint rain trickle that's only audible when you're in close proximity to the feature?

You're going to be spending lots of time listening to your solar water feature and so it's a good idea that you take the time to listen to the noise it makes before you make your final decision on the model that's right for you.
Best Budget Solar Water Feature
How does a solar water feature work?
So you've decided a solar water feature is going to be the next addition to your outdoor area. You start shopping around and then… stop. All this talk of energy from the sun's rays and impressive energy efficiency is all well and good if you lived anywhere but the UK!!!! For a minute you forgot you lived in good old Blighty – the country known for its rain; it's cold; and its cloud-cover! How on earth, on a dark, dismal December day, is your poor little solar water feature supposed to generate any power when the chance of it actually seeing any sunshine is slim to none??!!
And breathe. Panic over. Manufacturers of solar products are well aware that here in the UK we're somewhat limited when it comes to the sunny weather and they've designed their products with this in mind. The best solar water features will have solar panels capable of detecting sunlight even in winter – granted, they may not perform at quite the level they do during an August heatwave, but they should still continue to work.
There are also solar water feature models available that have the option of battery backup – the solar panel is separate to the water feature and so can be placed anywhere in your garden – ideally where it's exposed to maximum sunlight. The battery will then store the solar energy until it's needed, meaning your solar water feature should continue to work well into the evening or when cloud cover is dense.
Choosing the best spot for your solar water feature
Deciding on where your solar water feature is going to live is something you need to decide before making your final decision and clicking the 'Place Order' button. A solar water feature can be positioned anywhere outdoors where it will have access to sunlight. The spot you choose will likely depend on whether you want your solar water feature to stand out or be more inconspicuous, and obviously where it's going to be exposed to the most sunshine.
If you want your solar water feature to seamlessly blend into your outdoor area, find a spot amongst your existing garden features and planting arrangements, where it can be seen and appreciated but doesn't appear awkward. It's tempting to tuck your solar water feature away under an overhanging willow tree or cherry blossom but this isn't a great idea – not only will this limit the amount of sunshine the solar panel's exposed to, but you'll also find falling leaves and branches collecting in and around your feature, blocking your view, muffling the sound and potentially causing damage to the pump in the case of a blockage.
If you don't want your solar water feature to be a shrinking violet and you'd prefer it has centre stage in your garden, then use existing pathways, solar lighting, or plant pots to subtly direct attention to its position.
Installation
So, after some deliberation, you've chosen the ideal solar water feature; decided on the perfect spot for it, and you're ready to get it set up! You can't wait to be sat on your recliner, enjoying a glass of something cold and crisp, listening to the gentle hum of free-flowing water but hold fire. Not so quick. Most water features need a little bit of preparation before they're up and running and emitting their calming and healing vibes!
A solar water feature should come complete with its own set of manufacturer instructions however in general, there's a simple 3-step process you'll need to follow in order to get your solar water feature up and running.
If there's an exterior solar panel, connect it to the water feature.
Charge the solar panel in direct sunlight for a minimum of 8 hours.
Connect the water pump to your solar water feature, taking care to check that the pub is fully submerged.
Once it's up and running, the only thing you'll have to take care of is the occasional water top-up in dry weather. If you're going on holiday over summer, or don't always remember to check the water level, look for a model with a dry run protection pump or consider purchasing one separately.
Best of the Rest
Sale
Last update on 2022-07-17 / Images from Amazon Product Advertising API / As an Amazon Associate I earn from qualifying purchases
AMUR SOLAR WATER FEATURE STREAM WATER FEATURE WITH LED LIGHT 230V STONE DESIGN ORNAMENTAL FOUNTAIN CASCADE WATERFALL OUTDOOR FOUNTAIN FOR GARDEN BALCONY & HOME ENJOY THE LIFE
Due to the Brexit law that came into force since this year, all of our products with a price greater than 135 GBP are subjected to an import tax. For this reason, in order to receive the product it will be necessary to pay this tax which in most cases we will reimburse for the most part. Please note that this is a new UK regulation that we have no power to influence
Incl. 3 shells: upper shell with pump connection (L52 x 42x H8.5 cm) and two large extension shells (each L41 x W41 x H8.5 cm) made of weatherproof POLYRESIN
Ready-to-use outdoor fountain with 230V/12V connection, ready for immediate use
Incl. PUMP: Power 3.6 Watt, flow rate max. 800 l/h, head max. 1.3m | Incl. LED light with COLOUR CHANGE! Always the perfect catch!
DECORATIVE - PROMOTING HEALTH - USEFUL: The soothing sound of the water gives each environment a special touch, improves the mood, invigorates the senses, provides a pleasant microclimate on hot summer days.
Last update on 2022-07-17 / Images from Amazon Product Advertising API / As an Amazon Associate I earn from qualifying purchases
Frequently Asked Questions
What is a dry run protection pump?
Typical pumps continue to run even when the feature is low on water or completely dry, causing the pump to burn out. Dry run protection technology forces the pump to turn off when the water level gets too low. This protects the life of the pump.
Is a solar water feature good for the environment?
A solar water feature does not harm the environment as it is not powered by fossil fuels but by renewable energy from the sun. This is not only good news for our planet but good news for your bank account too as you won't be having to pay out for electricity bills or maintenance costs.
How much does a solar water feature cost?
Whilst the initial cost of a solar water feature is likely to be slightly higher than a similar mains powered model, the money you'll save in the long run will soon offset that initial extra amount as there'll be no ongoing electricity bills or regular maintenance. You're paying a one-off amount for a beautiful addition to your garden whilst at the same time looking after the environment. It's a win-win situation.
(Visited 1,479 times, 1 visits today)