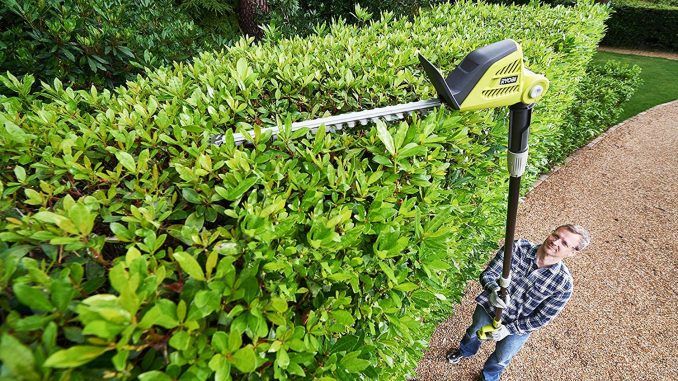 Rated as one of the best cordless hedge trimmers, the Ryobi One+ OPT1845 hedge trimmer is an ideal buy for every homeowner who wants to cut through branches and taller hedges with ease. This hedge trimmer has more to offer than other more expensive trimmers from other brands.
Ryobi Hedge trimmer- What's in the box?
In addition to the Ryobi cordless trimmer itself, the OPT1845 ships with the following:
Pole hedge trimmer
Extension Pole
Hedge sweep
Performance
We all love DIY projects. A ladder here, a hedge trimmer there, and the top of the hedge is done. Right? Yearly, over 40,000 people in the UK are rushed to hospital following ladder accidents around their homes. Ryobi has come up with a solution to lessen these accidents by developing the OPT1845 hedge trimmer. This trimmer comes with removable poles.
These poles help extend the trimmer up to 270 cm. This allows you to trim the top of hedges safely and efficiently without using a ladder. The OPT1845 has a sturdy handle that comes fitted with a trigger. This trigger allows you to turn on and off the equipment even while wearing heavy duty gloves.
The handle includes a feature that allows you to plug in a Ryobi One+ 2.5 Ah lithium battery that is responsible for powering this hedge trimmer. The battery provides excellent runtime. When the battery is fully charged, you can work continuously for up to 1 hour while doing demanding tasks. Ryobi batteries come with onboard fuel gauges that indicate the charge level.
This helps you to know when you need to take a break and recharge the battery. The good news is, you can use the battery to power other Ryobi devices. Unfortunately, this product does not come with the lithium battery. You can purchase it, separately, together with the recommended 18V one+ compact charger.
The versatile 45 cm blade allows clean cutting. The 18mm blade gap allows this blade to cut large branches easily. This helps to save the money you would have used on tree pruning services. Most users commented that after they were done trimming, the fence looked stunning and even. No branches popping above other branches.
The Ryobi OPT1845 One+ is integrated with a 135° articulating cutting head. This rotating head allows you to position the blade in 4 different ways. This means that as you trim the top of the fence or branches on a tree, you can position the blade according to the cutting need.
The Ryobi OPT1845 cordless hedge trimmer is well-built, easy to use, and reliable.
Ergonomics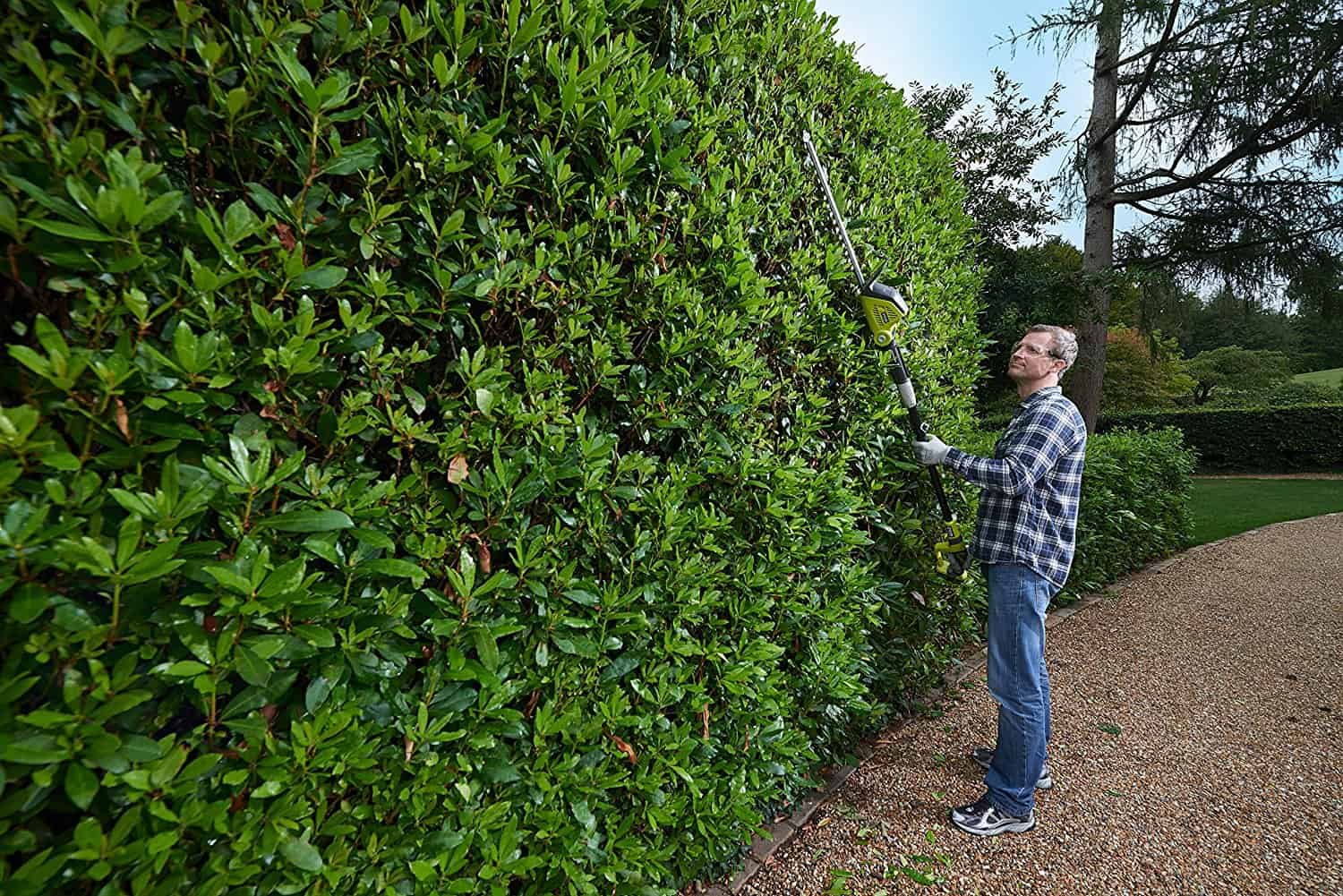 To efficiently use the OPT1845 trimmer, you need to know how it works. To set up all you have to do is connect the poles, clip in the shoulder strap, and attach the battery. Once you are done pour the Ryobi blade protect into the bar oil reservoir. This oil is responsible for lubricating and cleaning the blade.
After you have filled the reservoir, you can start trimming. Remember to check the oil level as you work. If the blade protects runs low, make sure to refill the tank. This way you protect the blade and motor from damage. The sturdy shoulder straps help support the weight of the trimmer. This helps protect you against backaches, hand cramps, and fatigue.
Cuttings, when they turn brown, are unsightly. So, how do you remove the cuttings after trimming? The OPT1845 trimmer comes with an accessory that Ryobi calls a hedge sweep. This 50 cm product is a plastic shield attachment that is created to remove debris as you trim the tops of fences. Before you start cutting, attach the hedge sweep on the cutting blade.
As you cut, use the hedge sweep to push the cuttings over the edge of the fence. This product is easy to store. All you have to do is dismantle it and store in a shelf in your shed or garage. At Garden Shed Reviews, safety is essential. We recommend that as you use this trimmer remember to use personal protective equipment and stay alert. Do not cut branches larger than 18 mm and remember to service the machine regularly.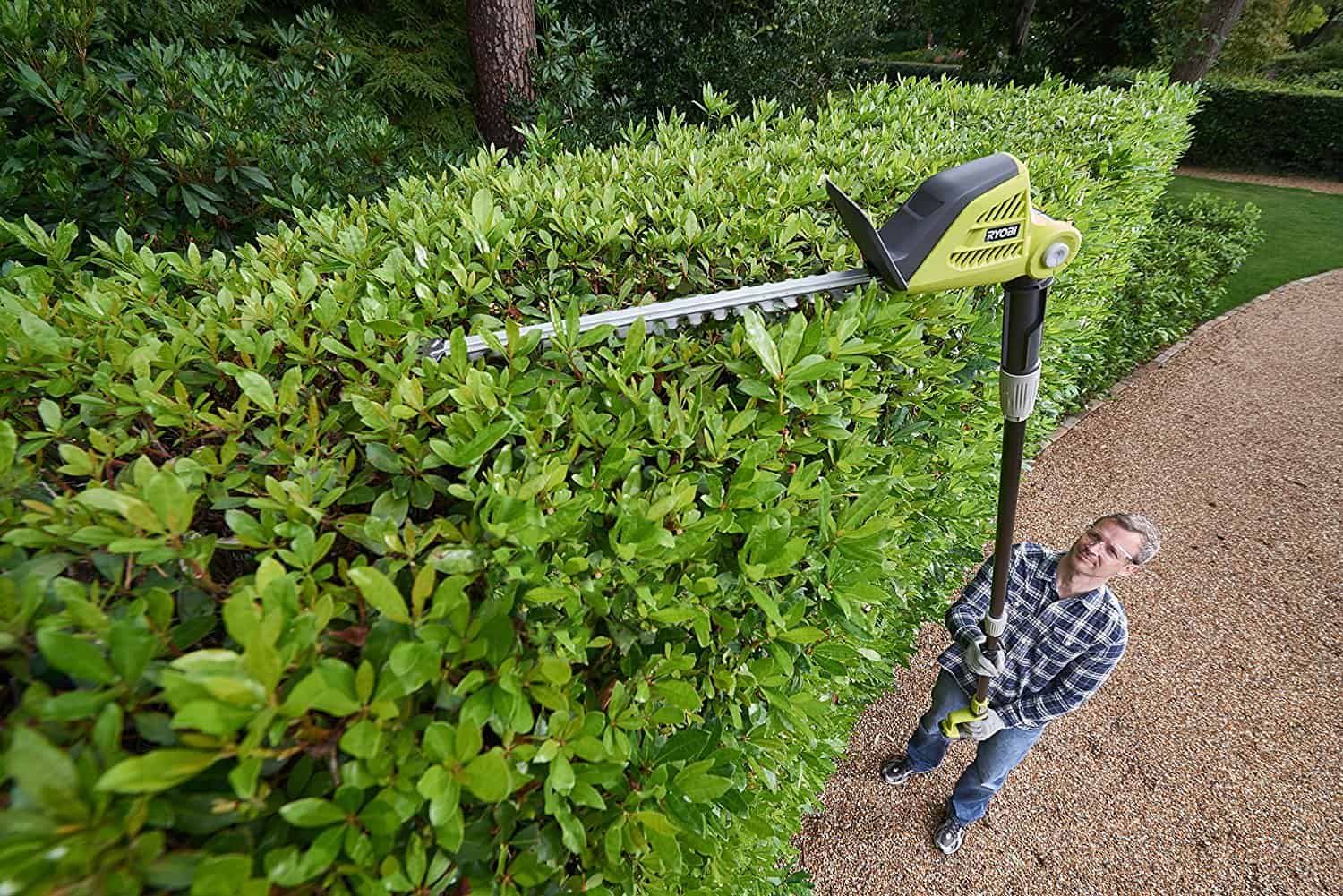 Sale
Last update on 2022-05-02 / Images from Amazon Product Advertising API / As an Amazon Associate I earn from qualifying purchases
Value
As you plan your purchase, it is essential to check whether the product has more value compared to other similar products on the market. We recommend this product because it is from a renowned brand that has made thousands of power tools over the last 20 years. Although the price of the Ryobi OPT1845 hedge trimmer is slightly above the cost of other trimmers, it is still one of the best hedge trimmers you can get.
With this equipment, you don't have to worry about power consumption. The OPT1845 helps you save money by using a rechargeable battery. Another advantage of a cordless trimmer is that you don't have to worry about gas emissions or cords sprawling all over the ground. Also, your movement is not restricted.
Unlike other similar equipment, the OPT1845 comes with an extendable 2.3 metres shaft. This enables you to reach those hard to reach places quickly. Just like other Ryobi equipment, the OPT1845 comes with a two-year warranty. This means that your product is protected for the next two years after purchase. Cool right?
This trimmer is sold as a bear unit. This means that it comes without a battery and charger. If you already have a Ryobi battery, you can use it. If you do not have a battery, consider purchasing one as you get your Ryobi OPT1845 pole hedge trimmer.
Manufacturers Information
Included Equipment
Hedge sweep
Extension Pole
RAC311
Rotating cutting head
Technical Data
Power rating (kW) 18 watts
Dimensions (L x W x H) (mm) 106 x 20.5 x 18.5 cm
Power source – Ryobi lithium 2.5 Ah battery
Weight without battery (kg) 5.5 kg
Colour – Multi
Extension pole- 2.3 metres
Summary
For the last 20 years, Ryobi has been known for creating robust and reliable home and garden power tools, with the OPT1845 being no exception. At Garden Shed reviews, we believe that the Ryobi OPT1845 hedge trimmer is an excellent addition to your home maintenance tools.
Though it is not as cheap as trimmers from other brands, it is still one of the most sought-after trimmers on the market. Users love that the blade cuts clean, the pole is long, and the shoulder strap helps support its weight. We believe that this Ryobi power tool is bound to meet all your trimming needs.
Sale
Last update on 2022-05-02 / Images from Amazon Product Advertising API / As an Amazon Associate I earn from qualifying purchases
(Visited 1,468 times, 1 visits today)
Ryobi 18X33H40 Lawnmower Review
Performance

Ergonomics

Flexibility

Value
Summary
The Ryobi OPT1845 hedge trimmer further compliments their range of Ryobi One+ garden cordless power tools. It is powerful and is a great rival to the Gtech HT20.