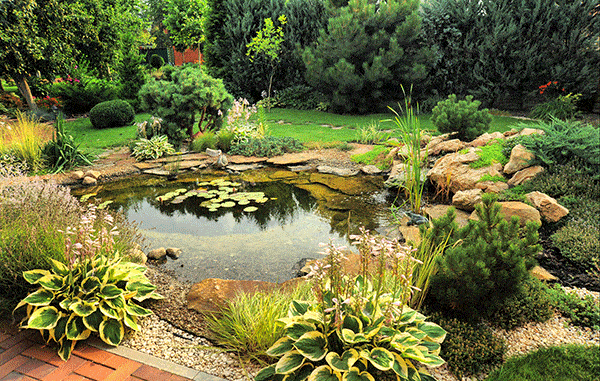 A pond can be a beautiful addition to any garden, whether small or large. Ponds seem to have a way of making every garden just feel more peaceful and relaxed, giving that natural feel to any outdoor area. But it would be impossible to build your pond and keep it in working order without a pond liner.
A pond liner simply lays in the base and up the sides of your pond to stop the water from soaking into the ground around the sides of your pond – and basically disappearing! The fact that your pond liner is so important to even create your pond in the first place, should tell you how necessary it is to select the right one! That is what we are here for – this article aims to provide you with all you need to know about pond liners so that you can go out and purchase the best pond liner for your budget.
Only Got 5 Minutes?
If you are eager to get building your pond, or maybe you've already had a pond liner disaster and are now realising just how important they are – then this part of the article is for you. All the most important information that you could need to go out and purchase your pond liner – and quickly! Remember, pond liners are important not just for keeping water in, but also for keeping roots and rocks out of your pond!
Sale
Last update on 2022-05-09 / Images from Amazon Product Advertising API / As an Amazon Associate I earn from qualifying purchases
What Do I Need to Know Before Buying a Pond Liner?
There are some important things you need to consider before making your pond liner purchase, such as:
Durability – Most pond liners are more than durable enough to complete the job and will last for a significant number of years. However, it is important to consider not just how long your pond liner is likely to last but also how likely it is to withstand rocks being sat on it, or roots attempting to push through from the outside. A pond liner that is of poorer quality and not as durable will only end up costing you more money in the long run if you are regularly having to replace it!
Material – There are many pros and cons of the different types of materials that are used for pond liners – which are discussed in more detail below. The main materials that are used are synthetic rubbers such as EPDM, PVC and Polyethylene. It is important to not just think about the type of material that is used but also the thickness and weight of the materials. Thicker material will normally be more durable and hard-wearing, but this will also be heavier and harder to fit in the first place.
TOP TIP: Textured surface materials will provide a better surface to help grow microbials, which are important for a healthier pond.
Colour – The two most common colours of pond liner are black and blue, however, there are occasional makes and models that come in different colours. If your pond is relatively shallow then opt for a darker colour of pond liner as this will help to make your pond look deeper. Darker materials will also have better UV resistance, which will help them to last longer and help the development of plants and fish in your pond.
Precut, preformed or starting from scratch? There are many benefits (and negatives) about each type of pond liners. Precut pond liners will save you a considerable amount of time, however, they are usually more expensive and leave you with little flexibility to change the shape of your pond once it has been bought. Preformed pond liners are much cheaper and are a lot easier to fit due to them being firm and unmoving in shape. However, this leaves you with no flexibility into the shape of your pond, so may not be suitable for every garden (or every design). Simply buying large pieces of pond liner will leave you with the most flexibility to adjust the shape and position of your pond right up until the last minute. But they are not perfect – it will then be down to you to fit the pond liner correctly and accurately, and also cut away any extra material.
Look for materials that are free from chemicals if you are wanting to put anything living (fish or plants!) into your pond. There are a number of pond liners that have chemicals in the surface that are not harmful to humans but would be harmful to animals or plants that you were trying to establish in your pond.
Which Material Pond Liner Should I Purchase?
The material that you choose for your pond liner will make a massive difference to the experience that you have with your pond liner! Different materials will appeal for different reasons so it is important that you are well informed on the differences before making your purchase!
Rubber/EPDM Pond Liners
Rubber and EPDM (Ethylene Propylene Diene Monomer) pond liners are considerably more flexible than many other pond liner materials that are on the market. They are relatively easy to lay (so good for people that are new to pond liners and installing them). Their flexibility also means that they are better suited to being manipulated to more unusual pond shapes. Not only this but they are reasonably priced. However, they are the "middle-ground" in pond liners – with more flexible and more durable products being available on the market.
Last update on 2022-05-09 / Images from Amazon Product Advertising API / As an Amazon Associate I earn from qualifying purchases
PVC Pond Liners
PVC pond liners are the most flexible on the market, so will leave you with the neatest finish (if fitted correctly) in even the most unusual shaped pond! However, this flexibility does come with the downside of it being more prone to rips and tears – which is the last thing you want! Therefore, if you are opting for a PVC pond liner, we would strongly recommend choosing a high-quality product and fitting a high-quality underlay to be on the safe side too!
Polyethylene Pond Liners
Polyethene pond liners are probably the most durable pond liners on the market (apart from preformed pond liners) so are perfect for gardens with harder, more storey, ground. Many would think that this level of durability would stop the pond liners from being as flexible – but actually this is not the case! Many Polyethylene pond liners are still competitively flexible, easy to fit but also offering that durability needed in many gardens.
TOP TIP: Look for pond liners with a polyester weave as these will be considerably more durable and less likely to tear.
Installing a Pond Liner
After you have dug your hole to the right size for you and your garden, you are ready to install and fit your pond liner. It is important that this is done correctly, as failure to do so could result in all the water being drained from your pond overnight!
Check for any rocks, stones or roots that are still situated in the hole that you have created. These could puncture the pond liner if you are not careful so will need removing.
Carefully manoeuvre the pond liner so that it is covering the hole as centrally as possible. You need to make sure that you have plenty of excess material around the outside of your pond at this point.
Secure your liner around the edges and base of the pond using round, smooth rocks (this is important as sharp rocks could pierce the fabric). Remove as many wrinkles as possible – but be aware that you might have to do this again once you are filling the pond with water.
If you are using an anchor trench (an edge around the top of your pond for the liner to overlap onto) then make sure to secure the liner down on this now using rocks or soil. This is something that we would recommend!
The moment of truth! Start to fill your pond with water and look out for any wrinkles that are forming. These need to be straightened out to give the best overall look for your pond at the end.
Last but not least, use more stones and rocks to add to a more natural look and secure down any edges of the pond liner as needed. At this point, you can use scissors to trim down any excess pond liner from around the edge of the pond. Just make sure to do this carefully so as not to rip the pond liner further than necessary!
Bermuda Sands Moulded Pond Liner 100 litres
Length: 108cm , Width: 82cm, Height: 30cm
20 year guarantee, Integral wildlife escape route, Integral pump stand
No need for liners, Capacity 100 litres
Maximum durability, Manufactured from tough High Density Polyethylene
Ideal for creating a pond life habitat in your garden, Simply dig a hole!
Last update on 2022-05-09 / Images from Amazon Product Advertising API / As an Amazon Associate I earn from qualifying purchases
Frequently Asked Questions
Do I need to fit an underlay before my pond liner?
We would definitely recommend using an underlay before fitting your pond liner. This will help to cushion the base and sides of your pond to protect not just the pond but also the pond liner from any damage. If this sounds like double the work, then fear not – some pond liners already come with the underlay attached as part of one product.
How long do pond liners normally last?
Different qualities of pond liners will last for different amounts of times. However, all reasonable quality pond liners will have a decent life expectancy – with most offering around a 20-year warranty! Some RPE liners (Reinforced Polyethylene Liners) will last for as long as 40 years!
(Visited 568 times, 4 visits today)