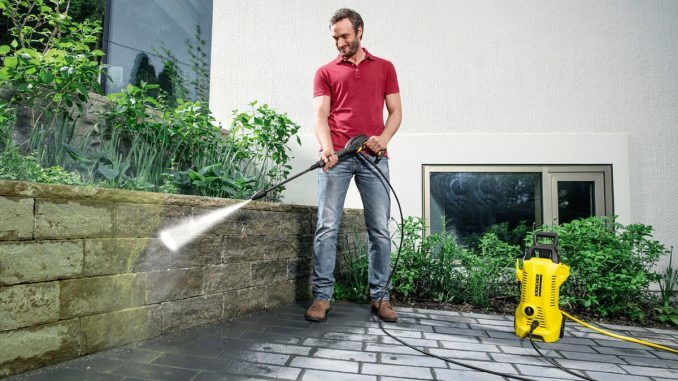 The Karcher K2 Compact is an entry level pressure washer from Karcher. Although it has an entry level price, the Karcher K2 is a full featured unit with plenty of power to get the job done.
Karcher K2 – What's in the Box?
Along with the Karcher K2 Compact Pressure Washer itself, the K2 ships with the following equipment:
4m high pressure hose
Trigger Gun
One way lance
Dirt buster lance
The one way lance is Karchers standard attachment offering good performance in a wide variety of scenarios. The dirt buster lance is a different beast although, it has a rotating pencil jet that delivers upto 50% more power in a concentrated area, cutting through dirt and grime with ease.
The included equipment allows you to tackle the majority of non-specialized jobs. The bonus of picking a well know brand like Karcher is that plenty of spares and extra accessories are readily available.
Performance
Despite the K2 Compact being far lighter in comparison to more expensive units, don't let this fool you into thinking it lacks power. The 1.4Kw max power rating and its 360 litre per hour flow rate will leave you plenty of headroom for even the most demanding household tasks and 110 bars of pressure will make short work of all but the most stubborn dirt and grime.
The K2 Compact is rated for a maximum workload of 20 square meters per hour, which represents a yard or patio of a little over 60 feet by 60 feet or a garden shed twice over. If you have a need to cover a larger area or if time is of the essence, then a more powerful unit may be a better buy, but the Karcher K2 Compact will be more than enough for most people.
The K2 Compact can also be gravity fed from a water butt or similar if available – this can save a lot of water and is a very handy addition to this great value unit. For those without the luxury of a captive water source, a standard ¾ inch garden hose adaptor is included in the box.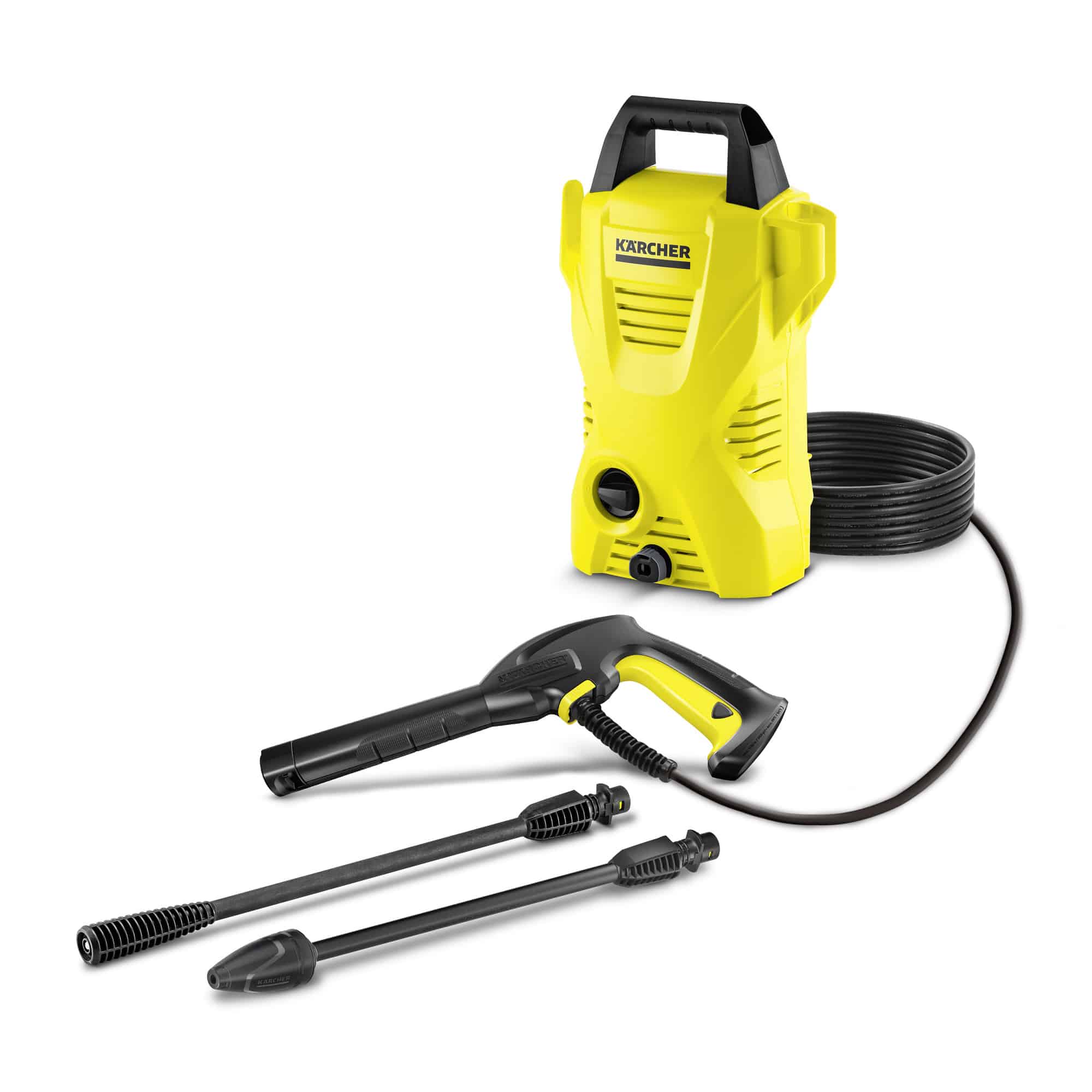 Last update on 2022-05-09 / Images from Amazon Product Advertising API / As an Amazon Associate I earn from qualifying purchases
Ergonomics
At a little over 4kg, the Karcher K2 is a fairly lightweight unit for its size. The integrated carry handle makes moving the unit east, the weight is well balanced so it's comfortable to hold for long durations.
A nice bonus is all of the included equipment can be stored on the device itself, everything has a home. This is in stark contrast to some of the cheaper branded equipment where you'll need to keep a bag or a box for all the addons you get.
This means that transport and storage of the pressure washer is easy and it'll be a lot harder to lose any the important bits and pieces between uses.
Value
While more expensive than other brands entry level models, we believe that the Karcher K2 does offer great value for money.
Karcher pressure washers are hard wearing, high performance units that can be applied, though available specialised accessories to any situation.
Manufacturers Information
Included Equipment:
High-pressure gun, Standard Quick Connect
One-way spray lance
Dirt Blaster spray lance
High-pressure hose, 4 m
Quick Connect on machine
Detergent application via, Suction
Integrated water filter
Adapter garden hose 3/4″
Technical Data:
Pressure (bar/MPa) max. 110 / max. 11
Flow rate (l/h) max. 360 Max.
water feed temperature (°C) max. 40
Current type (V/Hz) 220 / 240 / 50 / 60
Power rating (kW) 1.4
Area performance (m²/h) 20
Weight without accessories (kg) 4.1
Dimensions (L x W x H) (mm) 176 x 280 x 443
Gallery
Last update on 2022-05-09 / Images from Amazon Product Advertising API / As an Amazon Associate I earn from qualifying purchases
Karcher K2 Compact Car & Home Kit
The K2 Compact Car & Home kit contains the same K2 Compact as above but with a few handy extras to get a variety of cleaning jobs done around the home with ease.
As well as the core K2 kit, the Compact Car & Home contains the following:
Home Kit
T150 patio cleaner
0.5L patio and deck detergent
Car Kit
Wash brush
Foam Jet
0.5L Car Shampoo
Patio Cleaner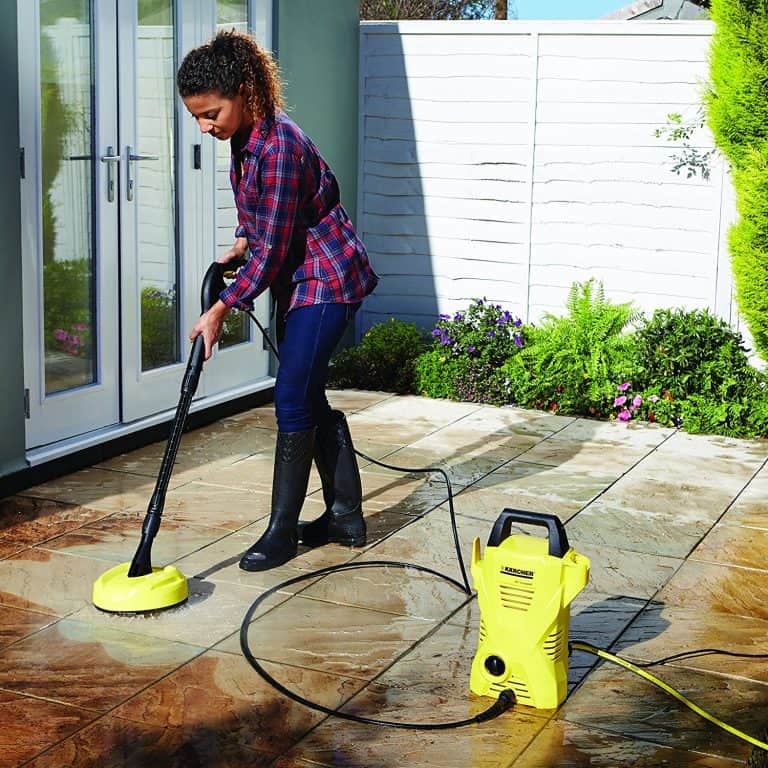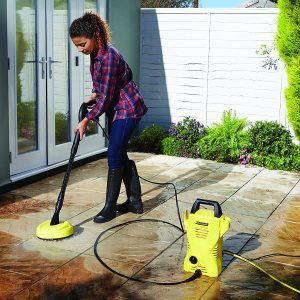 The Karcher T150 Patio Cleaner is a patio and deck cleaning attachment that makes light work of these tricky to clean outdoor spaces. While any pressure washer can be used to effectively clean a patio area, you are going to experience a lot of excess spray going everywhere. If you've ever jet washed a pavement next to a parked car you'll understand what I mean.
The K150 patio cleaner harnesses the power of a pressure washer but in a confined space. This stops the excess spray from getting everywhere. The unit is supplied with an extension piece for the trigger gun and can be used on vertical surfaces such as garage doors and walls with ease.
Wash brush and foam jet
The Karcher Wash Brush is an easy to use attachment consisting of soft, gentle bristles that can effectively remove built up dirt and grime from car wheels or other non painted surfaces.
From experience i'd not recommend using directly on paintwork due to the possibility of scratching, but other hard surfaces will be fine.
The Karcher Foam Jet or Nozzle is a great little attachment for your pressure washer that sprays foam over a wide area making it ideal for washing cars. Simply fill the reservoir with detergent and connect to the pressure washer to make easy work of cleaning large areas.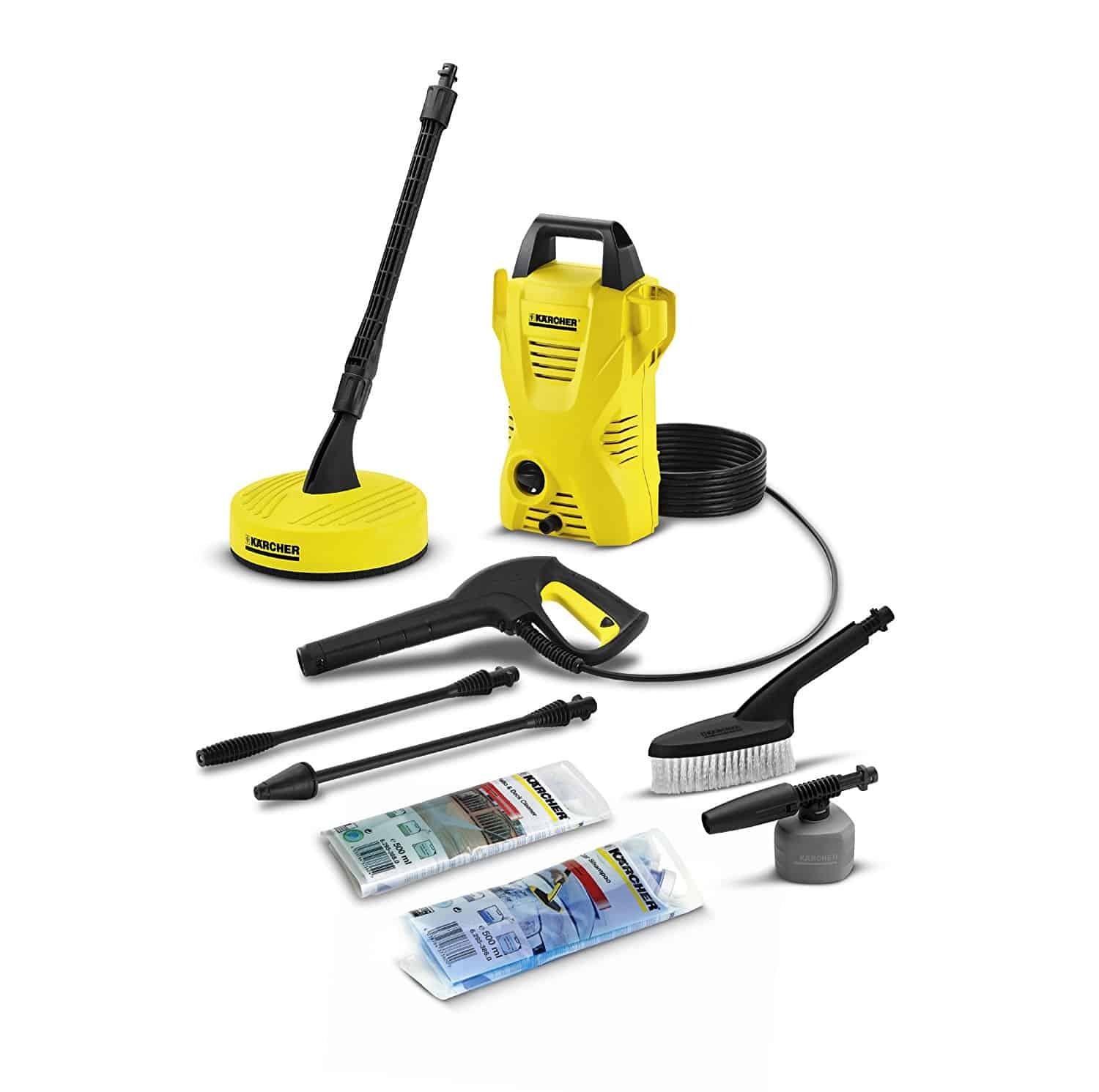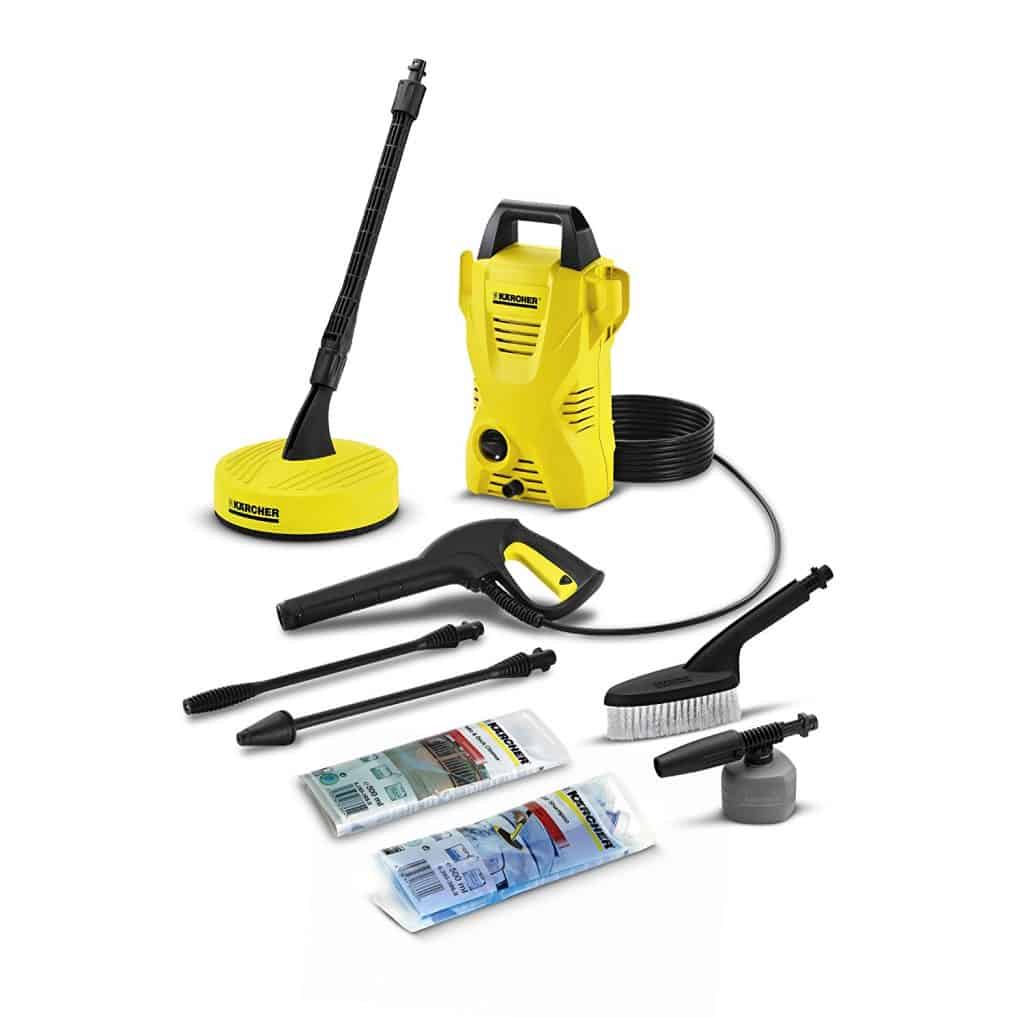 Last update on 2022-05-09 / Images from Amazon Product Advertising API / As an Amazon Associate I earn from qualifying purchases
K2 Compact Car & Home Value
There is no doubt that the K2 Car and Home kit is good value, with savings of £20+ over buying everything separately. The kit contains a number of handy extra attachments that even if you only use them occasionally they'll more than pay for themselves over the life of the product.
Ratings
(Visited 1,448 times, 4 visits today)
Karcher K2 Compact Pressure Washer Review
Performance

Ergonomics

Flexibility

Value
Summary
The Karcher K2 Compact pressure washer represents great value from a manufacturer you can trust. Its capable, compact and easy to use – what more can you ask!