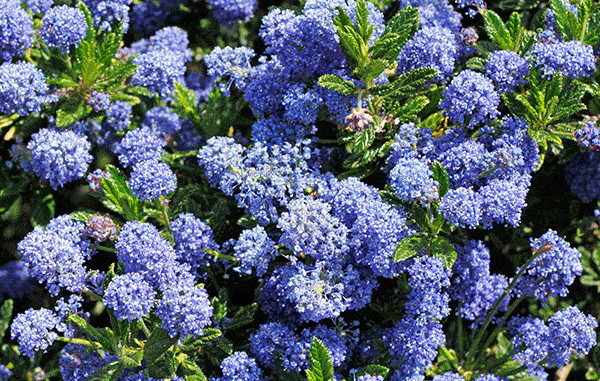 Ceanothus is a smaller, yet beautiful shrub, with glorious sky-blue flowers that bloom for a couple of months through the year. Also known as Californian Lilacs, this plant comes in many forms, all slightly different, but equally beautiful. Growing between 1 and 4 metres in both height and width, there is a wide variety of Ceanothus to suit all gardens!
This article will provide you with all the information you could need to introduce this sun-loving, colourful plant in your garden.
Types of Ceanothus
Before you can start growing Ceanothus, you need to know exactly what variety you want to use! There are many types of Ceanothus (around 55 in total), and although all similar, there are differences that are important to note before planting in your garden. We have listed some of the main types of Ceanothus below – many of which have won the RHS Award of Garden Merit!
Ceanothus 'Concha' – This type of Ceanothus is a thick, evergreen plant.
Ceanothus 'Cynthia Postan' – This plant can be trained up a fence or can be grown as a shrub. Hardier than some types of Ceanothus and also evergreen.
Ceanothus Thyrsiflorus var. repens 'Blue blossom' – This type of Ceanothus is usually found in shrub form but can grow up to 2.5m in the right conditions! It is one of the more hardy, evergreen varieties of the plant.
Ceanothus 'Blue Cushion' – evergreen and with darker blue flowers than the other types of Ceanothus, this plant will definitely stand out in your garden. However, it is not the hardiest of plant so could need protection in winter.
Ceanothus 'Autumnal Blue' – This is a much taller variety of Ceanothus, growing to around 3m in height.
Ceanothus 'Gloire de Versailles' – This Ceanothus plant is a deciduous plant, so sadly won't be as beautiful in winter months, but it is a more hardy type of the plant, so will need less maintenance over winter.
Ceanothus Trewithen Blue – very large variety, essentially a small tree rather than a shrub.
Ceanothus Puget Blue – this type will produce large numbers of flowers when fully grown and is relatively hardy (providing it is protected from strong winds).
Important Dates!
When should I plant Ceanothus?

The best time to plant Ceanothus is around September/October. However, they can be planted in Spring if not too cold.

When can I expect my Ceanothus plant to flower?

Most varieties of Ceanothus will flower in May and June. However, some are more around late Spring.

When should I trim my Ceanothus?

We would advise trimming your Ceanothus around July/August, providing your plant has finished flowering.
How to Plant Ceanothus
Where to plant
As we mentioned earlier, Ceanothus are sun-loving plants, that will always grow more successfully in bright conditions. This is down to their origin as a North American plant. If possible, choose a spot in your garden where your plant will have plenty of sunshine, but also shelter from cold winds. They also need plenty of space so that they can grow to full size and look their best.
Although Ceanothus are suited to the British climate, they do not cope well in overly wet soil, therefore it is important to choose a part of your garden with good drainage.
If you are choosing a climbing variety, that you hope to train up a wall or fence, you will need trellis and other types of support to help your plant grow exactly how you desire.
Planting your Ceanothus
As we mentioned above, choose a part of your garden that is going to be best suited to your Ceanothus and then dig a large hole that is to the depth of the rootball of the plant. We would also recommend adding some grit or organic matter (or both!) to the bottom of the hole to ensure that the soil stays well-drained. When possible, a hole that is three times the diameter of the roots will allow the plant the best chance of growing strong and healthy.
Place your plant into the soil and cover with the surrounding soil (and a small amount of fertiliser). Press down slightly on the soil to secure the plant in place and give it the best chance of holding.
Maintaining your Ceanothus
One of the many benefits of planting Ceanothus is that they require very little maintenance. Once they have reached their full size, Ceanothus plants usually stop growing, so will not require any pruning. However, if your plant is growing too large then a slight trim once a year (after flowering) can help to keep the shrub in check. Just be sure not to cut back too far as the plant may then struggle to regrow.
Ceanothus should only be watered in particularly dry conditions (although slightly more during the first year of it being planted). As the plants can struggle in more heavily saturated soil conditions it is important to not water the plant more than necessary.
For best growth, we would recommend supplementing your soil with some fertiliser once a year (early Spring is best!) however your Ceanothus should be able to cope without this.
Frequently Asked Questions
Are Ceanothus likely to suffer with diseases or pests?
Although not the hardiest of plants, Ceanothus (as a general rule) tend to stay free from most pests and diseases. They can suffer from honey fungus and possibly scale insects but this is unlikely.
Which type of Ceanothus is right for my garden?
In general, Ceanothus is a relatively hardy plant that is used to the questionable British weather! However, if you have a particularly exposed garden then we would recommend choosing a deciduous variety (that lose their leaves in winter) as they will be able to cope better with cold winters. Equally, if your garden is more sheltered, then an evergreen type of Ceanothus will mean that you have the lovely, green leaves brightening your garden all year round!
(Visited 310 times, 1 visits today)