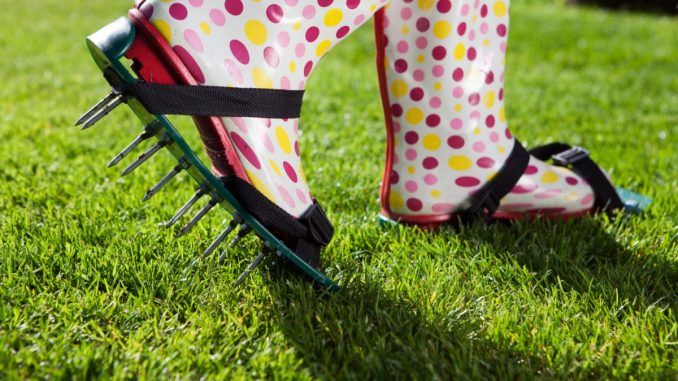 You're looking at your lawn and thinking, 'What's going wrong?'
You feed it, you mow it, you water it during dry spells, but it still looks a little, shall we say, lacklustre. It's not quite as green, quite as lucious, quite got the even coverage you were hoping for this summer. The missing piece of the jigsaw… a lawn aerator.
A lawn aerator combats the problem of compacted soil: soil which has become firmly packed together preventing the roots of your lawn from absorbing the vital moisture and nutrients needed for optimum growth. Aerating your lawn – either by removing small amounts of soil from the ground using hollow prongs, or penetrating the earth using solid spikes, creates channels for air, fertiliser, nutrients and water to pass through, which promotes healthy plant growth and encourages and maintains deep root systems.
Best Pick – Lawn Spiker
UPP Manual Rolling Lawn Aerator | Scarifier Makes Your Lawn Healthier & Greener | Garden Roller With Long Spikes and Manual Operation | Sturdy & Durable
Rolling lawn aerator. 42 cm wide and a diameter of 21 cm incl. nails - length of nails 3.5 cm
Even large lawns are not a problem - a total of 27 nails ensure a good result and aeration of the grass ! Increases the water flow on the roots and grass for better & denser grass growth
Better supply of the lawn roots with more oxygen and thus significantly improved breathing of the lawn. Improves nutrient uptake - Scarify or aerate
100 cm long handle, which can be disassembled with 2 handles for storage - rubberized handle ensures non-slip and easier working
Solid steel construction. Dim.: Handle:110 cm | Roll: 42 cm wide, ∅ 21 cm | 27 Nails each 3,5 cm
Last update on 2021-04-16 / Images from Amazon Product Advertising API / As an Amazon Associate I earn from qualifying purchases
Only got 5 minutes
If it's quick results you're after, a lawn spiker is what you're looking for. It won't break the bank, does't require an awful lot of effort, and isn't particularly time-consuming, yet the results of using one can have make a significant difference to the health, appearance and longevity of your garden lawn. There's a strong chance you'll have that vibrant, lush, healthy green garden after all… just in time for BBQ season!
Benefits of using a lawn spiker
Promotes healthy root growth
Allows the grass roots to absorb more of what they need, when they need it
Improves soil water retention
Helps maintains deep root systems
We often neglect the soil in our gardens; we're too focused on the lawn; the flowerbeds; the features or the decking area. However ,this is a fundamental mistake…
Healthy soil = Healthy plants & optimum growth
Particularly during summer, when the temperature rises and rainfall is limited, soil can become compacted restricting how air, water, nutrients, and fertiliser – all vital when it comes to healthy plant growth.
As with any blockage, the solution is to clear it or go around it – a lawn spiker penetrates compacted soil and creates long, narrow holes, usually between 2 to 6", which effectively serve as passageways for air, water, nutrients and fertiliser to pass through, allowing them to be absorbed by the roots.
Lawn spiker methods
Push-powered lawn spiker roller
Ideal for medium to large-sized turfed areas
The roller is covered with spikes which penetrate the ground
The best lawn spikers will create narrow holes in the earth, approximately 2"+ in depth. These cavities in the soil allow grass roots to freely access air, water, nutrients, and fertiliser, encouraging active growth, even coverage and good colour
Lawn spiker shoes
Best for smaller areas, or a 'busy' lawn where some skilled manoeuvering is required around features; paved areas or garden furniture
Spiked-sole footwear with adjustable straps
Minimal effort required
Caution should be taken on slopes
Deliver a dense spike pattern
Best for people with back issues or limited upper body strength
Handheld lawn spiker
Alternative to lawn spiker shoes – used for small/medium turfed areas
Ideal if storage is limited
Pressure is applied using the handle or foot bar, which pushes the spikes into the ground
Less expensive than roller or push-spikers
Look for a handheld spiker with an ergonomic design
Do I need a lawn spiker?
Your lawn is likely to be in need of aeration if it:
| | |
| --- | --- |
| Reason | Why you should aerate |
| Has clay soil | Clay soil has a low moisture content |
| Is walked on regularly i.e. has heavy footfall | Garden traffic will significantly increase the rate at which soil compacts. |
| Appears bare and/or dry patches are visible | Your grass isn't getting enough air and water |
| Dries out easily and/or has a 'spongy' feel. | This could indicate your lawn has a thatch problem (excessive layer of dead turf material). |
| Is subject to soil layering | Fine-textured soil retains water which can potentially disrupt drainage |
| Going to be reseeded or fertilised in the near future | Can increase the rate at which germination occurs |
| Is boggy | Aeration improves soil water retention |
Best Budget – Lawn Spiker
Lawn Spike Aerator Shoes/Sandals.British designed and manufactured for maximum aeration.
ProSpike premium one-piece lawn aerating shoes
Increases water and nutrient penetration for deeper roots and a greener, healthier lawn
Features a unique conical spike profile producing larger, stronger holes that stay open longer
Includes a non-slip platform, heel support and webbing straps for a secure comfortable fitting
Easy clean & rust free. Manufactured in the UK from super tough rust free nylon for strength and durability
Last update on 2021-04-16 / Images from Amazon Product Advertising API / As an Amazon Associate I earn from qualifying purchases
Spikes Vs Plugs
When shopping around for your lawn spiker, you're likely to see models which use spikes and/or plugs.
Lawn spikers and plug spikers are both methods of aeration and are used to reduce the negative impact compacted soil can potentially have on the health and growth of your lawn.
When deciding which method of aeration is best for you and your garden, you should consider the following:
| | | |
| --- | --- | --- |
| | Plug | Spike |
| Pros | Long-term, improves soil structure Effective at relieving compaction Best for clay soil types Removes soil rather than just penetrating it | Can be used at any time of year Quick results Best for soils that crumble easily and which have a high loam content |
| Cons | Short-term, can have a detrimental effect on the quality of turf; it can take up to 3 years to see a positive effect Ideally needs to be done during the active growing season of your lawn (varies depending on the type of grass(es) you have) Require specific conditions in order to function properly; extreme wet or dry conditions are best avoided Time-consuming | Compaction may occur around the sides of the holes Have a lesser impact on overall long term lawn health than plug aerators Temporary fix Not suitable for clay soil types |
Best of the Rest
Last update on 2021-04-16 / Images from Amazon Product Advertising API / As an Amazon Associate I earn from qualifying purchases
Last update on 2021-04-16 / Images from Amazon Product Advertising API / As an Amazon Associate I earn from qualifying purchases
Fiskars QuikFit Spiker, Tool Head, Width: 20.5 cm, Steel, Black/Orange, 1000689
Lawn spiker for loosening and fine crumbling of light and heavy soils for optimum nutrient supply, Fine crumbling particularly important for sowing
Tool head can be connected to the QuikFit handle (1000663 = QuikFit Handle S) and all QuikFit handles (1000665=QuikFit Telescopic Shaft L/1000666=QuikFit Telescopic Shaft M)
Nine star-shaped blades for optimum tillage, Work efficiently thanks to a width of 20.5 cm
High longevity thanks to high-Steel head, Awarded the Awarded the "Safety Tested" seal, Finnish design
Contents: 1x Fiskars QuikFit Spiker, Tool Head, Dimensions (H x L x D): 10 x 30.5 x 20.5 cm, Weight: 512 g, Material: Steel, Colour: Black/Orange, 1000689
Last update on 2021-04-16 / Images from Amazon Product Advertising API / As an Amazon Associate I earn from qualifying purchases
Frequently Asked Questions
How deep does a lawn spiker need to go?
How deep a lawn spiker penetrates the soil is determined by the length of the spikes; spike length tends to range from around 2 to 6". The general rule of thumb is that as long as your spikes reach a minimum depth of 2", this is deep enough for you to see positive results.
What is the best type of lawn spiker for a large garden?
If you're fortunate enough to have a large garden, consider an electric lawn spiker; they get the job done quickly with very little physical strength or effort required as the motor is the workhorse applying the pressure. The best electric lawn spikers also offer a greater degree of control as they allow you to adjust the depth reached by the spikes, perfect if you have different types of grass and soil in your garden.
(Visited 3 times, 2 visits today)