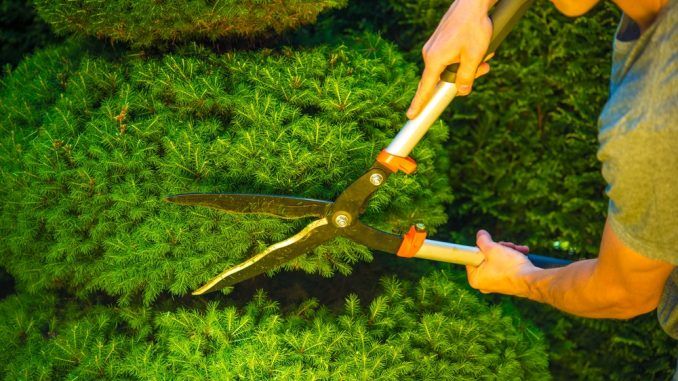 Anyone who has any amount of green in their garden is going to benefit from a pair of topiary shears! Whether you are wanting wild and wonderful creations manicured into your topiary, or just want to be able to keep your hedges nice and orderly…..the best topiary shears are going to be able to help you achieve this goal. Topiary shears are designed to be lighter and easier to work with, whilst still having the strength to cut through a variety of branches. This allows you to trim back your bushes with millimetre precision and with greater ease and comfort!
If this is your first topiary shear purchase – or maybe you already know what to look for but are wanting the best topiary shears for your budget – then our article is here to help. We have included some of the best topiary shears on the market, along with a buyers guide to help you know what to look for.
Best Pick – AIRAJ Hedge Shears
Last update on 2022-05-13 / Images from Amazon Product Advertising API / As an Amazon Associate I earn from qualifying purchases
In A Hurry?
If your hedges are turning into the embarrassment of the street, or maybe you are looking at landscaping your garden and are wanting to change up the design of your topiary. Whatever your reason for looking for a new pair of topiary shears, there are certain things you need to consider and you will find all of that right here…
Size
Most topiary shears are going to be smaller in size than normal garden shears, purely to allow you the flexibility and ease of working with more defined areas and specific branches. Standard garden shears are just for if you are wanting to lob back a particular tree or hedge….whereas topiary shears are for that more precise and intricate work.
That being said, there are longer models that are designed to help you reach more difficult or high up areas, but even these are usually going to have smaller blades that standard shears. Most are going to vary between around 20cm up to 50cm (unless you go for one of the options with extendable handles which will be longer). The blades vary in size too, but we will discuss more on that below.
The size of your topiary shears are also going to affect their weight (along with the build materials) which will in turn affect the usability of the tool. If you know that you are going to be working at more difficult angles or for extended periods of times then you are going to need a lighter shear around 200 to 250g. These will allow you to work in harder to reach places, or on more intricate jobs. More heavy-duty topiary shears can weigh up to around 850g, which is considerably heavier. These are going to allow you to work on thicker branches with greater ease.
Build Material
As we mentioned above, one of the things that is going to impact on the weight and size of your topiary shears are their build material. If you want shears that are going to last and be strong enough to cut through thicker branches then you are going to need them to be made of durable metals such as aluminium or stainless steel. These are going to be safe from cracking and breakage like other materials such as plastic and will be relatively light too so will reduce fatigue when you are working.
However, there are some benefits to using plastic for some parts of the topiary shears. For example, many models will have plastic covering the handles to reduce friction and increase grip when you are working.
TOP TIP: We would recommend looking out for powder coated steel models, these are going to be protected from rust for longer meaning that you can be sure your shears will last for longer.
Blades
The blades are a crucial element of your topiary shears. Blades that are blunt or weak are going to result in your having to almost hack at the branches that you are working with. Not only will this make it a lot harder for you to work and slow down the speed at which you are able to work, but it can also damage the branches that you are cutting which could stunt growth and the greenness of the bush over time. Carbon steel blades will allow you to slice through the branches with ease and they will last longer thanks to their durable metal. Not only this, but carbon steel can be resharpened by you (providing you have the right materials) or by a professional which will give them a longer life span!
It is also worth looking out for blades that have an anti-stick coating. When you are cutting through the branches you will find that sap and other dirt can become ingrained in the blades which can make them difficult to move if not removed regularly. Anti-stick coatings will help to reduce this and just make the blades easier to clean when they do become coated in sap.
It is also important to look at the length of blades that are going to be suitable for the jobs that you are wanting to complete. A longer blade is usually going to have a wider mouth which then in turn allows you to cut through wider branches. However, this isn't always necessary when working with smaller, finer branches if you are completing the finishing touches to your topiary plants. Most blades come between 10cm and 25cm so if you know that you have a variety of different jobs to complete it may be worth considering purchasing 2 different sizes of topiary shear.
Style Features
There are two types of topiary shears that you will have to choose from and it really comes down to personal preference as to which is going to be best for you! The original type of topiary shear comes with two handles that control the movement of the shears. These require you to use both hands to open and close the mouth of the shears around the different branches, which offers you complete control and also the ability to add some of your strength into the movement. However, there are downsides to this type of shear – the most common being the fact that you have to use both hands. Using both of your hands to control the handle stops you from holding onto the particular branch that you want, so can hinder you in achieving that perfect, uniform finish. If you think this is going to cause a problem for you then look out for "springed" models that can be used with one hand. These will remain in an open position unless you squeeze the handles together with one of your hands. This gives you much more flexibility in the ways in which you work and allows you to position the shears in a more exact manner so they are perfect for topiary creations. However, due to them being operated by one hand, they are only available in smaller models which can limit the branches that you are able to work with.
Safety First!
Now that you know the main things to consider before purchasing the best topiary shears, there are some safety features that you should definitely look out for when you are shopping around! Topiary shears are designed to cut through branches so will think nothing of cutting skin should they get into the wrong hands! Accidents happen – but these features will help to prevent that where possible.
Blade Guard – Look out for topiary shears that come with a blade guard for when they are not in use. This can just be slipped over the top of the blade so that they cannot accidentally cut whilst being moved or stored. We also love how these help to protect the material of the blade from damp and developing rust over winter months when the shears may not be used as regularly!
Storage Hook – If you have young children then look out for topiary shears that come with a hook which will allow you to hang your topiary shears high up out of harm's way.
Safety Lock – We particularly like topiary shears that come with a safety lock. This is a simple design but one that makes a massive difference. The simple lock will secure the shears closed (regardless of whether they are the springed design or traditional design). This helps to keep the sharp end of the blade in contact with each other rather than anyone's hands when they are not in use!
Best Budget – Silverline Topiary Shears
Last update on 2022-05-13 / Images from Amazon Product Advertising API / As an Amazon Associate I earn from qualifying purchases
The Best Topiary Shear Features
We get that you may not be willing to settle for less than the best – we feel exactly the same! So we have compiled all the extra features that we think you should be looking for if you are needing the best topiary shears money can buy!
Handles – The handles are the part that you are going to be holding the most, so don't neglect to consider whether they are going to work for you. Make sure to consider not just the length but also how comfortable they will make it for you to maintain your hedges. Comfort grips made from rubber with an ergonomic design are going to help to reduce sores and dry patches on your hands forming from frequent use. Whereas, anti-shock technology will help to reduce fatigue both in your hands and your wrists with each cut! This is a particularly important feature if you suffer from wrist problems or arthritis!
Replaceable parts – If you are wanting to get best value for money then look out for topiary shears that have replaceable parts, such as blades that are easy to remove and springs that can be replaced. These are the main parts that are going to come under considerable wear so will ensure that your topiary shears last much longer.
Curved blades – If you are interested in true topiary shearing and are wanting to create wonderful domes or other shapes from your hedges then it is definitely going to be worth looking out for curved blades. These are arguably easier to cut with so will make it much easier for you to make a precise cut of each branch.
Anti-jarring – Anti-jarring technology works well to stop the shears from "locking" either open or closed. Not only can the random locking cause a jarring up your arm when you are working but it can also be incredibly frustrating when you are trying to make more specific cuts with your shears. This technology will help to prevent that.
Best of the Rest
Last update on 2022-05-13 / Images from Amazon Product Advertising API / As an Amazon Associate I earn from qualifying purchases
Last update on 2022-05-13 / Images from Amazon Product Advertising API / As an Amazon Associate I earn from qualifying purchases
Last update on 2022-05-13 / Images from Amazon Product Advertising API / As an Amazon Associate I earn from qualifying purchases
Frequently Asked Questions
What guarantee comes with topiary shears?
The guarantees on topiary shears vary quite considerably from as little as 12 months up to 25 years! This tends to depend on the build materials so it is definitely worth checking for. However, we did find that some of the warranties only included certain parts (and very rarely include the blades after around 2 years) so make sure to consider this before purchasing!
How should I look after my topiary shears?
Topiary shears are going to come under a lot of pressure, dirt and debris when you are working, so it is important that they are well maintained if you are wanting them to last! The main thing that you need to remember is to remove any sap or dirt from the blades and moving mechanisms of your shears after each use! This can be done just with warm soapy water but is essential if you are wanting your shears to last and stay free from rust. We would also recommend oiling the moving parts of your blades every few months to reduce jarring. Obviously, your blades are going to need sharpening but this really depends on how regularly you are planning on using your topiary shears!
What time of year should hedges and bushes be trimmed?
If you are wanting to keep your hedges looking and feeling good then they should be trimmed once (or a maximum of twice) a year. This should be done either in early or late summer just to "maintain" the shape of your hedges by removing new growth!
(Visited 293 times, 3 visits today)