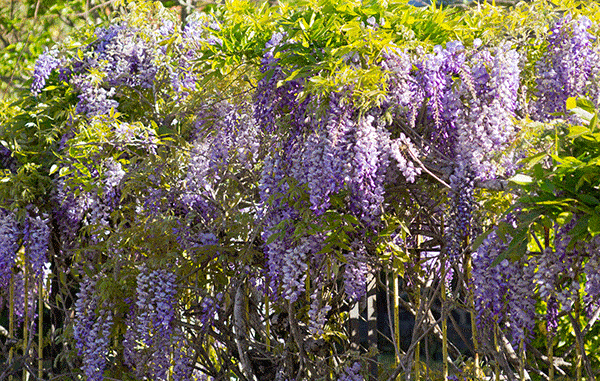 Native to China and Japan, Wisteria is a glorious, brightly coloured plant that is relatively easy to grow in your garden. Usually found with purple, pink, white or blue blooms that will climb up any wall or fence, Wisteria will brighten any garden. Despite being moderately easy to grow, it can take around three to four years after planting for your Wisteria to flower – but we promise it will be worth the wait!
Although beautiful, Wisteria can grow to be a bit of a monster if not monitored! A Chinese Wisteria that was planted in 1894 in California is still growing to this day!! It has been named one of the horticultural wonders of the world and even received a Guinness World Record for being the largest blossoming plant in the world! It currently weighs more than 250 tonnes and is more than an acre in size!
What Wisteria Plant to Buy
Before even beginning to plant your Wisteria, it is important to consider exactly what you are looking for when purchasing. Purchasing the right Wisteria for you and your garden will determine how your plant grows and develops!
Seeds or an established plant? We would always recommend purchasing an established plant over a seed when buying Wisteria. They take a considerable time to grow so you could be waiting up to 20 years for your plant to flower if growing from seed! Personally, that is far too long to be waiting to get enjoyment from your labours!
Equally, it is usually better to buy a Wisteria plant that has been grown from cuttings, instead of from seed, as these tend to flower more regularly. If you are unsure, ask at your local garden centre.
Japanese or Chinese Wisteria?

Japanese – Flowers grow in clusters and develop during May and June with a heady fragrance! The vines on Japanese Wisteria grow in a clockwise motion.

Chinese – These flowers open all at once – which is an amazing spectacle once a year around May! They tend to give off a milder fragrance. Chinese Wisteria vines grow in a counterclockwise motion.
How to Plant Wisteria
Before you start planting it is important to consider the position of your plant in the garden. Wisteria plants need full sun, reasonable drainage and strong support to help them climb up whatever surface you are wanting them to. Wisteria is a very heavy plant as it grows older, so failure to use a strong type of trellis to start with could affect the growth of your plant as it gets older!
We would always recommend planting in between October and April, as this will allow your plant time to settle and establish itself in the ground. Also, they are easier to look after at this time of year.
Make sure to dig a hole for your plant in fertile soil (or add fertile soil if necessary), then simply plant your wisteria and surround with soil. If you have bought a larger plant, to begin with, make sure to secure your vines as mentioned below, so that you can start to "train" your plant immediately.
Tips for Maintaining Wisteria
How To Make Your Wisteria Plant Grow A Certain Way
When starting to train your Wisteria plant it can be difficult to know exactly where to start, however, this is actually easier than it looks! You will have a main vine that will be the thickest out of the rest, and all the other vines will come off this first one. Train this vine up your trellis (or whatever other support you are using) with plant ties and keep it trimmed at the top once it has reached the height that you are looking for (we would recommend keeping this a good two feet away from any guttering etc if planting up the side of your house).
Next, train your side branches to grow horizontally, by securing them onto your trellis around 19" apart from each other. It is important to keep your branches far apart to start with to encourage the plant to grow further shoots and eventually flower.
Pruning Wisteria
Although calming and beautiful to look at, Wisteria can cause damage to properties and smaller plants/trees in your garden if not well pruned. Many a property has been left with blocked, damaged gutters and lifted roof shingles after a Wisteria plant has been allowed to grow unchecked! But don't panic – pruning is actually relatively easy once you know-how!
Pruning your plant should occur twice a year, once in winter (January/February) and once in summer (July/August). Simply cut back vines that are growing too far out of the area that you want and pin back larger vines to "train" them in the right direction!
TOP TIP: If you are struggling to get flowers from your Wisteria plant then it is possible that you are not pruning it correctly. Buds will grow near the base of last year's growth, so be sure not to prune back too far.
Additional Maintenance Advice
Wisteria can dry out quickly in dry periods or particularly sandy soil so make sure to keep them well-watered, especially in the first year of planting.
Wisteria can suffer from some plant diseases, such as scale infestation, fungal diseases and viruses. It is important to keep an eye on your plant and look for any signs (such as marks on the leaves), as these things are much better being dealt with sooner rather than later!
Frequently Asked Questions
Is it true that wisteria is poisonous to human beings?
Technically yes! But this is only when they are in seed form and these seeds are swallowed! Therefore, as long as you make sure that children are kept away from seeds when planting Wisteria (and don't accidentally eat any seeds yourselves!) then you will be fine!
Do I need to provide fertiliser for my Wisteria plant?
Once the plant is established (usually after the first year) you should not really need to provide any fertilizer or feed for your plant. Certain fertilizers will encourage leaf and vine growth, so if you are in a rush for your plant to be beating the Guinness World Record title then it may be worth adding fertilizer a couple of times a year!
(Visited 365 times, 1 visits today)