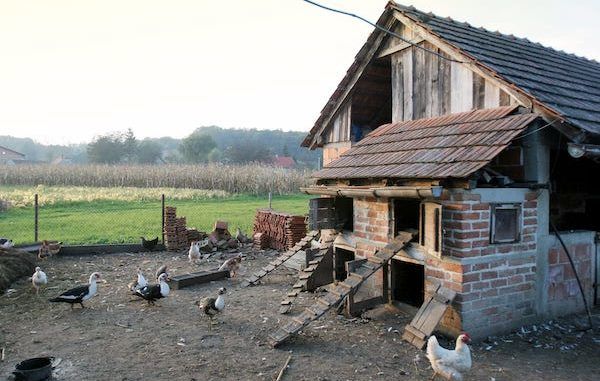 Whether you are already a chicken parent or are a beginner looking to purchase a chicken coop for your first chickens, there is plenty that you need to know before making your purchase. In recent years, owning chickens has changed from being something for only the most rural of homes to be increasingly popular for any homeowner that wants the delight of collecting their own eggs in a morning!
A chicken coop is essentially a home for chickens. Although there is a lot to consider, such as size, materials and design, it is well worth the effort of finding out all that you can before purchasing your chickens if you want them to lead long and happy lives (and even more importantly – if you want them to be providing you with eggs!). Trying to research everything that you need to know can stop your purchase of a chicken coop from being as exciting as it should be. We aim to set that straight, by providing you with all the information you could need to go and purchase your chicken coop. So let's get clucking…
Best Pick Chicken Coup
FeelGoodUK Hen House Large Chicken Coop Poultry Ark Nesting Box & Slide Out Cleaning Tray 115cm Width * 85cm Depth * 90cm Height
ESSENTIAL FEATURES: Solid wooden framed coop with tongue and groove panels, twin section nesting box with option for an additional box to be added, drop down door/ramp at front & back, 4 x roosting perches, adjustable ventilation and easy clean slide out tray.
FUNCTIONAL DESIGN: The external nest box has two nesting sections and a prop up lid to allow for the collection of fresh eggs as well as easy cleaning. Multiple locking doors allow you to access the nest box and coop easily when changing bedding, food and water. The roof has an adjustable vent to help control air flow when it's warm. The slide out galvanised tray below the house section helps to ensure the coop is easily and thoroughly cleaned.
PET PRIORITY: Keeping your chickens happy is top of our list when it comes to the design of our coops. The Large Hen House features 4 internal roosting perches with plenty of space to sleep at night. This is the perfect coop for providing a free range option as the doors can be dropped down in the morning allowing them to come and go as they please.
PEST & PREDATOR SECURE: Because of our solid wood tongue and groove roof we do not use any felt. Some manufacturers choose this method as it is a cheap alternative and will help to cause Red Mite infestation in the coop. All doors have locking latches to keep your birds safe from predators.
SIZE & EXTRAS: Overall Width 115cm x Overall Depth 85cm x Overall Height 90cm an additional nest box is available from the suppliers if required
Last update on 2022-04-26 / Images from Amazon Product Advertising API / As an Amazon Associate I earn from qualifying purchases
Only Got 5 Minutes?
If you are in a rush to purchase your chicken coop – maybe your old coop is on its last legs, or you have already found some chickens that you are wanting to welcome into your home – then this part of the article is for you. We are going to LAY down all the most important information you could need to know about chicken coops!
What Do Your Chickens Need?
Your chickens will not be particularly demanding pets – all they will need is somewhere that is dry and wind-free (particularly in winter), food, water and space to move around and enjoy their environment. The final thing that you will need to consider is safety – to avoid any unwanted animals eyeing up your chickens!
Size
The size of your coop is incredibly important. Birds that are kept in small confines will be much more prone to boredom behaviours such as comb pecking, bullying and feather picking, they will also be much less likely to lay eggs.
The size of the coop that you will need will depend on the size of fowl that you are keeping and the number that you are planning on keeping too. As a general rule, you should have at least 4 sq. foot for each bird in the coop and then an additional 6-8 sq. foot in a run. Birds that are going to be kept in a coop full time will need more space to be able to move in their home. Equally, birds that are going to be allowed to roam free will need less space in their coop if they will only be in there overnight, for example.
TOP TIP: Don't just take the product description at face value for the number of chickens that each coop can hold. Simply multiply the width and length of the coop, then divide by 4 (the square footage that each chicken needs in a coop) to see the maximum number of chickens the coop can hold.
Chicken Run
Your chickens will need additional space to move around. Some chicken coops will come with a run attached, but others will need you to make this extra purchase. Look at how the run connects to the coop (if at all) and also consider the mesh that the run is made out of – we cannot stress enough how important the material of the mesh is, to avoid predators being able to break it or chew through!
Nesting Boxes and Perches
Chickens like to have their own nesting boxes (but will happily share with one other chicken) to sit in and lay their eggs, and perches to sit on. Choosing a chicken coop that offers this will not only make your chickens happier but will also make your life easier as you will know where to look for eggs each day and will usually keep your chicken coop cleaner and tidier.
It is also important to consider the width of the perches, as chickens will not be able to wrap their feet around the perches so they need to be wide enough for them to stand on fully!
Feed and Water Drinkers
Make sure that your chicken coop has enough space for adequate food and water supplies. The more chickens you have, the more individual food and water devices you will need, as although chickens will share feed, there will be less bullying if you have multiple food sources to choose from. Some chicken coops will come with food troughs built in so this is worth looking for before purchasing.
Best Budget Chicken Coup
Last update on 2022-04-26 / Images from Amazon Product Advertising API / As an Amazon Associate I earn from qualifying purchases
Ventilation
Chances are your chickens are going to be locked in their coop for at least a few hours overnight – this is often important to keep them safe and healthy. But this does mean that you must make sure your chicken coop has adequate ventilation (and that this does not become blocked by dust or bedding) in the form of either windows or vents.
What Do You Need?
Look for a chicken coop that is going to be easy to assemble. Many products will state how many people and what tools you will need to be able to put them together. This is something that is important to consider before making your purchase.
Look for materials that are going to be hard-wearing and need less maintenance. A cheaper chicken coop will likely need more upkeep which will cost you both time and money. Equally, if you are constantly having to complete repairs and maintenance on your chicken coop, then you need to think about where you are going to keep the chickens while you are doing this!

Wood – This is the most common material choice for chicken coops due to it being hard wearing and strong. However, it will need treating and will not last as long in wet conditions.

Plastic – Waterproof and usually lighter than their wooden counterparts; plastic is being increasingly common for chicken coops. Plastic will generally be easier to clean than wooden models as well. Be aware that they will discolour sooner in the sun and could be too light for areas that experience considerable winds.

Roof and floor materials – It goes without saying that the roof of your coop needs to be waterproof and durable. Not only to keep your chickens warm and dry but also to avoid wasting any bedding that you have in your coop as it will all have to be removed if it becomes wet. Felt roofs are popular, as are wooden or plastic roofs – it really depends on personal preference and exactly what you are looking for.

To make things easier for you, look for roofs that open and floor trays that slide out, to make cleaning your chicken coop even easier.

Check the products that your chicken coop are finished with, especially if purchasing a model that is from out of the EU. Wood that is painted with a toxic finish could make your chickens very ill, especially if they peck at the wood!
Secure doors and latches – This is important for a couple of reasons, firstly to keep your chickens in, but also because foxes can be crafty animals – so you don't want them figuring out how to get into your coop!
Design – Last but not certainly not least, it is important to think about what your chicken coop looks like! Without wanting to ruffle any feathers, there are many chicken coops out there that really do not lend themselves to living in someone's garden! If your chicken coop is going to be kept hidden out of the way, then you can probably settle for a less attractive model, but if it is going to be on show then be sure to choose a model that is going to look right in your garden – although this may mean paying a little more, you can guarantee you will regret it if you go for a cheaper, less attractive model.
TOP TIP: Make sure to check whether your kit comes with everything that you will need, or whether you are going to make extra purchases! If you choose a kit that only comes with the basics, you could end up having to pay out considerably more than for a kit where everything comes included.
Things to Consider Before Purchasing a Chicken Coop
There are some crucial things to think about before deciding on the right chicken coop. Keep reading for tips and advice on what to look for…
Cleaning your Coop! – Your coop is going to have to be cleaned out regularly, so if you purchase a coop that is difficult to get into, with hard to access places, then you are quickly going to be regretting your purchase! Choose one with lids on nest boxes that are easy to get into, and a simple enough design for you to be able to get into the other areas with relative comfort.
How easy is it to secure add ons? – If you are purchasing a chicken coop that does not come with a run, then you need to think about how easy it is going to be to add this. Chicken coops with more complex shapes will likely be harder to secure a perimeter around.
Windows and Lighting – Chickens need a set amount of light and dark each day if you are wanting them to lay eggs regularly! They need around 16 hours of daylight and 8 hours of darkness when they are roosting, so it is important to find a chicken coop with enough windows to allow the chickens to get this light even if they are inside their coop during the day. If you are still wanting your chickens to lay eggs through the winter, then many chicken coops come with artificial lighting (or at least the option and space to fit artificial lighting) so that you can replicate this lighting for them.
Automatic chicken coop doors – These have become incredibly popular in recent years and for good reason too! An automatic chicken coop door will save you having to get up early every morning to let your chickens out of their coop! It can also be set to close at a certain time of the evening to save your chickens from predators.
Where to position your chicken coop – Chances are you have already considered where you are going to position your chicken coop but once your coop is in the position it will be incredibly difficult to move, so make sure that you have thought about it carefully before committing to location! You want somewhere that is going to be sheltered from the worst of the weather, and not in direct sunlight all through the day. Also, choosing a location that is hard and stable underfoot is important as your chickens will probably like to dig at the ground in their run, which could lead to them escaping! Not only this but if it is particularly damp on the ground under your chicken coop this could affect its lifespan and its stability!
Best of the Rest
Last update on 2022-04-26 / Images from Amazon Product Advertising API / As an Amazon Associate I earn from qualifying purchases
Speedwellstar Walk In Chicken Dog Pen Run Cage Coop House Kennel Large Metal 3x2m FREE Shade
Measurements * Length - 300 cm (118") * Width - 200 cm (79") * Height - 200 cm (79") * Door width 54 cm (21") * Mesh Holes - Width 4 cm Height 3 cm
Large Outdoor Chicken Run * Strong heavy duty cage * Steel tubes * Hot dip galavanised for a long rust free life * Diameter - 25 mm Thickness - 0.65 mm
Fencing mesh * Thickness - 1 mm * Hot dip galavanised for a long rust free life * PVC coated for added protection
Shade - Full size fabric shade to provide cover UV protected * Waterproof * Gate and lock * Comes flat packed in two packages * Complete instructions and straight forward assembly * We are based in the UK and at the end of the phone if you need any advice, I have erected this pen myself so very able to help if needed
Delivery surcharges apply for shipping to offshore or remote addresses * Exclusively designed by and made for Speedwellstar * In Stock for Next Working Day Delivery from Staffordshire
Last update on 2022-04-26 / Images from Amazon Product Advertising API / As an Amazon Associate I earn from qualifying purchases
Last update on 2022-04-26 / Images from Amazon Product Advertising API / As an Amazon Associate I earn from qualifying purchases
Frequently Asked Questions
Should I buy a chicken coop or build my own?
This really does depend on exactly what you are looking for and your skills – although we would suggest that you think very carefully before deciding to build your own chicken coop! You will need to be skilled in carpentry and have all the necessary tools to be able to build your own coop, it will also take considerable time and probably more money than buying a kit chicken coop. On top of all this, you don't have the protection of a warranty, which comes with most purchased chicken coops.
How long should my chicken coop last?
A reasonable quality chicken coop should last between 10 and 15 years providing it is treated and maintained every couple of years. Plastic models may last even longer than this.
(Visited 113 times, 1 visits today)