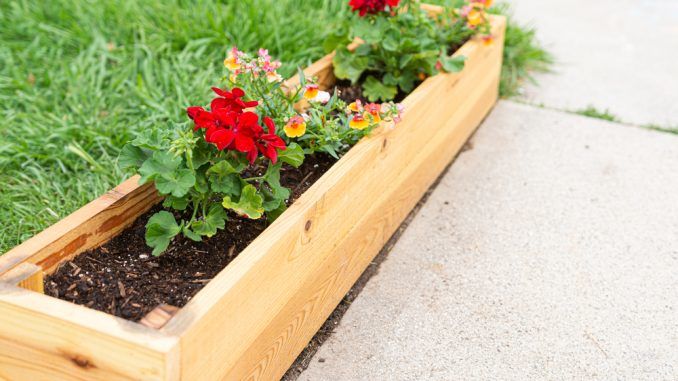 What better way to add colour and life to your garden than with a wooden planter? No matter the style or size of garden that you have, a wooden planter is going to massively increase the life, nature and depth that your garden has to offer. We also love that a wooden planter will offer you much greater flexibility in moving your plants around the garden – this is perfect for any more delicate plants as you can find the perfect spot for them to thrive in your garden. But more than just that, with the increase in self-sufficiency and "growing at home" a wooden planter makes for the perfect mini-vegetable patch, for anyone who is wanting to dip their toe into growing their own vegetables at home!
Whatever your reason for hunting for the best wooden planter, we are here to help! Our Buyers Guide includes all the main factors you need to consider before purchasing a wooden planter, plus we have included some of the best wooden planters for sale at the moment to make your purchase ever easier!
Best Pick – Rowlinson Marberry Rectangular Planter
Last update on 2021-09-25 / Images from Amazon Product Advertising API / As an Amazon Associate I earn from qualifying purchases
In A Hurry?
We understand that time in your garden is precious and if those spring planting months are quickly upon you, or maybe you are just wanting to add some change and a splash of colour to your garden, then this part of the article is going to help you purchase a wooden planter quickly! Here you will find all the need to know information – so keep reading!
Wooden Planter Style
Obviously the first thing that you need to consider is the style of wooden planter that you are wanting. There are so many more options than just a "standard" planter now – although that's not to say these aren't still incredibly popular! Planters aren't JUST planters now, they can be garden borders, seating areas and much more…
Standard planters – This is the more traditional, square or rectangular planter, designed to be used for general planting. Coming in various different styles and sizes, these planters are therefore extremely flexible in the ways that they can be used and positioned. The perfect allrounder.
Troughs – Trough planters are more rectangular in shape and come in varying different lengths but following that trough style. If you choose just one or two then they will be perfect for adding a variation of shape or style to your planters, however combine them together and they can be used to separate different parts of your garden or bedding areas. If you are wanting to grow vegetables but don't have the vegetable plot to do it then multiple troughs can be positioned together to allow you to grow vegetables!
Wishing well planters – Wooden wishing well planters are far more unique in design (and considerably bigger). These wooden planters will make a fantastic feature in your garden, allowing you space to fill them with a considerable number of plants to add so much vibrancy to your garden once they are in bloom! Our only downside to these is their size which will impact on the gardens they will fit in! Many wishing well planters also incorporate seating around the edge, which can make a lovely addition to any garden.
Tiered wooden planters – Similar to a standard wooden planter however split over 2 or 3 levels, tiered wooden planters are a great way to maximise the space in your garden. These planters come in a more abstract design which really draws the eye and allows you to mix between trailing plants and standard.
Vegetable planter – There are many wooden planters specifically designed for growing vegetables. Arguably, you can grow vegetables in any wooden planter that is going to be deep enough and wide enough but it may be a good idea to opt for a wooden planter with a plant grid. This special wooden planter is designed to separate your planter into different sections which makes for easy planting of different vegetables.
Dimensions
The dimensions of the planter you need to go for really depends on the plants that you are wanting to grow and the space that you have in your garden. For example, if you are wanting to grow vegetables then you are going to need a considerably deeper planter, whereas if you are growing small bedding plants with short roots then you can get away with a more shallow planter. However, you need to remember that a planter that is too large for your plants could actually cause more damage than good, as the roots could "drown" in the damp soil if they are not able to soak up that much water!
Troughs are going to be larger than most plant pots so this is worth considering when you are thinking about the design of your garden. However, this is counteracted by the number of plants that a trough can hold, as you will normally fit more in a wooden planter than you would a standard plant pot. Make sure you have enough space around your wooden planter so that it is not sat directly against a wall as this could impact how much sunlight and rain your planter is able to get!
The height of your planter is also worth considering, particularly if you have animals or young children that are going to be sharing the garden. A taller wooden planter will help to keep your plants protected which is important for smaller, more delicate plants – or vegetables if you are planning on eating them afterwards!
PLANTING TIP: We would recommend leaving 2/3 inches around the outside of your plant to allow for growth and the roots to spread – particularly if you are wanting your plant to grow and thrive through the year. Leaving less than this will probably mean that you have to repot your plants regularly. For example, in a 12 inch planter you will be able to fit 3 or 4 plants.
Wood Choices
If you are wanting your wooden planter to last then you need to think about more than just what it looks like and the size that you have to choose from. The type of wood that you choose is not only going to affect the colour of your planter but also how well it will be able to withstand the weather conditions in the UK. The three main types of wood that you are going to find used for the best wooden planters are cedar, redwood and pine.
Pine is going to be your cheapest option when looking to purchase a wooden planter. We also love that the natural lighter colour of wood means that they often come in various different colours (or are much easier for you to paint if you have a specific colour that you are wanting). However, the downside to this is that if you are leaving them natural then they will be more prone to marks and turning green over time. They are going to need regular maintenance as they are not the most durable but should last a long time providing you commit to this!
Cedar is your middle option in terms of price and durability. It is relatively easy to maintain and won't crack so you will find that your planter will last upwards of 10 years. It is light enough to paint in varying colours but also dark enough to survive being left natural without looking tatty quickly! The only real issue is that overtime it will change colour if left natural – but this does tend to add to the "natural" look of the planter!
Redwood is the most durable of woods that you can go for! It is going to be much darker in colour making it more difficult to adapt to a colour of your liking, however it is by far your best option if you are wanting a planter that is going to last. It won't crack or discolour so you will just need to be prepared to maintain it with a treatment/varnish once a year to stop the wood from rotting or becoming damp.
Did you know? Wooden planters are going to offer much greater heat insulation than other types of planters. This helps to keep your roots from freezing during the winter months and from overheating during the summer months!
Best Budget – Briful Wood Planter Box
Last update on 2021-09-25 / Images from Amazon Product Advertising API / As an Amazon Associate I earn from qualifying purchases
Additional Features of Wooden Planters
There are always going to be additional features of wooden planters that set them apart. You now know the main features that you need to consider before buying, but if you are wanting the best value wooden planter for your money then here is what you need to watch for.
Pressure treated wood – Pressure treated wood ensures the treatment and protection for your wood soaks deep into the layers of the wood. This helps to ensure that it offers protection for even longer so will prevent your planter from rotting.
FSC certified wood – These wooden planters are made using sustainable wood so you can enjoy your planters guilt free knowing that they are created in a sustainable way from woodlands that have been replanted.
Raised planters -There are many benefits to opting for planters that are raised from the ground using feet. This will help to improve the drainage of excess water from your planter so avoid any root rot. They will also keep the base of your planter from sitting on the floor so will hold off any damp and rot from affecting the wood!
Drainage – There are other ways that your wooden planter will be able to maximize the drainage of excess water. For example planters that have drainage holes in the bottom to allow the water to flow away.
Colour – As we mentioned above, there are various natural wooden planter colours for you to choose from depending on the type of wood that you opt for. But there are also brighter colours in many planters that will really liven up your garden.
Liner – A liner on the inside of your planter is going to massively increase the life of your planter by providing a waterproof barrier between the damp soil and the wood itself. This will avoid the wood on the side of the planter from becoming sodden and rotting!
Trellis included – For anyone wanting to grow climbing plants, a wooden planter with trellis already attached is by far going to be the best option! Not only does this mean the trellis will match the planter, but it will be easier for your plants to climb and greatly increase the places you can grow climbing plants.
Packs of wooden planters – It is worth looking to see whether the wooden planter that you are interested in comes on it's own or with more than one. This could save you money in the long run and will mean that you have matching planters in the garden which can allow for a more uniform look.
Unique wooden planters – If you are wanting a wooden planter that is a little different then why not look for one with a more unique design such as a wheelbarrow planter. These can be really eye catching in any garden!
Best of the Rest
Last update on 2021-09-25 / Images from Amazon Product Advertising API / As an Amazon Associate I earn from qualifying purchases
Last update on 2021-09-25 / Images from Amazon Product Advertising API / As an Amazon Associate I earn from qualifying purchases
Last update on 2021-09-25 / Images from Amazon Product Advertising API / As an Amazon Associate I earn from qualifying purchases
Frequently Asked Questions
What warranty comes with a wooden planter?
You will usually find wooden planters come with between a 3 year and a 15 year warranty. This largely depends on the type of wood that has been used and the quality of the product however it is also dependent on you looking after the wood.
How should I look after my wooden planter?
It is crucial you maintain your wooden planter if you are wanting it to last, as it is going to be outside for most (if not all of the year). Plan some time late autumn or early spring (or both if possible) to treat your planter as this is usually when plants have died back so won't be damaged by the treatment. Then you just have to lightly sand the visible surfaces of your planter and treat using a standard wood stain or protection depending on the colour/type of wood that is part of your planter. The most important thing is to make sure the stained doesn't get onto the leaves or soil as this could kill your precious plants.
(Visited 50 times, 1 visits today)