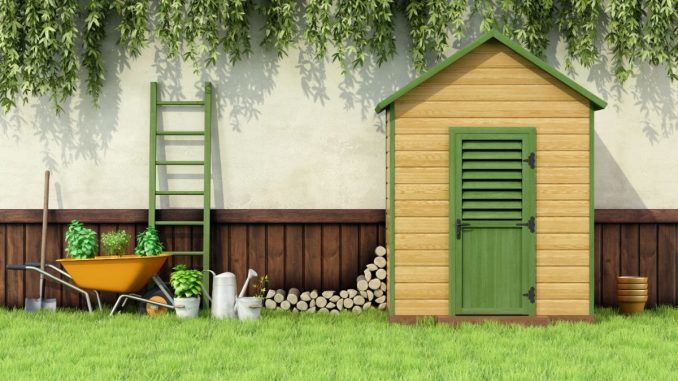 The UK's garden sheds are under threat from thieves – around 22,000 break-ins are reported every year and this figure is continuing to rise. In the UK, outbuildings such as sheds, playhouses, greenhouses and garages without any security measures are five times more likely to be broken into than those with: our garden sheds are regarded by thieves as an easy target – low-risk and easily accessible yet with the potential for crooks to make a tidy sum by the time they've sold on our power tools, bikes, golf clubs and BBQ!!!
Best Pick – Shed Alarm
Sale
Last update on 2021-09-30 / Images from Amazon Product Advertising API / As an Amazon Associate I earn from qualifying purchases
The key to safe outdoor storage is to make your garden shed less desirable to opportunist thieves by improving the level of security. The best way of doing this is to install a shed alarm. As is the case with any kind of security measure, making your shed alarm visible is a deterrent in itself. No opportunist thief in their right mind is going to attempt to break into an outbuilding such as a shed, garage or playhouse when they can see security measures have been taken and the space is clearly alarmed: in most cases, especially when it comes to outdoor storage, the risk a potential intruder finds themselves faced with far outweighs the potential return.
Only got 5 minutes
Over the last few years, many areas of the country have experienced a series of simultaneous shed burglaries in which multiple home-owners in a certain area have been targeted, often more than once. Despite this worrying increase, many of us still "haven't got round to" securing our outdoor storage areas. A simple yet effective, low-maintenance, relatively inexpensive solution is to invest in a shed alarm.
How to choose the best shed alarm
Whether you're after a basic external siren alarm or high-tech motion detection, there's a range of shed alarms available online to suit every budget, all of which offer various features and functions.
Types of shed alarm
| | |
| --- | --- |
| Type | Function |
| Dialer | Connects to a pre-programmed phone number to raise the alarm |
| Siren | A siren alarm system makes a loud sound when triggered in order to disturb the intruder and attract attention |
| Smart Home Security Systems | Modern style of alarmWhen triggered, these alarms send a signal so you're instantly made aware of a potential intruderOften compatible with smartphone apps or personal digital assistants |
| Connected | An extension of an existing home security systemSame high level of security and high-tech notification methods used that you have in place to protect your home |
Wired Vs wireless
When choosing the best shed alarm system, you'll have to decide whether you're better suited to a wired or wireless device.
Wireless
Wireless alarms tend to be battery-powered and shouldn't require professional installation. When the sensors on this type of alarm are triggered, you will be immediately notified via a visual and/or audio alert to your smartphone or landline. Some advanced systems can also be programmed to alert the police and/or designated security companies, although enabling this feature is likely to be subject to additional and/or subscription costs.
Wireless shed alarms are a popular choice when it comes to shed security as they're easy to install (normally you just have to place them where you want them); low-maintenance, relatively inexpensive and there's no trailing wires connecting the sensors, cameras and power source. A decent wireless shed alarm system will also allow you to monitor the activity in and around your shed from a remote location via your smartphone, tablet or laptop and adding additional sensors to a wireless system if far easier than trying on a wired one.
Wired
Although battery powered alarms are the most popular choice when it comes to securing your shed, there is still demand for alarm systems powered by the mains. Wired alarms use a network of wires to connect the sensors to a main control panel however the best wired shed alarms will also have an integrated back-up battery, which is designed to power the device in the event of a power-cut.
A wired shed alarm will normally need to be installed by a professional, which can prove costly. Once they're up and running , you won't have to keep replacing the batteries but the cost of installation can make quite a dent in your bank balance.
Why you need a shed alarm
Theft from garden buildings is on the rise. Thieves have cottoned on to the fact that us home owners focus the majority of our attention on protecting our homes and often choose to ignore the 'sitting ducks' that are our outdoor buildings despite the fact that our sheds, playhouses and garages are often used to store bulky items of value in order to increase living space and avoid clutter. The majority of sheds will come with a turn button or butterfly latch as standard, but these alone are unlikely to deter thieves from trying to gain entry; you'll need to firstly invest in a heavy-duty padlock, or fit a key lock, and then it is strongly advised to invest in an alarm system. An exterior motion-sensor security light is also worth considering as these have proven to be an effective deterrent to thieves.
Even if you don't have anything in your shed that you regard as being valuable, you should still install an alarm if there's any tools or equipment in there, such as ladders, hammers or screwdrivers that an intruder could potentially use to break into your home once they've gained access to your shed.
Best Budget Shed Alarm
KERUI Wireless Security Burglar Door Alarm System Kit for Garage Shed House Hotel Shop Apartment, Weatherproof Siren Horn with Remote Control Door Contact Sensor,Motion Sensor,Loud Up to 115db
Door alarm uses remote controls to set security code for arming/disarming; home security system complete with fully programmed main unit and sensors, later if you want to DIY, please factory reset first according to manual, then pair them again or search operation video on YouTube "KERUI Standalone Alarm System Operation Guide" for reference.
DIY expandable home burglar security alarm system - This alarm horn supports up to 40 pcs wireless detectors, 10 remote controls, 10 doorbell buttons, up to 115dB loud alerts with deluxe door alarm system for peace of mind.
Complete DIY wireless house burglar alarm system kits includes a horn and two door/window sensors, two remote controls, a PIR motion detector, loud alarm and better protection for apartment shed hotel garage safety, affordable home security.
SOS alarm to get help - Children and seniors at home when in emergency, they can press the [S] button of the remote control, which will set off the siren alarm up to 115dB to notify other members at home or neighborhood, so that they can get help in time.
After-sale service - Kindly refer to the user manual before use, if you have any questions or needs to customize alarm system kit, please feel free to contact us, we will try our best to help; The alarm system kit can work with KERUI brand alarm hub, DIY the alarm system as you require.
Last update on 2021-09-30 / Images from Amazon Product Advertising API / As an Amazon Associate I earn from qualifying purchases
Why your shed is so appealing to thieves
Shed's are viewed as an easy target – without any security measures in place such as alarms, security lighting or CCTV, forcing entry is a simple exercise for an experienced thief
They're often situated in locations away from the main residence, which reduces the risk of thieves being disturbed, and which offer a quick and easy escape route
There's a good chance of a quick and high return – lawn mowers, power tools, golf clubs, fishing equipment, mountain bikes – all belongings typically stored in a garden shed – can be easily sold on with little chance of them being traced
Most courts will view breaking and entering into a shed as less serious than breaking into an occupied residence
If you have a shed in your garden, you should have it fitted with an alarm – it's as simple as that. The primary reason for this being, to deter thieves from breaking-in and stealing the contents of your shed, whether this be power tools, garden furniture, bikes, golf clubs or gardening equipment, all of which are expensive to replace. Many insurance companies now stipulate minimum security measures which need to be in place on outbuildings in order for you to raise a claim in the case of a break-in and, if these security measures aren't adhered to, you're likely to find your claim is rejected and you're left feeling red-faced, having to foot the bill in order to replace what was taken.
Alarming your shed on a budget
There are a wide range of shed alarms available. Generally, the greater your budget, the more high-tech your alarm will be, but it is possible to pick up a decent alarm system without breaking the bank : the siren.
A siren alarm is the traditional alarm system and tends to be a combination of door and window switches, along with motion sensors. When an intruder is detected, a loud siren is triggered to attract attention and frighten off intruders.
Installing a basic battery-operated, siren shed alarm is a quick and easy, inexpensive way to deter thieves and protect your shed and its contents from any light-fingered, uninvited visitors. They're simple to install as the majority of alarms are free-standing and/or supplied with adjustable wall fixings. Once you've inserted the batteries into the alarm (usually 2-3 AAA batteries are required), you're required to enter and set a 4-6 digit code or programme the remote(s). Once activated, the motion sensors should detect any movement and the siren will sound, attracting attention and disturbing the intruder. Upon entering, deactivating the alarm is simply done by keying in the code or by using the remote.
Siren shed alarms are effective if your shed is in close proximity to your house and you spend a lot of time at home, or if there is likely to be people nearby to investigate the source of the alarm being triggered. However, if you live in a remote location, or have neighbours who can be a little temperamental, you may be best considering a wireless alarm system.
How shed alarms work
A shed alarm uses sensors to detect movement or recognise when entry is being made into a monitored area. The most common type of sensor consists of an electrical contact that triggers the alarm when broken. Some high-end models use more sophisticated technology such as PIR (passive infrared sensors) which detects infrared radiation.
What is PIR technology?
PIR detection technology has developed in recent years as manufacturers have found new and innovative ways to use passive infrared sensors to detect the presence of intruders.
Using infrared wavelengths, these motion-based detectors sense the infrared radiation that is radiated from all heat-emitting objects. Through the movement of these infrared wavelengths, these specialised sensors recognise the presence of people, animals and objects. The 'passive' reference refers to the fact that no heat or energy is emitted by the infrared sensor itself.
The best shed alarms which feature PIR sensors will have the option to notify you via your landline or smartphone in the event that the sensors detect an intruder, in addition to triggering the siren. This is particularly useful if your shed is an isolated or remote location.
Some models will also allow you to deactivate the siren feature so it doesn't sound in the event of the alarm being raised but just sends you an inconspicuous alert! This is a useful feature for two reasons – firstly, if an intruder isn't aware of the alarm, they won't attempt to disable it, potentially damaging it in the process and also, providing you're quick to react to the alert, you stand a better chance of catching the intruder in the act – particularly useful in areas where there has been a spate of burglaries.
Desirable features
An alarm system that has the option of adding extra sensors
Offers smartphone connectivity.
Loud-sounding siren (starts at around 80 decibels but around 120-125 dB will be hard to ignore!)
Simple installation
Covers both internally and externally
A decent range over which the alarm can be activated/deactivated
Incorporated "panic" button
Back-up battery for wired alarms
Sturdy design built to last, using good quality materials
Low battery indicator
Optional chime mode for siren alarms
Lengthy manufacturer's warranty and money-back guarantee
Decent exit delay – normally around 15-30 seconds
Short entry delay – normally around 5-10 seconds
Integrated solar panel to extend battery life
Impressive communication range
The alarm detects motion using PIR technology (passive infrared sensors) within the detection range.
Adjustable wall mounting bracket and/or screws and adhesive stickers for easy fitting of wireless devices
Spare remotes included
Impressive scanning range (around 110˚ is the norm)
Fully expandable using touch and link technology
Best of the Rest
Last update on 2021-09-30 / Images from Amazon Product Advertising API / As an Amazon Associate I earn from qualifying purchases
LACORAMO Door Alarm Sensor - Premium Quality - Wireless Magnetically Triggered Window Alarm, 130 db Siren Security Entry Burglar Alert with 2 Remote Controls for Protecting Kids Safety, Home, Shop
LOUD SIREN: The 130db loud alert will remind you and your family that someone entering or leaving your home. LACORAMO Wireless Door Sensor Alarm helps improve home security and children safety, protect dormitories, apartments, offices, medicine cabinets, windows, drawers, pool doors, sliding doors and refrigerator,etc.
EQUIPPED WITH 2 REMOTE CONTROLS: You can use the remote control to set the Disarm, Chime, Alarm and Panic options within 50 feet, even if arm it from the outside. If your family goes home late at night, he can first disarm with another remote and then open the door. This will not disturb neighbors or other family members.
EFFECTIVE & SENSITIVE: When the door is opened more than 0.6 inch, the alarm system will be activated immdiately. It is no false alarm, no mess alarm. Prevent your kids from sneaking without knowing, and protect your home, office.You will still hear the warning when you are 750 feet away from the room.
LOW BATTERY REMINDER & LOW ELECTRIC CONSUMPTION: The contact sensor can standby a year, no need to replace the batteries (2 AAA batteries included) frequently. When the batteries voltage is lower than 2.1V, there will emit beep sound to remind you to replace the batteries.
EASY TO INSTALL & OPERTAE : No wiring needed! No screws needed! Easily mounted by double sided tape. Simply paste the 2 parts of the burglar alarm to 2 sides of door/window frames and no need to be completely flush with each other The anti-gravity tape (provided) helps you fix the door entry alarm's remote control somewhere and you can remove it at any time. Don't worry that young children will mess up it.
Last update on 2021-09-30 / Images from Amazon Product Advertising API / As an Amazon Associate I earn from qualifying purchases
Mengshen Door and Window Alarm, Anti-Theft Burglar Wireless Alarm with Remote Control for Home Security, Easy to Install, 105db Super Loud (Includes 2 Alarm and 1 Remote Control)
Home Security Alarm: Super loud alarm of 105dB, scare thief away,
Easy Operation: With remote control, simple and convenient,
Wireless Motion Sensor: Magnetic sensor, door and window motion detector, can easily mount to windows or doors with included double sides adhesive tape, no tools required,
Power Supply: Powered by 2 pieces of AAA alkaline batteries,save money.(not included),
More Options: If you need extra remote controls for family member or just for spare. Pls refer to "More Remote Control" in the "Special offers and product promotions".
Last update on 2021-09-30 / Images from Amazon Product Advertising API / As an Amazon Associate I earn from qualifying purchases
Frequently Asked Questions
What safety precautions can I take to deter intruders?
In addition to alarming your shed, a heavy-duty padlock and stainless steel hasp along with good-quality door hinges should all make your garden shed less of a target. Motion-triggered security lighting and solid, secure fencing also serve as effective deterrents to intruders. However, even if you have all these measures in place, it's still worth making sure that the contents of your shed are covered as part of your home contents insurance policy.
How do you activate/deactivate a shed alarm?
The best shed alarms will be battery-operated and supplied with a wireless remote control to activate and deactivate the device. This allows you to set or turn off the alarm prior to entering. The alternative to a remote is a pin system where you're given a small amount of time to enter the pin code in order to deactivate the alarm.
(Visited 140 times, 1 visits today)