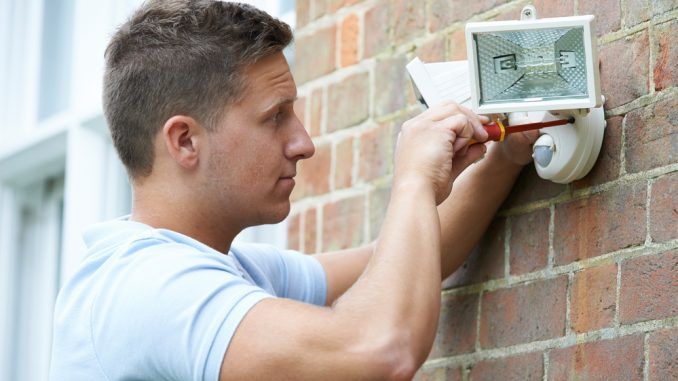 There are so many reasons why a security light will be a valuable asset to any home! Maybe you are looking to upgrade your current security light or are looking to invest in your first one – we will have all the information that you need to know and some of the best security lights available for you to choose from.
The main purpose of a security light is to help keep the outside of your property visible – this is not just to deter any intruders but also so that you can look out at your garden to see what is going on. However, there are now many more uses than just this! With the increase of CCTV cameras being used at people's homes, a security light can be a great way to light up the area so that your cameras can pick up a better image if there are any unfortunate events happening around your property. Finally, we need to mention how a security light can actually benefit you! There is nothing worse than stumbling around your garden in the evening if you are coming home or trying to get into the garage! A security light is the perfect way to light the garden for you, so that you can see exactly what you are doing!
There are so many security lights to choose from, it can be difficult to know which one is going to be right for you. You may even want a security light just so that you have some lighting outside during those summer evenings. Whatever the reason, here are all the key features you need to consider before buying.
Best Pick -SANSI Security Motion Sensor Flood Lights
In A Hurry?
There is nothing worse than spending sleepless nights worrying about the safety of your home. If you are spending more time listening out for every little sound than you are actually enjoying your home – then we understand why you would be in a hurry to purchase a security light! So here is all the essential information that you need to know!
Best Security Light Types
There are various types of security lights depending on what is going to be right for your home – you may even find that you need one style for the front of your property and another for the back!
Standard switch – This is the cheapest, most standard design that you are going to find for a security light. They will come with a simple on/off switch as you would find with any other light. This makes them incredibly easier to use and saves you the risk of an over-sensitive motion detector, but you do have the downside of being limited to them being on or off based on your controls! This isn't always ideal – particularly if you are coming home in the dark!
Timer Security Lights – Timer security lights work in the same way that you may have timer lights working in your home. You simply set the time that you want your security light to come on and off. For most security lights this timer can be overridden if you want your security light on at different times, but it is a great way to ensure that your light is going to be on when you need it, even if you aren't at home. Regardless of the security aspect – this is going to be a great feature for those winter months when you are coming home after it has gone dark!
Motion-activated security light – These are some of the slightly more complex security light systems, but there are still plenty that are reasonably priced. These security lights will have a PIR sensor at the base which is used to detect movement around a set area of your property. When movement is detected the light will switch on – which research suggests is actually enough to stop some criminals in their tracks and encourage them to move on! This also makes them more cost effective to run as they are not going to be switched on all the time. The downside is that the motion detector isn't going to be able to distinguish between a person, a cat, or a bird so you could find your security light coming on at times in the night when it really isn't needed!
Light-activated security lights – Similar to the motion security lights, these lights use a photocell system to determine when it is starting to go dark outside. This sensor will then switch the light on and off depending on the amount of light that they are "processing" – as you would find with most modern street lights. These are a great way to save you money and if you are wanting a more energy efficient light – the only downside is they cannot often be overridden if you know that you are wanting your light on at other times.
Power Source
When looking to find a security light that is going to be right for your home, you will have the choice of either electric models or solar powered models.
Electric security lights are almost always going to need to be either plugged or wired into the mains electricity in your home. There are now some models that are battery powered, which will save you having to worry about getting the wiring into your home – but these do then have the downside of you having to remember to charge or replace the batteries yourself. Electric security lights are usually going to offer you more power and therefore a brighter security light for outside your home. We also like how reliable they are – you aren't stuck hoping for the sunlight to charge your light. However, you are potentially going to be limited as to where you can fit your light, as you need to be somewhere that you can then plug/wire in the light in your home. This is also going to potentially create damage to the outside and inside of your home if you are not really careful!
If this doesn't sound like the right choice for you, then why not go for a solar powered security light. Although not quite as powerful and reliable as the electric models, advances in solar energy means that they are a much better option than they used to be! You are also going to have much more flexibility in where you can fit these lights as you aren't relying on wiring – just make sure that the solar panel is going to have access to as much sunlight as possible! We also like that solar powered security lights are going to be much cheaper to run – in fact they are free! Plus, it's much more environmentally friendly! If you do decide to opt for a solar powered security light, just make sure to check the power that it is able to provide – you want at least 10 to 12 hours of light for each full charge. This will allow the panel to recharge through the day but then still be able to support your light all through the night if it really has to!
Best Security Light Bulbs
The bulbs that are compatible with your security light are going to have a large impact on the brightness that you are going to get. Standard bulbs are going to be less energy efficient and will normally not be as bright, whereas LEDs and halogen flood lights are going to be stronger!
LED bulbs are going to be the most energy efficient, so if you are wanting a bright light without spending a fortune then these are probably the way to go. However, they can be quite expensive for the initial cost which is worth factoring in. If you are worried about the initial outlay then halogen bulbs may be a better option. These will be able to offer more than enough brightness – but they are going to be more costly to run in the long term!
The best way to know how bright your light is going to be, is by checking the lumens that the light is able to give. For security lights you will usually find that this varies between around 700 and 1200 lumens – although there are some considerably brighter lights available but you tend to find these used more for commercial properties with lights that need to cover a larger area!
TOP TIP: If you want a light that isn't going to be too bright then opt for low-pressure sodium lights as these aren't going to give off the same glare!
Best Budget – KSIPZE Security Light
Last update on 2022-05-04 / Images from Amazon Product Advertising API / As an Amazon Associate I earn from qualifying purchases
Additional Security Light Features
Once you have decided on the type of security light that is going to be right for you and your home, you need to look at the additional security light features that are going to give you the best security light for your money!
Design – Traditionally you would find that security lights actually weren't that attractive, they were very commercial looking. Although this is still the case for many lights (and this might suit you just fine) there are now security lights that come styled as lamps, lanterns and more modern designs to help them stand out…in a good way.
Colour – Most security lights are going to come in black or white, however there are now a wider range of colours if you are wanting a light to blend in with the wall for example. Bear in mind that lighter colours are going to show dirt and debris much quicker and your light isn't going to be within easy access to clean!
Assembly – Don't forget to check how easy it is going to be to assemble and fit your security light! You ideally want a model that comes with a separate bracket for you to attach to the wall. This will allow you to remove your light when you are changing the bulb or completing any maintenance. Also check the wiring that you are going to need for electric models to determine the work that you are going to need to do to your property.
Location – It is really important that you position your security light in a place that will maximise the beam, but if you opt for a model with a sensor then you are going to need the sensor to be facing the area that will get the most footfall. Sensor distances are going to range from around a metre up to around three metres. Don't forget to also consider the range of brightness the bulb will be able to offer.
Smart security lights – If you are serious about protecting your home, or maybe you just like the thought of having all the "mod cons" then look out for the security lights that can be controlled by your smartphone! This will allow you to switch them on and off when you aren't even at home. Some will even be able to connect to your CCTV system, so that they will come on when needed by the CCTV sensor.
Double beam – If you have a large area that you are wanting to light up then you may be better opting for a double security light. This will come with two beams/lights attached to the one unit so that they can be positioned in different directions. This will allow you to cover a much larger area whilst still only having to fit one unit.
Best of the Rest
Last update on 2022-05-04 / Images from Amazon Product Advertising API / As an Amazon Associate I earn from qualifying purchases
Last update on 2022-05-04 / Images from Amazon Product Advertising API / As an Amazon Associate I earn from qualifying purchases
Last update on 2022-05-04 / Images from Amazon Product Advertising API / As an Amazon Associate I earn from qualifying purchases
Frequently Asked Questions
Where should a security light be fitted?
Security lights can be fitted at the front, side or rear of your property – really wherever you are wanting to be illuminated. Just make sure to consider your neighbours and whether the light is going to shine directly into their home. Ideally the light should be fitted around 2 metres from the ground so that the sensors will be able to pick up movement but so that the beam will spread as far as possible.
Do you get a guarantee with a security light?
Yes! All good quality security lights are going to come with a guarantee. This will usually range from between one year to give years, but the most common is three years. We also found some models that will guarantee up to around 40,000 hours from the bulb that is included – this is most frequently found with LED bulbs which are known for lasting for longer.
(Visited 123 times, 1 visits today)