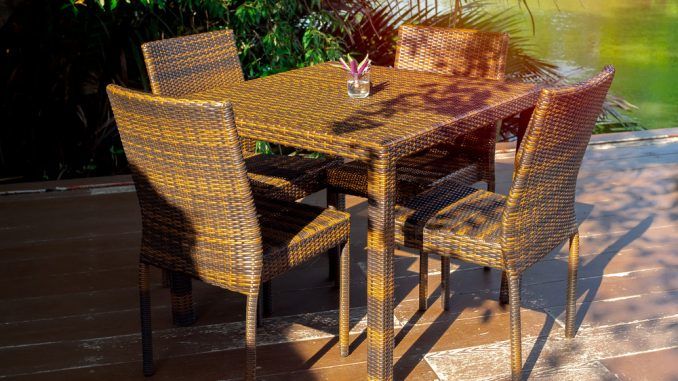 We are sure that you will agree there is something so enjoyable about eating outside when the weather permits! Being able to eat, drink and socialise in a garden that you have worked hard to maintain gives such a sense of satisfaction – whether it is just for you or when you are with friends and family. However, this can be spoiled by trying to balance plates on your knees, or a table that rocks and moves every time you try to cut your food!
Purchasing a rattan dining set could offer you the perfect solution! Strong, durable but also modern and attractive – a rattan dining set is the perfect finish to any outdoor space! Whether you are looking for a compact, minimalistic design or a large, family-sized table to sit eight people, there is a rattan dining set for you! Our article has combined some of the best rattan dining sets you could want, plus the key features you need to look out for, to make your buying experience even more enjoyable!
Best Pick – Outsunny 9PC Rattan Garden Furniture Set
Last update on 2021-10-10 / Images from Amazon Product Advertising API / As an Amazon Associate I earn from qualifying purchases
In A Hurry?
If you are keen to purchase a rattan dining set and start enjoying the delights of eating al fresco then keep reading! This part of our article is filled with all the essential information that you need to buy a rattan dining set quickly – so no need to cancel those social plans!
Rattan and Wicker – All You Need To Know
The first thing we need to talk about is the rattan itself and why choosing a rattan dining set (rather than any other material) is the right choice to be making. Rattan is an incredibly strong type of wood that not only offers enough physical strength to be used in chairs and tables alike, but that is also weatherproof! The natural oils in the wood allow it to be virtually rot and wear free even if left out in the rain for longer periods of time. Not only this, but you will find that rattan doesn't require treating and maintaining twice a year like your decking and fence panels will! Low maintenance and durable – what more could you want?
But people often get confused between rattan and wicker – arguably not helped by many people using the two interchangeably! Rattan – as we mentioned above – is a type of wood. Whereas wicker is the technique that is used to weave the rattan together. So when a dining set is advertised as "wicker" this just means the weave that has been used and could be made from a much less durable material than rattan! This means it is incredibly important to check that your rattan dining set (or any outdoor furniture for that matter) is actually made from rattan!
Now that you understand the difference, make sure to check for these additional features when looking at the rattan AND the wicker of your rattan dining set…
Synthetic rattan – If you are wanting the same look that rattan creates, but aren't wanting to use the natural material then you can opt for synthetic rattan. There are ways in which this is going to be more durable, but admittedly also ways in which it will be less so. For example, it will be much better able to cope with wet weather, but more likely to discolour if left in the sun.
HDPE Rattan – If you decide that real rattan is the way that you want to go, then look out for HDPE rattan which not only is more environmentally friendly but also the most durable type of rattan you are going to find. It is completely mould and rot resistant so you can be sure that your rattan dining set is going to last!
Tightness and style of wicker/weave – There are many different weaves that are used for rattan furniture depending on the finish and the strength that you are wanting to create. We would recommend opting for a tight weave as this is going to be stronger, more durable and less likely to pull apart over time!
Style of Rattan Dining Set
There really is such a range of dining sets available it can be difficult to know which is going to be right for you and your garden. The first thing we would recommend thinking about is whether you want a circular, square or rectangular rattan table….a square or rectangular table is going to be easier to store and push against a wall when the full table isn't needed, but a circular table will allow a much more "family" feel allowing you to fit more chairs around the outside. Equally, when looking at the chairs consider whether you want more traditional "dining" chairs or chairs that resemble more armchairs….again the dining chairs will be easier to store but the armchair style more comfortable and potentially able to be used without the table! Once you have decided on these main features, here are some of the additional considerations you need to make when looking at the style of your rattan dining set.
Glass top – Many rattan dining tables are going to come with a glass top. This not only helps to protect the top of the rattan that is going to be most exposed to the rain but also provides a smooth and flat surface for you to eat on without the ridges and bumps of the wicker design of the rattan! We also love how much easier they are to clean!
Integrated fire – Some more high-end rattan dining sets have a fire built into the centre of the table. This is a great way to keep warm when you are eating in the evening but also provides a fantastic focal point and feature to the table! If this sounds appealing then just make sure to check how the fire is powered – whether you are going to need gas or coals, and if these are included.
Compact square tables – If you are short on space (or just wanting a table and chairs that isn't going to take up too much space) then look out for one of the rattan "cubes". These are smaller square tables that have chairs that slide underneath the table, meaning that when they are not in use they are taking up minimal space in your garden.
Cushions – We would definitely recommend opting for a rattan dining set with cushions as this will really increase the comfort of your chairs! Make sure to check whether they are waterproof or will need bringing inside after each use, and whether they are machine washable! Not only this but it is worth checking whether the cushions cover the full seat or just the base of the chair as this is going to affect the comfort of the seat.
Rattan Dining Set Dimensions
Once you have decided on the style of rattan dining set that is going to be right for you, this will help to give you an idea of the dimensions and size of the rattan dining table that you are going to need. The first thing to think about is the amount of people that you are wanting to have around your table – you are much better having too much space than too little as you never know which extra members of the family are going to turn up! Rattan dining sets start from a small table with two chairs and go up to tables that will seat up to eight people (sometimes even more if you don't mind squeezing in!). They usually start at just under a metre in length and go up over three metres depending on the number of chairs you are needing!
TOP TIP: Some of the best rattan dining sets have tables that are extendable! This is fantastic for if you are wanting a table that doesn't take up too much room but also need space for when all the family visit or if you are socialising with friends! These extendable tables will almost double in size and you have a selection of add on chairs that you can choose between!
Best Budget – Outsunny 5 PCs Rattan Garden Furniture
Last update on 2021-10-10 / Images from Amazon Product Advertising API / As an Amazon Associate I earn from qualifying purchases
The Best Rattan Dining Sets Have…
If you are wanting the best value for money and a rattan dining set that is going to last you for years to come, then keep reading for all the best features we have found on some of our rattan dining sets!
Shatterproof glass – For us, this one is a must, particularly if you have pets or young children that are going to be sharing the garden space with you. Accidents happen and it is much better to be safe than sorry so anyone opting for a glass topped table should check for this!
UV Protected Rattan – The one thing that can "age" a rattan dining set is the colour fade if the furniture is left out in the sun for too long, particularly in darker colours. Look out for models with a coating of UV protection if you want your furniture to last as long as possible.
Dining set frame – We would recommend opting for a metal frame made from aluminium or if choosing another metal then definitely make sure that the frame is powder coated. This is going to help to ensure that your frame remains rust free, as this can discolour your rattan over time!
Parasol – Look whether there is a hole in the middle of your table to secure a parasol, or even whether your rattan dining set comes with a parasol. This will help to keep you and your loved ones safe from the heat of the midday sun when using your table. It is also a good way of keeping your food fresher for longer if it is out of direct sunlight!
Colour – Obviously the colour of your rattan dining set comes down to personal preference, whether you are wanting something more natural or a bolder colour. Just bear in mind that darker colours will attract the heat more and can discolour quicker.
Covers – It is always worth checking whether your rattan dining set comes with covers and if it doesn't then making this an additional purchase. Covers are going to keep your rattan dining table and chairs protected when you are not using them and could considerably increase the lifespan of your outdoor furniture. Covers that are made specifically for your ratting dining set are going to be better fitted and therefore easier to use!
Best of the Rest
Last update on 2021-10-10 / Images from Amazon Product Advertising API / As an Amazon Associate I earn from qualifying purchases
Last update on 2021-10-10 / Images from Amazon Product Advertising API / As an Amazon Associate I earn from qualifying purchases
Last update on 2021-10-10 / Images from Amazon Product Advertising API / As an Amazon Associate I earn from qualifying purchases
Frequently Asked Questions
Can I leave my rattan dining set out in the rain?
Rattan is one of the most durable types of wood that you are going to find and it will definitely be able to withstand being left out in the rain – this is the point of choosing it for outdoor furniture. However, we wouldn't recommend leaving your furniture exposed to the elements all through the year if possible, as this is obviously going to affect the finish of your furniture over time. You should also check the cushions and whether these can be left out at all, as many should actually be brought inside or at least stored when not in use!
What guarantee will come with a rattan dining set?
You will usually find that different parts of a rattan dining set will have different warranties. On average, the guarantees that come with rattan dining sets will be around 5 to 10 years, but you will often find that this is for the frame and the rattan, not the cushions or the glass tops. It is also important to remember that your guarantee will not cover for general wear and tear or any damage to the furniture.
How should I look after my rattan dining set?
The good thing about rattan dining sets is that they don't need that much maintenance. The main thing is to wipe down any dirt that builds up and could prevent the natural oils from offering their protection. This can be done by simply wiping down the rattan with warm water a couple of times a year! It is also worth checking whether you can wash and reproof your cushions if you are wanting them to stay looking new and also remain waterproof for as long as possible!
(Visited 41 times, 1 visits today)