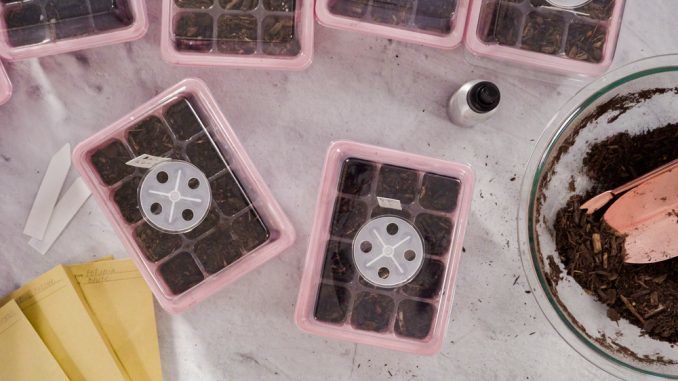 Germinating your own seeds can be a bit of a challenge – especially if you are wanting to do it time effectively and do it right the first time. We all remember those school days when we would simply pop a seed in some soil and watch it grow, and yes TECHNICALLY it is as simple as this, but for anyone wanting to grow more delicate seeds, grow seeds on mass, or possibly grow at a more select time of year….you are going to need a propagator.
Seeds need three things to be able to germinate and grow…moisture, oxygen and warmth. A propagator is there to help you manufacture all three of those things into perfect alignment so that your seedlings can grow happily no matter what the weather conditions outside! This allows you to get a head start on the growing season, or maybe just if you are wanting to play your seeds with a guarantee that they will be safe from birds and other pests that may interfere if they were placed naturally in your garden!
Propagators of many forms have been around for a long time, which means that they have evolved to include many different variants. If you are struggling to choose between heated and unheated, tiered or single layered then keep reading for all your need to know about propagators to make an informed purchase!
Best Pick – EarlyGrow MPL50115/2 Large Shatter Proof Propagator
Last update on 2022-05-06 / Images from Amazon Product Advertising API / As an Amazon Associate I earn from qualifying purchases
In A Hurry?
Anyone eager to get their green fingers working needs to read this part of the article! We have compiled all the essential information that you need to consider before purchasing a propagator so that you can be sure you are choosing the one that is best for you and your precious seedlings!
Electric or Non-Electric?
The main consideration that you need to make is whether you want an electric or a non-electric propagator as this is going to affect whether you can alter the temperature of your propagator or not.
A non-electric propagator is going to be your cheaper option and also allows you the most flexibility in where you can place your propagator as you won't be reliant on being close to mains electricity. They will allow you to keep your seeds safe and offer a much more stable level of moisture and temperature than if your seeds were to be exposed and open to the world! However, the main downside to a non-electric model is that you are going to be rather limited in the ways in which you can control the temperature inside your propagator. You can keep your seeds nice and warm by placing the propagator in sunlight, but if the weather isn't great or you are still struggling with colder nights, then your seeds are going to be spending a lot of their time in temperatures too low to germinate successfully.
If you feel this is going to be a sticking point for you then it may be worth considering an electric, heated propagator. If you are really serious about germinating your seeds, or maybe you are wanting to do this at more "unusual" times of the year, then a heated propagator is probably going to be the option for you. The main difference is that a heated model will have a heat mat in the base of the propagator to warm through the soil and therefore support the growth of your seeds. It is important to remember that your seeds don't actually need the AIR around them to be at a certain temperature but the SOIL to be warm enough, so this heat pad will allow you to keep this consistent temperature through the soil. However, this benefit does come at a price and you also need to consider that you will need to position your propagator close to an electricity source.
TOP TIP: If you opt for an electric propagator then make sure to consider the wattage of your propagator as this will determine the power and the heat that is offered by the propagator. We found some that are 15W and others that are 50W so this is quite a variation and worth checking for!
Dimensions
The dimensions of propagators that we looked at vary quite considerably depending on the space that you have and the number of seeds that you are wanting to grow at one time. Some are as small as around 18cm in length and single-storey whereas others are up to around 80cm in length and three-tiers! There are models even bigger than that but these tend to be used more for commercial use. Don't forget when looking at the size, to think about exactly where you are going to put your propagator…it is going to be near sunlight once your seeds start to change into seedlings. Check whether it is going to fit on your windowsill/shelf in your greenhouse/table in your conservatory or wherever else you are planning on germinating your seeds.
Obviously, the main factor that you need to consider is the number of seeds you are planning to germinate at once, but there are also other factors that you need to think about when looking at the size of your propagator. A smaller propagator is going to heat up quicker, meaning that your seeds can stay at a more consistent temperature whilst your electricity bills can stay nice and low. Not only this, but a smaller propagator won't have nearly the same moisture build up which can actually be a good thing. Although your seedlings will need SOME moisture, too much moisture can actually lead to root rot. Smaller propagators will be much easier for you to manage the temperature and the moisture level – two of the key ingredients – so a smaller propagator may be better for anyone starting out their life germinating seeds!
Style and Features
You will find that there are many different designs of propagators depending on exactly what you need/want to use your propagator for. If you are wanting to use your propagator as a project for your children, then there are fantastic child-friendly models designed in different shapes and colours with individual pots so that they can be labelled with the different seeds that you are growing. However, there are also MANY more "serious" propagators that are designed to support those green-fingered gardeners that are wanting to support their seeds to grow. The first thing you need to consider is the build material of your propagator – some models come in thinner plastic trays which will be great for one or two years of use. These will be cheaper, lighter and easy to move around your garden as needed. But they are going to be less durable than heavy-duty plastic models.
The propagators that use heavy-duty, thicker plastic are going to be much more permanent fixtures in your gardening. They will be longer lasting, more durable and will be able to last for a number of years – but this does come with a price. Not only this but they are going to be heavier and often larger so you will need to think about where you are going to keep your propagator, both when it is in use and when it isn't!
When you have decided on the build material, there are a number of key features that you need to check for before you make your purchase. These are essential for anyone that is serious about growing healthy, long lasting seedlings…
Thermostat
One of the key reasons you will be buying a propagator is to maintain a certain temperature for your seeds, which is going to be difficult to check without a thermostat. Make sure to check whether your propagator comes with one, whether this is integrated into the design or freestanding and the accuracy (if you are germinating particularly delicate seeds).
Ventilation
Another reason you will be purchasing your propagator is to maintain a particular level of moisture in the soil around your seed, as without this they will struggle to even begin their germination process. However, too much moisture can damage your seeds which means you are going to need to find ways to ventilate your propagator. Just removing the lid of your propagator isn't always going to be good enough as this is quickly going to lower the temperature of your seeds. This is why we prefer propagators that come with ventilation panels. These can almost always be opened or closed (or some even half opened) so allow just the right amount of air to circulate around your propagator. Look for models with at least two ventilation panels, but some of the best actually come with 5!
Dividers
This really comes down to personal preference but there is a real diversity in the bases of propagators and how they are designed. Some come as one massive tray, which allows you to add different plant pots, seedling pots, or anything else that you are trying to grow seeds in (depending on the size obviously). However, the downside to this is that you are going to have to fork out for the extra pots initially as well. Others come with dividers to section the base of the propagator into "pot sections". This means that you simply fill each of the individual sections with compost and then plant your seeds. This will save you money initially but it is worth bearing in mind that your seeds will need to be transferred out of the propagator into pots at some point anyway!
Drainage
Make sure to check for the different features your propagator has to allow for drainage. This could be as simple as holes at the bottom, but is well worth checking for as water that sits in the bottom of your propagator is only going to create a bigger moisture problem!
Best Budget – Nutley's 40-Cell Seed Propagator
Last update on 2022-05-06 / Images from Amazon Product Advertising API / As an Amazon Associate I earn from qualifying purchases
Additional Features
Now that you know the main features you should consider before purchasing a propagator, it is time to find out about some of the additional features that we found in only the best propagators. If you are serious about giving your seeds the best chance at life….these are what you need to watch out for.
Temperature controlled – As we mentioned above, a propagator that comes with a thermostat is a must to us, but what if we told you you could purchase one that will then regulate its own temperature using this? Simply set the temperature that your seeds need to be at and your heat pad will kick in when the temperature drops too low. Just remember that you will have to open ventilation panels etc if it gets too warm – they aren't clever enough to deal with that just yet!
Water dam – These are harder to find but some propagators will be self-watering. If they detect that the moisture levels in the soil are becoming too low then they will boost this using water from a store.
Multi-tiered – If you have a number of seeds that you are wanting to work with then it may be worth looking out for a multi-tiered propagator with two or three levels. Not only does this allow you more space to work with your seeds but it is a great way to adjust the humidity levels inside your propagator by adding or removing levels.
UV Protected Plastic – Your propagator is going to spend a lot of its time out in the sun so make sure that the plastic is coated with UV protection to save it from becoming discoloured.
Best of the Rest
Last update on 2022-05-06 / Images from Amazon Product Advertising API / As an Amazon Associate I earn from qualifying purchases
Last update on 2022-05-06 / Images from Amazon Product Advertising API / As an Amazon Associate I earn from qualifying purchases
Last update on 2022-05-06 / Images from Amazon Product Advertising API / As an Amazon Associate I earn from qualifying purchases
Frequently Asked Questions
What should the temperature be inside my propagator?
For most seeds, the optimum temperature for germination is between 18 and 20 degrees celsius. This does vary depending on the seed so we would always recommend checking before you start the germination process.
What warranty will come with a propagator?
This is always going to depend on the quality of propagator that you purchase – some are designed to be used just once or twice whereas others will last a lifetime. We found that warranties tend to be between 12 and 24 months depending on the product.
(Visited 136 times, 1 visits today)