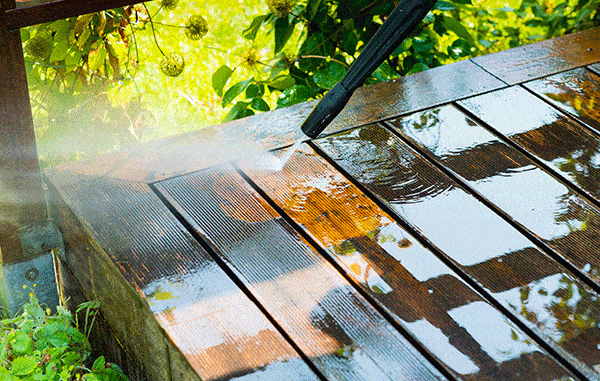 Almost all homes have a patio area of some size, or at least some decking or paving slabs around the property! This means that almost all garden owners will understand the frustration and difficulty of trying to keep these areas clean! Patios look beautiful and appealing when they are shiny and free from moss or algae, but actually getting them to this point can be time-consuming, difficult and expensive!
Not everyone has the money to go out purchasing a pressure washer, and many homes don't actually have the facilities to be able to use one (such as an outdoor tap!). Not only this, but they aren't necessarily the best way forward for cleaning your patio, as they will often remove the grout from between the slabs that have been carefully laid!
Best Pick Patio Cleaner
Sale
Pro-Kleen Patio Cleaner Simply Spray and Walk Away Green Mould and Algae Moss Killer for Patios, Fencing and Decking 5 Litre Concentrate (Makes 25 litres)
Simply Spray & Walk Away by Pro-Kleen is a super powerful outdoor green mould and algae removing solution – the intense cleaning fluid revives your patio, decking, fencing, outdoor furniture, and so much more and is safe for children and pets once dry!
With more active ingredient than most other outdoor cleaning fluids, Simply Spray & Walk Away really is the better way to clean and revive your outdoor area (with hardly any effort required at all)! This concentrated patio cleaner fluid is all you need to keep your garden looking clean all year round and 5 litres of solution makes up to 25 LITRES!
Safe for use on all outdoor hard surfaces including driveways, patios, fencing, roofs, uPVC windows, boats, caravans, motor homes, sheds, decking, and anywhere green mould and algae forms. You'll see results in a few days that last for months.
Item package may slightly vary
No pressure washer needed ✓ Super concentrate ✓ Non-acidic ✓ Non caustic ✓ No bleach ✓ No shelf life ✓ Biodegradable pH8 ✓ Children and pet safe once dry ✓
Last update on 2021-04-14 / Images from Amazon Product Advertising API / As an Amazon Associate I earn from qualifying purchases
This is why we would recommend a liquid patio cleaner to remove moss, mould and other dirt from your paths, stone paving and paving slabs. Quick, easy and relatively cheap, they can also be used on almost any surfaces around your garden that aren't grass or bedding areas! For example, driveways, decking and any size of the patio. You really will wonder why you have never considered this before!
Only Got 5 Minutes?
If you green slabs are getting you down, or maybe you have slipped one too many times on hard stone, then this is the part of the article for you. All the most crucial information you need to find the best patio cleaner and get cleaning your patios and paving as soon as possible!
Things to Consider
There are some main features that you need to think about before purchasing your patio cleaner
Surface Material
You need to make sure that the patio cleaner you are considering purchasing can be applied to the patio that you are looking to clean. Different cleaners will only be designed for different materials, and patios can be made out of stone paving, concrete paving slabs, or even wooden decking. Make sure to check the detergent you are looking will work on whatever material you have in your garden. Some can be used with all different types of material, so these are better for gardens with different areas to clean!
Patio Size
The size of the patio area that you are wanting to clean will affect which cleaner you choose. If working with large areas then you will usually be able to find bigger bottles that are better value for money. You also need to consider the method of application and cleaning, as scrubbing a very large patio area will be hard work! We would estimate that you will need around 5 litres of patio cleaner for every 400 sqm of patio area, so you could find that your patio cleaner will last for multiple cleans, but this does vary massively for each product so be sure to check on the bottle.
Method of Cleaning
If you are opting for a patio cleaner instead of a pressure washer then there are two main types of cleaning methods to choose from. One is sprays that are left on and then simply rinse away after a set amount of time. The others are scrubbing cleaners that require much more effort from you, as you need to scrub the cleaner into the ground! However, these cleaners will tend to be more effective for tough stains that have been there a while! Look at the amount of time they have to be left on the paving slabs to be effective as well – some are as little as an hour whereas others need to be left on overnight or even for a couple of days!
Chemicals in the Cleaner
It is always crucial to check the chemicals that are used in any time of cleaner, but this is, even more, the case with patio cleaners (especially if you have pets or young children). Some patio cleaners will contain types of bleach and acid that are harmful to pets or young children if they are stood on or inhaled for example. It is usually the strongest of cleaners that have chemicals that would be unsafe, so if you have no choice but to opt for one of these cleaners then make sure to fully rinse down the surface after you have finished – and not let pets or children outside during the cleaning or soaking process!
Best Budget Patio Cleaner
ULTIMA-PLUS XP XP Cleaner 5 litres Super Concentrate for Patios, Fencing, Decking and More, Blue
Ultima-Plus XP is a max-strength moss killer that both wipes out moss and forms a protective barrier that stops it from growing back keeping your hard surfaces clean for months after treatment
You can use Ultima-Plus XP on your patio, paving, decking, tarmac, stonemasonry, bricks, wood, corrugated asbestos, greenhouse glass, and more
100% safe: biodegradable. PH8. Non-caustic, no acid, no bleach and is totally safe for use around children & pets once the area has dried
Penetrates your outdoor surfaces creating an invisible barrier which will help to prevent re-growth for up to 6 months
Just one bottle makes up to 25L – covering a huge 200 square metres. This makes this patio cleaner superb value for money with it covering a large area - perfect for patios and driveways!
Last update on 2021-04-14 / Images from Amazon Product Advertising API / As an Amazon Associate I earn from qualifying purchases
Extra Things To Look Out For
Now that you have a better idea of the types of things you need to consider before choosing a patio cleaner, keep reading for some more information.
Concentrate Ratio
One of the important things to look for when purchasing a patio cleaner is the concentration ratio of the cleaner. This is basically the amount of cleaner that you need to mix with an amount of water for the solution to effectively kill and remove any moss, mould or algae from your patio or paving. Some detergents will look to be the cheapest option – until you see that you need to use nearly all 5 litres with just the smallest amount of water, whereas others you will be using a cup full to remove months of moss and algae growth.
You will find that many cleaners will offer two different concentration amounts, one for a normal clean and one for a deep clean. If your patio is looking like mine does at the end of autumn – green and black from all the dropped leaves and berries – then you want to opt for a deep clean. Whereas if you are mid-way through summer and just wanting to give your patio a spruce up then a more diluted solution will probably be just as effective.
Extra Uses For the Patio Cleaner
There are many patio cleaner products that can now also be used on UPVC, fences, sheds and basically any hard outdoor surface in your garden. If your patio suffers from moss and mould growth then it is rare it will be the only area affected, it often covers parts of the conservatory, the bottoms of fencing panels, and sometimes even the base of your garden furniture! Choosing a patio cleaner that can be used in all these different areas means that you will be able to use one product to get your whole garden back looking like new!

Biodegradable Cleaners
There are some patio cleaners that are now biodegradable. This means that not only are they better for the environment and for your garden as a whole, but also it saves you having to go to the effort of rinsing them off afterwards! Simply apply the solution to the area you are cleaning and leave it for a few days, after which it will completely dissolve!
Patio Cleaners with Protective Barriers
Although usually more expensive, there are patio cleaners available on the market that have a protective barrier to help prevent the moss and algae from coming back! Admittedly they are not 100% effective, but they do make a difference so will dramatically reduce the number of times a year that you are having to clean your patio and other paving areas. Some cleaners claim to be effective for up to a year after the first use, as they are reactivated after each time it rains (which let's be honest, is often in the UK!).
Ready to Use Patio Cleaners
There are some companies that produce ready to use patio cleaners. Although slightly more expensive, these solutions will come readily mixed with the right amount of water and also normally come with a spray top so that you can simply open them and get started! This will save you having to measure out the solution and from going purchasing a garden sprayer, so will probably save you time and money in the long run!
How to Clean Garden Slabs
Once you have chosen the patio cleaner that you are going to use it is important to know exactly what to do with it!
First, make sure to check the product details on the bottle as this will tell you everything that you need to know about the detergent liquid and how easy it is to use. It will also tell you how diluted the solution should be.
Once you have diluted the solution and have it ready to use we would recommend using a garden sprayer bottle to apply the solution (these are cheap and can be purchased from any DIY or garden centre). Simply pour the solution into the garden sprayer and you are ready to go!
Make sure to remove any garden furniture from the paving area that you are going to be cleaning, as this could be damaged by the chemicals in the cleaner. Also, make sure that any pets are locked safely inside. We would also recommend putting gloves on and suitable footwear at this point so that you are protected from the chemicals.
Simply spray the solution onto every part of the patio, paved or decking area. It is important to get right up to the edge of the patio area so that you are not left with a dirty line around the edge, but also you must try to not get the spray on your grass or plants as it could be harmful to them!
If you have chosen a leave-on solution then this is the point where you can go and have a sit-down and a cup of tea for the recommended amount of time that your detergent needs to be left to work it's magic! If you have chosen a scrubbing solution then use a hard brush to scrub the solution into the paving slabs.
Once finished, simply rinse the solution off the patio area to leave it looking as good as new!
TOP TIP: If your patio is in need of a deep clean, and you have chosen a leave on patio cleaner then we would still recommend giving the surface a quick scrub once it has been applied. This will help to make sure that the solution is spread evenly and is getting into even the deepest crevices of the paving slabs.
Best of the Rest
Last update on 2021-04-14 / Images from Amazon Product Advertising API / As an Amazon Associate I earn from qualifying purchases
Jarder Spray & Leave 4 x 5 Litre Concentrate Cleaner - Patio Fencing Decking - Moss Mould & Algae Killer (20L)
✓ CLEANS WITH NO EFFORT: Jarder Spray And Leave Kills All Green Mould Moss & Algae With Ease, Without The Need For Scrubbing Or Pressure Washing! Simply Mix, Spray & Walk Away - Works Like Magic!
✓ SUPER CONCENTRATE: One 5 Litre Bottle Of Jarder Spray & Leave Makes A Minimum Of 30 Litres Of Solution Covering A Huge 240m² Area - Jarder Spray & Leave Is a Maximum Strength Super Concentrate Boasting 50% More Active Ingredient Than Other Brands!
✓ ALL HARD SURFACES: Perfect For Use On Patios, Decking, Fencing, Paths, Driveways, Roofs, Sheds, Greenhouses, Garden Statues, Terracotta Pots, UPVC Windows, Boats, Caravans, Motor Homes And All Indoor & Outdoor Hard Surfaces Affected By Moss, Mould and Algae.
✓ PREVENTS REGROWTH: Once Treated Results Will Show In 2-3 Days. Spray & Leave Penetrates Your Outdoor Surfaces Creating An Invisible Barrier Which Will Help To Prevent Re-Growth For Up To Six Months!
✓ 100% SAFE & GUARANTEED RESULTS: Biodegradable PH8; Non-Caustic, No Acid & No Bleach! Jarder Spray & Leave Is Totally Safe For Children & Pets Once The Area Is Dried. Prepare To Be Amazed!
Last update on 2021-04-14 / Images from Amazon Product Advertising API / As an Amazon Associate I earn from qualifying purchases
Last update on 2021-04-14 / Images from Amazon Product Advertising API / As an Amazon Associate I earn from qualifying purchases
Frequently Asked Questions
Can I clean my patio with bleach?
Bleach has often been used for cleaning patios, providing it is diluted (only use undiluted if it is particularly dirty). However, as bleach is not made for this, you will find that you have to scrub the patio very hard for the bleach to have any effect on the patio, and even then it will be unlikely to do as good of a job as a specialist patio cleaner!
How can I clean patio slabs without a pressure washer?
You most definitely don't need a pressure washer to clean your patio! There is a wide range of cleaners specifically designed to clean your patio without the stress and expense of having to use a pressure washer. Simply leave them to soak in your patio and then rinse off.
Will using patio cleaners damage my plants?
Unfortunately, a lot of patio cleaners will damage certain plants if they come into contact with them, due to the large number of chemicals that must be included in the solution to make it effective. If you are worried about this then try using a garden sprayer to make your application of the solution more reliable, water the detergent down as much as possible, or try a non-harmful method such as washing up liquid (although be mindful that this will not be as effective when cleaning your patio).
Can I use a patio cleaner to clean my caravan?
Yes! Many patio cleaners will work on UPVC and metal, so are fantastic at removing the build-up of moss and mould from any caravan! As they will not need scrubbing either it will greatly reduce the amount of time and effort that you have to put into getting your caravan season ready!
(Visited 21 times, 1 visits today)