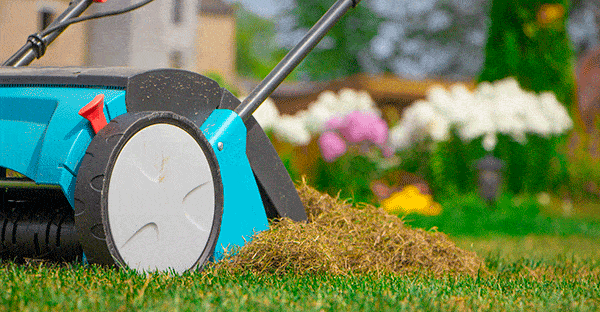 Many of us know the frustrations of trying to get our lawn looking picture perfect. From regular mowing to trying every product under the sun – yet nothing seems to get your grass looking fresh, green and healthy! Have you ever stopped to think that maybe it isn't just more and more fertiliser than you need, but something to actually get to the root of the problem? A lawn aerator could be just what your grass is missing!
Best Pick Lawn Aerator
UPP Manual Rolling Lawn Aerator | Scarifier Makes Your Lawn Healthier & Greener | Garden Roller With Long Spikes and Manual Operation | Sturdy & Durable
Supports growth: thanks to the regular ventilation of the lawn, the so-called aeration, more oxygen gets directly to the lawn root and thus optimises the absorption of nutrients and water supply. The lawn "breathes".
Simple, but effective: achieve top results, without heavy equipment, electricity or petrol. Simply roll over your lawn with our manual scarifier, the 27 nails (each 3.5 cm long) do the rest. Even large lawns are no problem for our rolling aerator
Easy to use: with an effective working width of 42 cm, you can quickly get the result. The 100 cm long steel handle can be disassembled in 2 steps and stowed away to save space. With the rubber grip on the end, they can build up neat pressure and have the device under control.
Stable and durable: thanks to the solid steel construction, the lawn aerator can withstand a lot and can be used for many seasons.
Good for lawn and environment: let your lawn shine in rich green with our rolling lawn aerator. Effective lawn aeration without heavy, petrol-powered equipment and even without electricity.
Last update on 2021-08-04 / Images from Amazon Product Advertising API / As an Amazon Associate I earn from qualifying purchases
Lawn aerators are designed to create gaps in your soil, to allow air and water to drain better and deeper into the ground – providing well-needed nourishment for your grass. There is no point just adding more and more products promoting lawn growth if they cannot actually get down to the roots of your grass seeds to give them the goodness that they need!
As much as the solution that we have offered you is a simple one, there are some important things that you will need to consider first, such as size, design, purpose etc. Our Lawn Aerator Buyer's Guide will give you all the information you need to make your purchase.
How Does a Lawn Aerator Work?
Before beginning to look for the best lawn aerator available for you on the market, you need to know exactly how they work. How can you possibly know what to look for and what features are important if you don't get how they function in the first place?
A lawn aerator will basically pierce small holes into the soil of your lawn as it is pushed along the garden – this usually happens with a rotating roller that then spikes into the ground. The purpose of this is to create enough holes on your lawn for air and water (and other nutrients) to fall down these holes and reach the roots at the bottom of your grass seeds. It will also stop the top few layers of soil from becoming compacted, You will find that this encourages your grassroots to grow deeper, allowing your grass to then grow fuller and greener, as it will be able to make the most of any water or nutrients that are placed on the top of the soil,
Without a lawn aerator, the water and nutrients are going to sit on the top of the soil (nowhere near the roots). It will admittedly soak into the ground slightly, but nowhere near as deep as it needs to get to be fully effective – and as for air – well that just doesn't really stand a chance!
A lawn aerator is also handy for if you are wanting to reseed your lawn as your seeds will be much more likely to germinate if you have given them this head start!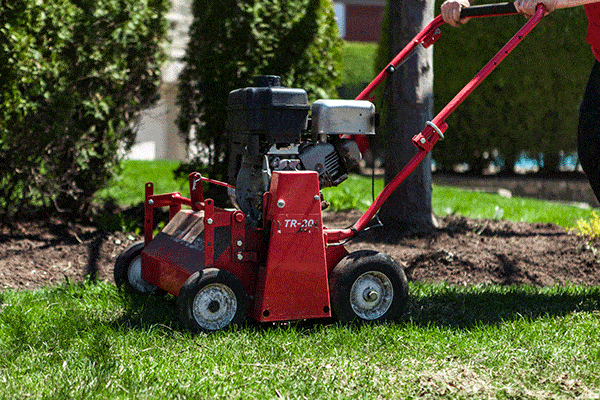 Only Got 5 Minutes?
If you are sick of your lawn looking lacklustre and are in a rush to put it right, as soon as possible, then this part of the article is for you. There are some main features that you will need to consider before purchasing your lawn aerator. We have provided details of these below to help you make a successful purchase.
Types of Lawn Aerators
There are two main types of aerators that can be found on the market: roller spike aerators and hollowed tine aerators.
Roller spike aerators are pushed along the lawn (similar to a lawnmower) and as you do this the roller (with knives attached) will rotate and dig into the ground, to then be lifted out again as you continue to move along the lawn. These will come in both manual and powered models depending on the size of your garden.
Hollowed tine aerators are handheld tools that are lifted and pushed into the soil at various intervals in your garden. These will be cheaper but can take a little more effort as you have to lift the tool and reinsert it into the ground around your lawn.
It is worth mentioning that there are cheaper, smaller methods that can be used such as forks or even aeration shoes (spikes that can be clipped onto the bottom of your shoes for you to then walk around the garden in). These won't break the bank as much as other methods but will take more time and won't usually penetrate as deeply.
Power
Most lawn aerators will be powered by you! This means that they will be cheaper to maintain and run, as all you have to worry about fueling is yourself! However, larger models can be run using electric or petrol.
Electric models are usually the cheaper of the two options and require less maintenance than petrol makes, but they will have the wire to consider (which could be an accident waiting to happen when moving your lawn aerator across your garden). The need for mains electricity also means that you can only move so far away from a power source, which isn't always ideal for larger gardens.
Petrol models will usually be more expensive in both the initial outlay, the fuel and maintenance, so are really only necessary if you have a much larger garden to work with! But they do have the benefits of being cordless, so you can work anywhere, and are very powerful so will dramatically reduce the amount of effort that you need to put in aerating your lawn.
Best Budget Lawn Aerator
Garden Lawn Aerator Shoes - with 26 spikes to allow your grass to breathe - NOW WITH 6 x METAL BUCKLES!
Encourages a healthier and greener lawn. The WIPHANY Lawn Shoes help by allowing air and water to reach the roots of your lawn.
Comes with 3 straps with metal buckles per shoe to ensure the straps do not come undone when in use.
With thirteen 2" Spikes per shoe, rejuvenating your lawn is quick and easy. Full assembly instructions and tools included.
One size fits all - simply strap the shoes to your existing outdoor footwear and take a walk on your lawn.
All orders are shipped via amazon. For even faster delivery, select store " WIPHANY Direct",make sure you are 100% satisfied, please choose "WIPHANY Direct" store to ensure quality.
Last update on 2021-08-04 / Images from Amazon Product Advertising API / As an Amazon Associate I earn from qualifying purchases
Width of Blades
This does not refer to the width of the actual blades themselves, but of the area in which the blades or knives are held, whether this is the roller or the strip depending on the model that you purchase.
The wider your lawn aerator the greater the area of the garden that can be covered in one go – meaning that the job will be finished even sooner. It is worth mentioning though, that if you choose a lawn aerator that is too wide, for a relatively small garden, then you could find it struggling to actually penetrate the soil if your garden has stepping stones or regular bedding areas throughout the lawn.
The widths tend to range between 20cm and 40cms.
Body Material
The materials that are used for your aerator are important as poor quality materials will be likely to bend or break under the pressure of trying to aerate more compact hard soils.
Look for models that are made out of steel as you know that these are going to be well built. Also, look for handles that are made out of more comfortable materials or plastic that will be easier on the hands when working.
Knives
The "knives" (or otherwise known as blades) are the parts of your machine that actually go into the ground to form the holes. Aerators will all have different numbers of knives and obviously the more knives the more holes that you will have in your lawn – which means more water, nutrients are air getting to the roots of your grass. Make sure to also think about the size of the knives, the thicker they are the bigger the holes that they will create in the ground – this is great for your lawn as will give even more space for aeration but can affect the look of your lawn for a while until it evens out again!
It is also important to consider what material the knives are made out of. If you have very hard, compacted soil then you will need to invest the extra money to buy a model with knives made out of strong metal, whereas if you have softer, more clay-like soil then you may be able to get away with lesser quality blades.
Weight
The weight of your lawn aerator will affect how easy the tool is to use in your garden. Roller spike aerators will be heavier than other models (with their electric and petrol models being the heaviest of all), but these only need to be pushed along the garden so there will be a limited time in which you are actually having to lift it! Harrowing tine models will be a lot lighter but these do have to be lifted and then pushed down into the soil with every move, so need to be A LOT lighter or you will find yourself not being able to complete the full lawn in one session!
We found that weights of roller spike aerators ranged between 3kg and 6kg.
Penetration Depth
The penetration depth is how deep your knives will dig into the ground. Obviously the deeper they go, the further the water, air and nutrients will be able to get into the soil (promoting even deeper root growth). You are going to want your lawn aerator to be able to penetrate between 1 to 2 inches, so make sure to check for these on the product descriptions.
Some electric or petrol models will actually have adjustable depths to better suit your garden.
Size of Garden
The size of your garden will affect the lawn aerator that is going to be right for you. Pushing a manual lawn aerator, or carrying a harrowing tile aerator will be tiring on a larger garden, so it may be better choosing for an electric or petrol-powered version that will push your aerator forward with only a little support from you.
On the other hand, if you have a smaller garden, then a larger powered model will probably be cumbersome and difficult to manoeuvre in a smaller space.
Assembly and Storage
Some lawn scarifiers will come already assembled, or if you are purchasing a harrowing tile aerator then they probably won't need any assembly in the first place. However, some will need piecing together so it is worth checking if this is the case and how difficult or easy this is to do before purchasing! It is also worth considering whether your aerator is easy to "shrink down" when you are not using it, as they can take up a lot of space in your shed considering you are only going to be using them twice a year!
Many will come with handles that can be removed and broken down so that you are only having to find floor space for the main motor and roller.
Aerating Tips
If your soil is harder then make sure to pass over your lawn twice in different directions so that it can receive the best aeration possible.
If you have softer soil then only move over your lawn once if you don't want to disturb the soil too much.
Water your lawn well after aeration (with fertiliser if you are wanting maximum lawn growth).
Mark places on your garden where you have electrical cables or hard rocks etc under the ground that you need to avoid.
Aerator or Scarifier?
Aerators are often confused with scarifiers, which is a rather different tool. A scarifier works to rake away the thatch and moss from your lawn, promoting grass growth, whereas an aerator pierces holes to promote growth through increasing air, water and nutrients to the roots of your grass.
There are some models that are now offered as both an aerator and scarifier, allowing you to switch between which mode you need – or sometimes complete both jobs in one go! These do tend to be more expensive, as they require a much more complex design to be able to do both jobs, but are worth this extra cost if you are truly committed to getting the best lawn that you can!
Best of the Rest
Last update on 2021-08-04 / Images from Amazon Product Advertising API / As an Amazon Associate I earn from qualifying purchases
Sale
VonHaus 2 in 1 Lawn Scarifier – 1500W Electric Garden Lawn Rake with 4 Working Depths & 10m Power Cable
Easy, convenient and efficient, this powerful 1500W 2 in 1 scarifier offers a quick and simple way to maintain a healthy, tidy lawn
Made from durable plastic with a metal frame and distinctive grey, black and orange colourways, this handy tool effortlessly removes thatch, moss, leaves and other debris from your lawn
Two tools in one - the dual purpose drum features easily interchangeable aerating and scarifying rollers as well as a collection box, height adjustable handle and long 10m power lead
Some simple assembly required – easy-to-follow instructions included
Manufacturer 2 Year Warranty Included
Last update on 2021-08-04 / Images from Amazon Product Advertising API / As an Amazon Associate I earn from qualifying purchases
Last update on 2021-08-04 / Images from Amazon Product Advertising API / As an Amazon Associate I earn from qualifying purchases
Frequently Asked Questions
How often should I aerate my lawn?
We would recommend aerating your lawn around twice a year – once at the start of the growing season (early Spring) and once at the end of the growing season (towards the end of Autumn).
How can I tell if my lawn needs aerating?
There are a few main tell-tale signs that your lawn may need aerating. These include; if your lawn struggles to drain after it rains if it is hard to stick something into the soil (such as a gardening stake) if you have thin or bare areas of grass or finally if the soil is compacted or clay-like.
(Visited 150 times, 1 visits today)