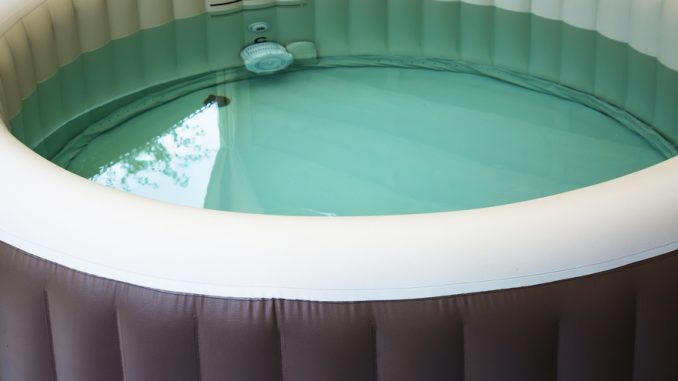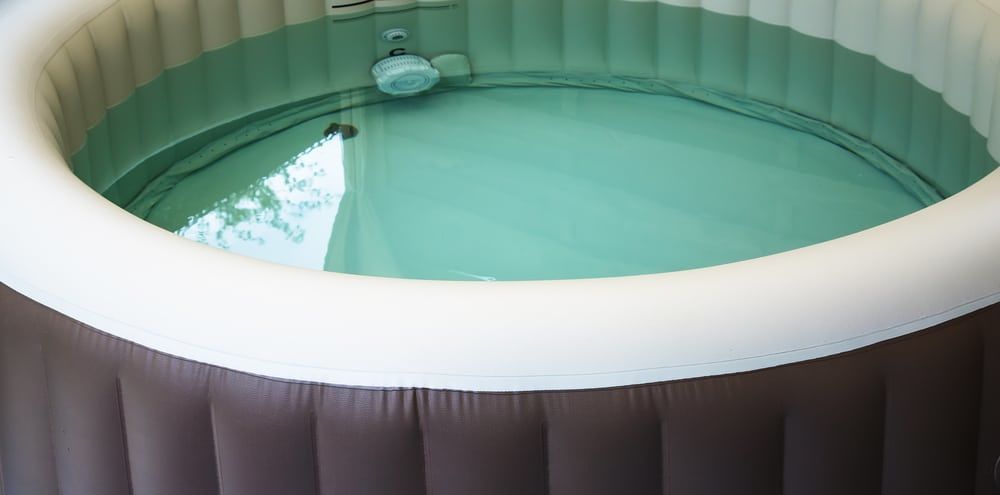 There really is nothing more relaxing than sitting in a hot tub and watching the world go by. Research suggests that a hot tub can reduce aches and pains, ease muscle tension, improve sleep quality, provide stress relief and it can actually lower your heart rate! On top of all of this…let's be honest….they just feel so relaxing to sit in! So why save this luxury for when you are on holiday or staying at a hotel? Especially when you could have the experience at the touch of a button in your own home!
Many people feel that this luxury is out of their grasp, either because they don't have the money or the space in their back garden to be able to have their own hot tub. But, we are here to tell you that this isn't the case. With an inflatable hot tub you will be able to enjoy all the benefits of having a hot tub in your back garden, but at a fraction of the price. Not only this, but because they are inflatable, you can pack them away during times when you think you may not be using them as much and they will store really easily in a shed. Although we have to admit, once you have got used to having a miniature spa in your back garden – we don't think you will be packing it away very often.
If you are trying to decide which is the best inflatable hot tub for you, then we can help. We have included some of the best inflatable hot tubs available at the moment, along with a buyers guide including the key features that you need to consider before you buy!
Our Pick Best Inflatable Hot Tub – Lay-Z-Spa Hawaii Hot Tub
Last update on 2022-06-16 / Images from Amazon Product Advertising API / As an Amazon Associate I earn from qualifying purchases
In A Hurry?
Many people rush out to purchase their inflatable hot tub over the summer months, but actually, they can be just as enjoyable to use over winter thanks to the temperate water that you will be relaxing in! So whatever the time of year, whatever your reason, here are the features that you need to consider before purchasing an inflatable hot tub.
Size and Shape
By far the first thing that you need to think about when looking to purchase an inflatable hot tub is the size that is going to be best for you. There are a wide range of choices out there so you WILL be able to find one to suit every home but you need to know what your options are first.
Originally you would find that all inflatable hot tubs were circular in shape, but this isn't always practical if you are wanting to position your hot tub in one corner of your garden as you can end up with wasted space – which no one wants. You will now find that there are many square and rectangular shaped hot tubs available which is a better option if you are trying to maximise on space. However, there are still plenty of circular options if you have more room and are wanting to go for the original look!
Hot tub sizes are normally measured by their diameter, with the size of the hot tub determining how many seats that there are – and therefore how many people can enjoy the hot tub at once. Here is our size guide to give you an idea…
Under 115cm – These will usually only seat two people and are the best option for a smaller yard or garden.
115cm – 165cm – These models will seat around 4 people (the larger scale could possibly fit more if stood up but still with only four seats).
160cm-185cm – These will be better suited for medium to large size gardens and will be able to sit 6 people comfortably. There will also be much more space in these to stretch your legs out comfortably or allow more people to stand!
185cm and upwards – These are the particularly large hot tubs which are going to take up more room, but they do have the benefit of being able to sit around 8 people so are perfect for those wanting to socialise!
NOTE: There are also some octagonal inflatable hot tubs around which really allow you to maximise on space but these are rarer to come across!
Build Materials
You definitely need to look at the materials that your inflatable hot tub is actually made from! Inflatable hot tubs that are made from cheap materials can be prone to ripping or tearing of the material which will then lead to you having to repair them, which is not only going to be a real hassle but will reduce the value for money that you are getting!
Look out for strong, thick materials that are made up of multiple layers as these will be much more long lasting! Most inflatable hot tubs are going to be made from laminated PVC, which is usually joined in multiple layers to provide additional thickness and resistance to plucks and tears. Some of the best inflatable hot tubs will have up to six layers, offering the best thermal insulation and protection. It is also worth considering the thickness of the PVC that has been used, as this will also affect the thermal protection and the overall durability of the material!
The liner of your hot tub is going to be made from more layers (between two and three) which is going to offer additional thermal protection!
TOP TIP: If you are wanting your inflatable hot tub to look like new for as long as possible then look out for models that come with a UV coating. These will be protected from the UV rays so will be safe from the colour fading for much longer!
Jet Options
The main technical consideration that you to make is the type of jets that you are wanting for your hot tub! The two main options that you have are either bubbles or hydrojets. The bubbles give more the "appearance" that you want from a hot tub, but are going to do less to ease muscle pains and spasms, whereas hydrojets are going to be a bit more expensive but will provide a lovely massage whilst you are enjoying your hot tub.
A "bubbles" hot tub uses a blower to inject air bubbles into the water through the walls of the hot tub. That gives off the hot tub appearance that we are all used to seeing. They will work to relax muscles and eliminate toxins from your body, despite not being quite as strong as the hydrojet options.
It is worth mentioning to start with, that if you opt for a hydrojet option you will almost always find that it does come with a blower for the bubbles as well, so you aren't going to have to sacrifice the bubble effect just to have the more forceful massage of the hydrojets. On hydrojet hot tubs you will usually find one jet per seat as they require much more power and force. They use a mixture of air and water to force additional pressure onto one particular area.
Cleaning Systems
The one real downside to hot tubs is that they are basically a big tub of bath water! Without a way of cleaning the water in the hot tub you are going to find yourself having to replace it regularly, which is not only time confusing, but is also going to be costly and really difficult to do! There are various different options for cleaning your hot tub – some are going to be integrated which will save you time, effort and money but are going to require some maintenance and will normally add extra cost into the initial purchase price.
Saltwater system – These are found in more expensive models, as you require a system that will turn the saltwater into chlorine to clean through the water.
Filter system – It is definitely worth opting for an inflatable hot tub with some type of filter system if you are wanting to keep the water clean in your hot tub. A good quality filter will help to remove not just any debris that falls into your hot tub but also just general small levels of grime that you may not even notice. The quality of the filter can be judged by the litres per hour that they can filter through. An average filter is going to work at around 1700l/h.
Water cleaners – The cheapest initial option is going to be a standard water cleaner that you can pour into the system. These are a quick and easy way to clean the water, but the main issues are that it isn't going to remove any debris from the water (which will then have to be done by hand) and it isn't actually going to cycle the water around.
Hot Tub Functions and Settings
We love hot tubs that are going to come with different options so that you can adjust your inflatable hot tub depending on what you are wanting that day! This will allow you to adjust your hot tub to suit how sore your body is that day, which areas need massaging, what the weather is like and anything else you could need! Admittedly, these options and variations are going to be limited to more expensive options but they are worth looking out for!
Massage intensity – adjust between either cycles of bubbles and hydrojets, plus the intensity of the jets depending on what you are needing.
Temperature adjustment – In the middle of winter you are probably going to want a warmer temperature than you will in the middle of summer so temperature adjustment is a great feature to look for.
Best Budget – CosySpa Inflatable Hot Tub
Last update on 2022-06-16 / Images from Amazon Product Advertising API / As an Amazon Associate I earn from qualifying purchases
The Best Inflatable Hot Tubs Have…..
Once you have decided on the size of inflatable hot tub that is right for you and those key important features, you need to set about finding the best inflatable hot tub you can get for your money! Here are some of the features that we found are worth checking out…
Number of jets – Obviously the more jets that your hot tub has to offer the more points on your back and legs that it is going to be able to work. Most are going to have around 120 and 160 bubble jets so this is the average amount you should be looking for.
Noise levels – All inflatable hot tubs are going to make a certain amount of noise as they pump the water and air into the tub. Not only this but different filters will have different noise levels too. Check the decibel reading of each hot tub!
Filter change warnings – Your filter is going to need changing periodically and it is important to know when this is due so that you are not overworking the motor and the pump but also so that your water is as clean as it needs to be! Some of the best inflatable hot tubs have filter change lights to let you know when you need to start your maintenance routine!
Heat up time – The heat up time is not only going to affect how quickly you can start enjoying your inflatable hot tub, but also how energy efficient it is! Most hot tubs will have a maximum temperature of around 40℃ and will be able to increase the temperature of the water by around 1.5℃ every hour! To put this into perspective, this means that if your water is around 25℃ to start with then it is going to take ten hours to get to 40℃!
Thermal cover – Following on from our point above, if you are wanting to make your inflatable hot tub as energy efficient as possible and keep the temperature as consistent as possible, then look out for a thermal cover. Not only will this stop excess debris from getting into your water but it will help to maintain a regular temperature!
Comfort features – If you are wanting to make the most of your time in the hot tub then look out for models that come with additional comfort features such as headrests and cup holders! These might sound like small things but if you are leaving your hot tub up for a while they will make a difference.
Air pump – Your inflatable hot tub is going to need inflating, this much is obvious, but to actually pump up your hot tub with just your mouth will be impossible! You do have the option of a foot pump that will come with most inflatable hot tubs but even these are going to be time consuming and prone to things going wrong! Our favorite option is a built in electric air pump which will allow you to quickly and easily inflate your inflatable hot tub!
Floor mat – One of the main ways in which you will find damage occurring with your inflatable hot tub is if the base of the sides are punctured or ripped on stones or other sharp materials. The best way to avoid this is to look out for models that come with floor protectors. Not only will this provide a strong barrier between the floor and the hot tub but they can also provide additional thermal protection to stop the water temperature from dropping in the hot tub!
Steps – Some larger inflatable hot tubs come with optional steps that can be added around the outside. These are often inflatable too and will just make it easier to get in and out of the hot tub. We also like that they can be used as seating or as a bench for towels whilst you are in your hot tub!
Lighting – If you are wanting to create a feature of your inflatable hot tub then why not look for an option that includes lights! These are fitted into the tops and sides of the hot tub to create a lovely effect in the water. In some of the best models you will also find that the colour of the lights can be changed depending on the mood for extra relaxation.
Speakers – This is a much rarer feature but we have found inflatable hot tubs with speakers fitted into the surround of the tub. This allows you to relax to music whilst enjoying the comfort of your hot tub! The perfect way to relax at the end of the day…simply connect your phone via bluetooth and off you go!
Filter cartridges – It is always worth checking the filter cartridges that come with your hot tub. You need filter cartridges that are going to be good quality and able to clean the water in your system successfully! We would also recommend looking to see if it comes with replacement filters! Even if this is only one set it will save you money!
Maintaining your Inflatable Hot Tub
If you are wanting your inflatable hot tub to last then maintenance is the key. Not only that, but you are going to have to maintain and monitor the quality of the water to make sure that it is actually safe to use!
Ensure that your inflatable hot tub is always fully inflated. If it becomes limp then you are risking more damage to different parts when getting in and out.
Check the ground around your hot tub for any stones or sharp objects that could puncture the material.
Check the filter of your hot tub and clean this regularly. Don't forget that it will also need replacing so look out for hot tubs that come with additional filters or that are compatible with other standard models!
Monitor the water quality – The water in your hot tub is going to need to be checked once a week. This means taking a sample of water and testing the pH level (which should be around 7 to 7.4). Some inflatable hot tubs will come with this kit to save you having to make an additional initial purchase. If the pH level of your water is off then this will need adjusting with a separate product!
Change the whole water in your hot tub every 4 to 8 weeks.
Occasionally add a clarifier or limescale inhibitor to your water system to make sure that the water is really pure and isn't damaging the system in your inflatable hot tub!
Best of the Rest
Last update on 2022-06-16 / Images from Amazon Product Advertising API / As an Amazon Associate I earn from qualifying purchases
Last update on 2022-06-16 / Images from Amazon Product Advertising API / As an Amazon Associate I earn from qualifying purchases
Last update on 2022-06-16 / Images from Amazon Product Advertising API / As an Amazon Associate I earn from qualifying purchases
Frequently Asked Questions
Do inflatable hot tubs come with a warranty?
You will find that all good quality inflatable hot tubs come with some level of warranty (normally around 12 months to 2 years) but it is important to check exactly what is covered by this warranty! Some of the electrical parts will have longer warranties, such as the motor and the heater pump, whereas things like the liners and material parts will only have a 12 month warranty and even this won't be covered if it has been plucked on a stone or sharp object!
Should my hot tub be left on all the time?
Yes! You may think that switching off your inflatable hot tub will be the best way to save money, but if you are wanting to use your hot tub regularly then you are actually better leaving it on so that it can maintain temperature. Remember that it can take upwards of 12 hours to heat up your hot tub, which will use a lot of energy, whereas leaving your hot tub on will allow it to just "tick over" at a level temperature.
How long does it take an inflatable hot tub to heat up?
You will find that it can take between 12 and 24 hours to get your hot tub to the desired temperature! This largely depends on the size of the hot tub and the quality of the model that you have purchased. You also need to remember that other factors, such as the temperature outside the hot tub, will also have an impact.
(Visited 87 times, 1 visits today)