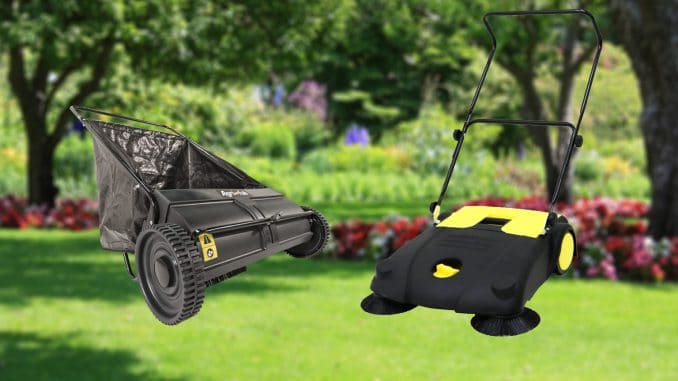 At certain times of the year, it can seem like no matter what you do it is impossible to keep on top of all the leaves, twigs and debris in your garden! No sooner are you done raking your lawn and sweeping your paths, they are covered again and you have to start all over again! If this sounds familiar and you are wanting to spend more time actually enjoying your garden and less time cleaning up, then it could be that a garden sweeper is what you need.
A garden sweeper will do the hard work for you, by collecting all the debris in your garden whilst you just control where this clever machine goes! Garden sweepers are sometimes known as "lawn sweepers" but we just feel this doesn't quite do them justice, as most models will be able to work on your driveways, paths and patios as well as your lawns! So whether you have a lawn that is looking brown instead of green, or a driveway that is leaf-covered instead of clear and smooth, a garden sweeper is the purchase you need to make.
Finding the best garden sweeper can be difficult – partly due to the confusion over the name variation with lawn sweepers! On top of that you also need to consider what power type you want, the size and the uses of your garden sweeper! However, we are here to sweep you off your feet with some of the best garden sweepers available! Our buyer's guide will also help you see the choices you have available!
Best Garden Sweeper Pick – Agri-fab Garden Sweeper
Last update on 2022-05-19 / Images from Amazon Product Advertising API / As an Amazon Associate I earn from qualifying purchases
In A Hurry?
For anyone whose garden is looking rather worse for wear, with leaves taking control, and you've woken up yet again to a covered garden, then you need to purchase a garden sweeper – and quick! But, we understand that you won't be wanting this quick purchase to impact on the quality of the machine that you go for, which is why we have included our favourite models right here!
Manual, Electric or Petrol?
By far the first thing that you need to think about is how your garden sweeper is actually going to be powered. You will have three main options to pick between – manual, electric or petrol.
Manual sweepers are going to be ok for if you are working in a relatively small garden or patio area and you don't have a lot of debris to collect. They are cheaper, lighter and are going to be easier to work with so they have a lot of benefits on the other two models. However, due to the fact that they are powered by YOU, they are arguably not that much easier than opting for a traditional brush or rake! Although they will be more consistent in the debris that they collect (usually increasing collection rates by about 20%), you are still the one that is going to be doing all of the hard work.
Your next option is an electric model. These are the best "middle ground" available for you. They have the lightness and the portability (almost) of the manual models, but being powered by electricity means that they are going to massively reduce the amount of work that you have to put in. A motor will power the motion of the sweeping deck so that as you push around the garden the leaves and other debris is collected effectively. You will tend to find that electric models are able to offer a collection rate of around 60-80% – some manufacturers even claim to be able to get to 90%! The main downside to these models is that you are going to be restricted by your cable length and the closeness to a mains power source! For that reason you need to check the length of the cable to see whether this is going to allow you to work over your whole garden! You also need to consider the safety aspect as it will be all too easy to "sweep" over your cable and cause damage!
Your final main option is a petrol garden sweeper. These are going to be your largest, most powerful options offering collection rates of up to 95% and varied speed options, but that does come at a price (literally and metaphorically!). You will need to consider that these models are often going to be bulkier and heavier which can increase fatigue when working. Not only this, but they are going to be the most expensive to maintain. We would recommend that petrol garden sweepers only tend to be needed for commercial jobs or considerably larger gardens.
It is worth also mentioning that there are tow-on models, but these are going to require you to have a sit-on mower or a quad bike for them to be used!
Sweeping Deck
The next thing that you need to think about is the style and size of the sweeping deck that comes with your garden sweeper. The width of the sweeping deck that you go for is going to impact on the surface area that you are able to cover with each "sweep" over your garden. The larger the width, the less trips up and down your garden that you are going to have to do, as more will be collected in each go. However, we did find that some models with considerably larger sweeping deck widths can actually be more of a hindrance than a help in some gardens! Consider the access into your garden, your shed and also how easy it is to move around your garden, as gardens with concealed paths etc are going to be more difficult to work with. We found variations in sweeping decks from as little as 8 inches up to a whopping 26 inches! To help you choose, we would recommend between 12 inches and 16 inches for an average sized garden!
There are also two main variations in the ways in which a garden sweeper actually collects the leaves, twigs and debris in your garden! Most will have rotating rollers that will have tines at varying points to collect up the debris and "throw" it into the collecting bag. These tines and brushes work together to collect up both debris large and small from your garden thanks to their position on the roller and the motion of moving steadily over the garden. Your other option is rotating heads (almost like a floor polisher). Two of these together working in opposite directions will "brush" the leaves and garden waste into the center path of your garden sweeper where it can then be sucked into the collection bag.
We found that the rotating brush heads tended to be better at picking up the smaller debris in your garden so offer a higher collection rate overall, however the rolling models are better at sweeping overall and will be less likely to miss any areas!
Collector/Hopper Capacity
Known as either the hopper or the collecting bag depending on the model that you are going for…whatever you are wanting to call it, this is basically the part of the machine that is going to collect all of the waste that is collected from your garden. These come in varying sizes from around 4 cubic feet up to around 15 cubic feet depending on the model that you go for.
There are many benefits in opting for a larger model, mostly just the fact that you aren't going to have to empty it as often so you will be able to work for more extended periods of time before you are needing to pause to empty the bag. However, you will find that leaves, twigs and grass cuttings are actually heavier than you would think. A particularly large collector is going to be incredibly heavy when full, which will make it more challenging for you to move around your garden with your machine and for you to then empty it!
When looking at emptying your garden sweeper collecting bag, you will find that most have a detachable bag that can then be emptied onto your compost heap or into your bin/burn pile. These save you from having to push your sweeper around more than necessary but does mean you have to have the strength to lift your bag and waste into the bin etc. Your other option is an attached collection bag that has a hatch for you to tip the garden debris out. This saves you the strain on your arms and back but you are going to be restricted as to where you can "dump" it.
Best Budget – Oypla 20L Litre Floor Garden Manual Push Brush Yard Sweeper Cleaner
Last update on 2022-05-19 / Images from Amazon Product Advertising API / As an Amazon Associate I earn from qualifying purchases
Additional Garden Sweeper Features
Now that you know the crucial features that you need to look out for when purchasing a garden sweeper, it is important to know the extra features to consider as there is so much more to a garden sweeper than just the power and sweeping type!
Weight – Look out for models that are more lightweight as these are going to be easier to push around your garden and manoeuvre between jobs. We found that models range from around 20kgs up to around 40kg depending on the size and build materials.
Usability – There are many factors that this involves but the main two that matter to us are adjustable handle heights and the grips that come on the handles. Adjustable handle heights are going to allow you to get the perfect height to reduce fatigue and strain when you are working. Equally, rubber or foam, ergonomic handles are going to reduce fatigue and sores on your hands.
Multi-functional – This is a feature that is rarer to find but it is one that we love. If you have ever thought about purchasing a lawn scarifier/dethatcher then why not purchase a garden sweeper that can switch between the two! Two fantastic machines to improve the quality of your lawn for the price of one!
Best of the Rest
Last update on 2022-05-19 / Images from Amazon Product Advertising API / As an Amazon Associate I earn from qualifying purchases
Last update on 2022-05-19 / Images from Amazon Product Advertising API / As an Amazon Associate I earn from qualifying purchases
Last update on 2022-05-19 / Images from Amazon Product Advertising API / As an Amazon Associate I earn from qualifying purchases
Frequently Asked Questions
How should I maintain my garden sweeper?
The main thing that you are going to need to do to keep your garden sweeper in good condition is to remove any residual garden debris, grass cuttings or waste after each use. You will often find that little bits become stuck around the tines when in use and it is important to remove these so that the machine does not become clogged up and rust over time. We would also recommend oiling the moving parts once each season to keep them moving freely.
What can I use a garden sweeper for?
The main thing to remember is that you will actually be able to use your garden sweeper on both hard and soft surfaces – they are not only to be used on your lawn! All garden sweepers are going to be able to collect grass cuttings and leaves, but you will also find that many will also be able to collect smaller twigs, pine cones and acorns etc from your garden.
(Visited 407 times, 1 visits today)