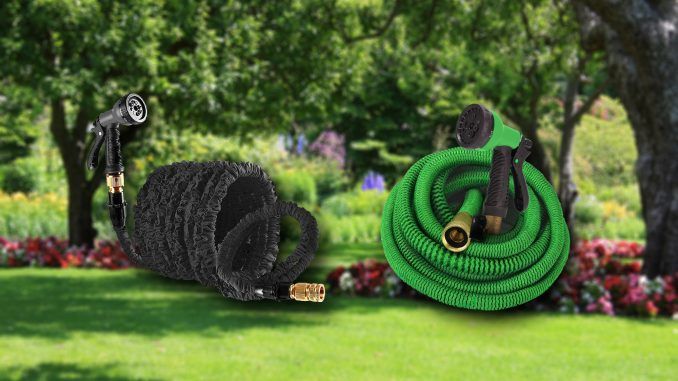 The expandable hose really is every gardener's dream! Whether you are a keen, green-fingered gardener, or just wanting to be able to wash your car, conservatory or bikes with ease – you are going to need a hose pipe! Trying to achieve any similar jobs in your garden without one is near impossible! But, using a hose pipe comes with challenges in itself – the kinks, the knots, the unravelling and re-ravelling….it makes you question using one in the first place!
What if we told you that all of these problems could be a thing of the past? That you could water your plants at the back of your home, then go to clean your car at the front of your home, without the stress of tangled, knotted, leaking hose pipes! Enter the expandable hose! This clever invention is designed to expand and stretch as it fills with water, allowing your hose to spread to incredible lengths, but then shrink back down to a compact and easy to manage size when it is emptied of water!
These "magic hoses" are definitely what you need to be purchasing, but finding the best expandable hose is essential – otherwise you will find one that breaks and stops shrinking back after a few uses and notice that the pipework of your hose is turning into more of a fountain! Keep reading to avoid making these costly purchase mistakes!
Best Pick – Hozelock 30m Expandable Hose
Last update on 2022-06-16 / Images from Amazon Product Advertising API / As an Amazon Associate I earn from qualifying purchases
In A Hurry?
If you have finally decided to invest in an expandable hose then chances are you have had a bad experience with a standard hose pipe! Save yourself from being traumatised for life and make sure to read this part of the article for all the essential features you need to consider.
Length
By far the first thing you need to think about is the length that you are going to need from your expandable hose. But you don't just need to consider the length when your hose is at work, but also the length when your hose is emptied of water. The smaller your hose can contract to when it is not in use the better, as this is going to make it much easier to pack away and store in between uses. However, the longer the hose can expand to when it is in use, the greater the distance that you will be able to access with your hose – and the easier this will be.
Retracted lengths tended to start at around 25ft, with expandable lengths going up to 150ft, so you can see straight away why an expandable hose is going to be a much better option than a standard hose pipe.
NOTE: You will often find that the retracted length and the extendable length are comparative so this is worth considering. For example, a smaller retracted length of around 25ft will often mean that the extended length will only go to around 75ft. Whereas, a longer retracted length of up to 50ft will give you an extended length of up to 150ft.
Materials
If you are wanting an expandable hose that is going to last then you definitely need to consider the materials that your hose is going to be made from. This will determine both the standard pressure that your hose is going to be able to work with and also the amount of use that you are likely to get from your expandable hose before you start to experience any wear.
You will almost always find that the outer material is made from polyester as this will be durable but also flexible. We would recommend looking out for a minimum 4000D fabric – this number represents the tightness and therefore strength of the weave. Equally, if you opt for double webbed materials on the outer fabric then it will be safe from plucking and ripping.
The inner, waterproof piping of your hose is harder to check in terms of the quality, as obviously you won't be able to see it, so make sure that it is made from strong, high-quality latex that is less prone to cracking. Some of the best expandable hoses come with a double latex inner tube, making it strong enough to take extra pressure without cracking.
Nozzle
The nozzle of the expandable hose is the part that tends to set them apart from each other, with different manufacturers incorporating different designs to offer good value for money. The first thing to check for is the material that has been used to make the nozzle – this will usually be polyresin or heavy-duty plastic. Then, you need to look to see how strong (but also easy) the trigger is going to be to hold and use for extended periods of time. We particularly like models that have ergonomic comfort grips that will help to reduce fatigue and sores when working.
It is also worth looking for the different functions that come with the nozzle of your hose. Some will have 9 or 10 functions, allowing you to decide whether you need a jet of water, a shower, or something in between. This will massively increase the amount of uses that you will have for your expandable hose – as lets be honest you don't want to be giving your favourite flowers a jet wash! Most expandable hoses are going to allow you to vary through the different functions by twisting the head of the nozzle – check that this mechanism is going to be durable and strong.
TOP TIP: Check to see whether your expandable hose comes with a hozelock to allow for a continuous flow of water from your hose. This is the best way to avoid too much pressure build up in your hose as there will be a relatively constant cycle of water!
Pressure
The final key feature that you need to consider before purchasing an expandable hose is the pressure that it will be able to take. You have to remember that for the hose to work the way that it does, it has to store and expel water at quite a considerable pressure! This is why weaker models will break and burst after just a few uses!
Some models define their pressure levels in kgs whereas others use "bars" so it can be difficult to know which level it is that you need to be looking for. We would recommend looking for at least 13 bar pressure or 5kg of pressure – depending on how each model is measured.
TOP TIP: Bear in mind that your expandable hose is only going to be able to expand so far before it becomes full of water. If possible, try to avoid leaving your main external tap on for too long with the nozzle on your hose off. This will cause an immense amount of pressure build up which could damage the hose over time.
Best Budget – HOMOZE 50ft Expandable Garden Water Hose
Last update on 2022-06-16 / Images from Amazon Product Advertising API / As an Amazon Associate I earn from qualifying purchases
All The Best Expandable Hoses Have…
Now that you know the main factors to consider when choosing your expandable hose, here are some of the extra features to have you shooting round the garden in no time!
Metal fixtures – When looking at the materials that make up your hose, you don't just need to consider the actual hose materials but also the fixtures at either end. These are going to be made from either plastic or metal – and hopefully you will have a good idea as to which are going to be the best! Metal fixtures are going to be durable, long lasting and able to withstand a much greater level of pressure than their plastic counterparts! Brass fittings especially are going to stay free from corrosion for much longer!
Storage bag – We would definitely recommend checking to see whether the hose comes with a durable storage bag. This will make it much easier not only to store your hose when not in use but also to move to different places if you are wanting to use your extendable hose for camping, trips out, or working in different places.
Hanger – This isn't as common to find, but some of the best expandable hoses actually come with a hanger which will allow you to have your hose hung up and ready to go whenever you need it! We think this is just fantastic value for money.
Hot and cold water compatible – Some expandable hoses are going to have latex and polyester pipes that will be compatible with hot water as well as cold! Some will be able to work with a range of temperatures from as low as around 5℃ up to 60℃. This may not sound important right now but is perfect for if you are wanting the optimum wash on your car or to fill a paddling pool or hot tub!
Replaceable nozzle – You will usually find with all hoses that the part most inclined to break is the nozzle, whether it be from the pressure, being stood or just general wear and tear. That is why we like expandable hoses that have nozzles which can be easily disconnected and replaced. Not only does this make it easier to adjust the use of your hose to a standard model, but also saves you from having to replace the whole hose!
Usability – If you are purchasing an expandable hose then you will be doing this to make your life easier when you are working outside. Therefore, make sure to check the overall weight of your expandable hose so that you know what you are going to be dragging round your garden (as it will be even heavier when it is full of water). Also look at how flexible the trunking material is as this will determine how easy it is for you to move your hose round corners in your garden and flower pots etc.
Anti-slip handle – If you are working with your hose pipe then chances are your hands are going to get just a little wet. Gripped handles with anti-slip technology will save you from drenching the wrong parts of your garden by mistake as you work!
Extra parts – If you are wanting the best value for money then look out for expandable hoses that come with additional parts and adaptors. This will make it much easier to replace parts that wear such as the rubber washers and will also ensure that your hose is going to be compatible with almost any tap!
Anti-pinch design – The best way to ensure that your hose isn't going to kink, tangle or knot. Hoses with these designs in the fabric will be almost impossible to knot thanks to the way the hose retracts back.
Shut off valve – A great little extra that will help to protect both your hose and your tap from any damage that could be caused by water build up!
Best of the Rest
Last update on 2022-06-16 / Images from Amazon Product Advertising API / As an Amazon Associate I earn from qualifying purchases
Last update on 2022-06-16 / Images from Amazon Product Advertising API / As an Amazon Associate I earn from qualifying purchases
Last update on 2022-06-16 / Images from Amazon Product Advertising API / As an Amazon Associate I earn from qualifying purchases
Frequently Asked Questions
What warranty will I get with an expandable hose?
This really depends on the quality of the materials used to make the hose. Some will only offer a warranty of around 6 months whereas others offer a 2 or 3 year warranty. We found that some expandable hoses claim to wear free for up to 1500 uses – but this obviously depends on the make! There are expandable hoses on the market offering a lifetime guarantee but these are harder to come by!
Are expandable hoses compatible with all outdoors taps?
In theory, you should find that expandable hoses are going to be compatible with all outdoor taps. There is no reason why the hose itself should not be able to work in conjunction with the tap, just like any other hose. The only issue that you may come across is connecting your hose to the tap if you have a "non-standard" tap fitting. However, many will come with different female connectors to allow you to join to the main base of the tap – just as you would have to with a standard hose!
(Visited 315 times, 1 visits today)