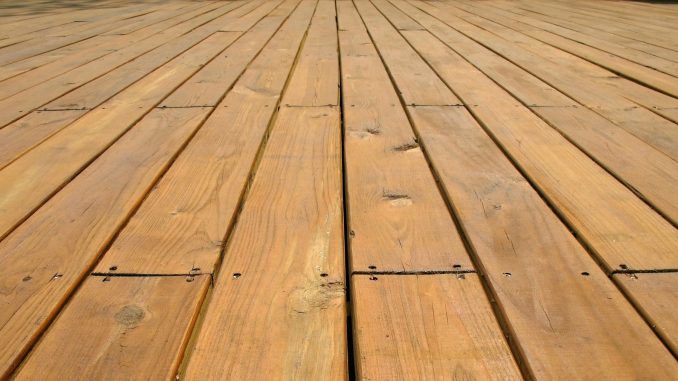 Wooden decking in a garden is the perfect way to make a modern but usable patio area outside your home. The natural materials involved really help to blend in with the garden, whilst more modern finishes can really help them to stand out as an attractive feature in a garden! They are relatively easy to build and maintain, making them a popular choice for many homeowners. However, there is one main downside….attempting to keep your decking clean…and what happens when you don't!
Decking can very easily become dirty and covered in moss, particularly if it is part of one of the main walkways to the back of your property or your garden has a large number of trees and hedges near the patio area. This can lead to your patio looking dirty and worn very quickly, but there are actually bigger problems than just this. Patio areas that are mossy can become covered in an almost "slime" like substance which can be really slippy and dangerous when you are walking on! Not only this, but debris and dirty sitting on your patio is going to increase the rate at which your planks of wood rot – which could be the death of your patio area!
If you are reading this article, you probably already know all of this and how essential it is for the life of your decking area that you purchase the best deck cleaner you can find. So keep reading for some of the best deck cleaners available at the moment and the key features that you need to consider when you are buying!
Best Pick – Smartseal Deck Cleaner
Last update on 2022-06-22 / Images from Amazon Product Advertising API / As an Amazon Associate I earn from qualifying purchases
In A Hurry?
If your decked area is looking worse for wear or you are sick of slipping and sliding every time you step outside, then this is the part of the article for you. Anyone in a hurry can read about all the essential features you need to consider when you are buying the best deck cleaner.
Cleaner or Stripper?
There are two main types of deck cleaner that you will have to choose from depending on what you actually want to achieve with your decking. If you are literally just wanting to clean your decking area then it is a cleaning solution that you need – these are perfect for removing any dirt from the surface of your decked area such as algae, moss, weathered stains or lichen. This helps to remove any slippy areas from your patio area making your decker look neater, be safer to walk on and reduce the chance of any wear or damage.
Your other option when looking at deck cleaners is a stripper (otherwise known as prepping cleaner). These are designed to not just clean your decking but also prepare any outdoor wood for the process of applying stain, varnish or sealer.
A standalone cleaner will keep your current varnish and stain intact whilst cleaning, so will use less abrasive cleaning products than a stripping cleaner that will really work into the grains of the wood and will even work to remove existing stainer to make your renovation process much easier!
The main thing to consider is whether you are planning on re-staining your deck area shortly after cleaning – if you are then a stripping cleaner will be better but if you are not then go for a standard cleaner that is less caustic and won't leave your decking exposed to the elements without protection.
Your final option is a deck cleaner that includes a brightener. A brightening deck cleaner doesn't actually "brighten" the wooden deck area but it works to restore the pH level of the wood to neutral which is essential if you are wanting to extend the life of your wood. Although using cleaners and strippers on your decking is essential to improve the cleanliness and condition of your wood, it can actually cause damage as well (nothing is straightforward when maintaining your garden!). Many cleaners will dramatically alter the pH level of your wood to either acidic or alkaline, but wood can only last long-term and be safe from warping and rot if it maintains a neutral pH level as much as possible! Check whether your cleaner comes with a brightener or recommends that a brightener is used afterwards.
Ingredients
Once you have decided the type of cleaner that you will actually need – you need to start looking at the ingredients that are included to get the job done! Almost all cleaners are going to include some type of bleach as this is the best way to clean away the debris from your decking. We would just recommend checking the strength of this bleach, particularly if you have bedding areas and plants that are close to the cleaning area as a strong bleach could easily kill smaller plants and at least damage the larger ones! If you are wanting a more environmentally friendly option than bleach then look out for oxygen bleach – without going into the science behind it all they use percarbonate sodium instead of hypochlorite sodium which are much more eco-friendly.
You also want to check for any toxins or chemicals that are in the cleaners as these can be really damaging for the environment. Not only this, but they could be harmful for young children or pets if they are going to be using the garden before the cleaner has been fully washed away and dried. If you are conscious of causing long term damage or warping to your deck cleaner, but don't have the time to use a brightener straight after treatment, then look out for non-acidic ingredients.
Concentration and Strength
When you are trying to judge the value for money that you are going to be getting from your deck cleaner, the key is to check the concentration and the strength of the cleaner that you are looking at! Deck cleaners are going to need diluting before they are applied to the patio area. Different products will work with different amounts of water and obviously a product that has a higher water to cleaner ratio is going to be more cost effective as a little cleaner will go a long way!
This obviously directly links to the strength of your deck cleaner. Some will only need a very thin layer of cleaner to get the job done, whereas others are going to need 2 or 3 applications – particularly if your patio has more ingrained dirt!
NOTE: If you are looking for good value for money then as a comparison we would suggest that a 30-35 ounce bottle should be enough to cover a standard sized deck area.
Application
You definitely need to consider how easy it is going to be to apply your deck cleaner and the process that it is going to take. This will differ massively with each product but there are some many choices that you need to think about.
Initial Application – Some will need a sprayer to be able to spread the cleaner around the deck area. This is going to require you to have a sprayer so will be a greater initial outlay but is often quicker and more precise in making sure you access all areas. Your other choice will be a cleaner that is simply poured over the deck area.
To leave or to scrub – Some deck cleaners will literally just need leaving on your decking to soak in, break down the debris and dirt and get the job done. Others work much better if they are scrubbed with a hard bristle brush. These are going to require much more work but can achieve a better finish with a bit of elbow grease.
Leave on time – Most deck cleaners are going to need time to do their job, but how long they need is going to determine the hassle and time that you have to wait. Some will only recommend being left for a few minutes whereas others can be considerably more than this!
Wash off – Almost all deck cleaners are going to need washing off afterwards. Failing to do this can really damage the decking over time as you are literally leaving it sat in bleach! Look how much effort you are going to have to put into washing off your deck cleaner and the amount of steps this is going to take!
NOTE: Some deck cleaners will ONLY be compatible with a pressure washer. These are usually the more environmentally friendly cleaners that have less chemicals than the other options.
Best Budget – Patio Magic!
Last update on 2022-06-22 / Images from Amazon Product Advertising API / As an Amazon Associate I earn from qualifying purchases
The Best Deck Cleaner Features
Hopefully by now you will have decided which type of deck cleaner you need and will have narrowed it down to a few cost effective options. But to separate the best from the rest you are going to need to look out for these additional features….
Plant friendly – If you are worried about the plants in your garden but are still wanting to clean your decking then we have the perfect solution for you….a biodegradable deck cleaner will be your best option as this will break down in the soil without damaging your plants. Even if your plants and shrubs are a short distance away from your decking, the deck cleaner can soak down into the soil and through the roots of your plant when you are washing it off so this feature is well worth looking out for.
Liquid or granular – Deck cleaners will come in two main forms either liquid or granular. They will both need adding to water to be able to work on your patio area but granular/powder deck cleaners tend to last longer and take up less space. Although liquid cleaners can SOMETIMES be added to your decking from concentrate if you have a particularly difficult spot to clean!
Protective coating – We all want the best value for money, so why not look out for a deck cleaner that comes with a protective coating/finish? Some will come with a polymer coating which "sits" on the top of the decking planks to help avoid dirt and debris from becoming ingrained again. This makes it easier to clean your deck in future but also helps to prevent it from getting as dirty in the first place!
Compatible materials – One thing you need to remember to check for is the materials that your deck cleaner is going to be compatible with. Obviously it is going to need to work with wooden decks but many can also be used with vinyl, composite or other painted surfaces which offers you much better value for money and flexibility in the places that you can clean in one go!
Best of the Rest
Last update on 2022-06-22 / Images from Amazon Product Advertising API / As an Amazon Associate I earn from qualifying purchases
Last update on 2022-06-22 / Images from Amazon Product Advertising API / As an Amazon Associate I earn from qualifying purchases
Last update on 2022-06-22 / Images from Amazon Product Advertising API / As an Amazon Associate I earn from qualifying purchases
Frequently Asked Questions
Are there any deck cleaners I can use near my pond?
You are right to check as many deck cleaners are going to be harmful to fish or other creatures that you have living in your pond due to the toxins in the solution. However, there are some deck cleaners that are eco-friendly enough to be able to use near your pond providing they are diluted enough.
How quickly will a deck cleaner work?
This largely depends on the actual application involved with your deck cleaner. For cleaners that require a bit of power and elbow grease (methods involving a pressure washer or a scrubbing brush) you will be able to see results almost immediately that will continue to improve over the course of a week. For other "leave on" cleaners you will see results within a few days that can continue to improve over a couple of weeks!
Why should I use a deck cleaner before I stain or treat my wooden decking?
You may think that using a deck cleaner is just going to add to the hassle that you have to put into maintaining your deck. But by starting the job right you will find that it takes less time (thanks to dirt, old varnish and stains being removed), gives you a much better finish AND will increase the amount of time your stain or varnish lasts as many deck cleaners will open the pores of the wood so the stain treatment can get deeper into the wood. This all means that you won't have to repeat the job any time soon!
(Visited 109 times, 1 visits today)