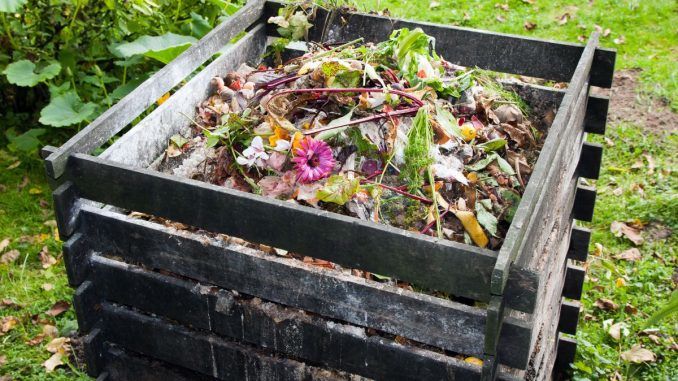 Composting is an eco-friendly, uncomplicated, inexpensive way of transforming your garden.
If it's beautiful blooms you're after then a compost bin is a 'must'; it recycles your garden waste of grass cuttings, weeds and clippings into a nourishing soil conditioner, rich in nutrients, which accelerates plant growth whilst saving you time and money on trips to the tip and expensive fertilisers, AND you're doing your bit for the environment! Simply fill the bin, pop the lid on, sit back and let nature work its magic. In no time at all you'll have a condensed mass of organic super-strength compost, which encourages strong roots and healthy growth. Plants, just like humans, need vitamins and nutrients; providing you're patient, the compost your bin will harvest will be the ultimate super-strength multi-vitamin for all things green!
Best Pick – Compost Bin
Last update on 2022-07-01 / Images from Amazon Product Advertising API / As an Amazon Associate I earn from qualifying purchases
Factors to consider when buying a compost bin
Your garden is there to be enjoyed so anything you introduce into it needs to blend into the existing layout, as well as being functional and fit for purpose. Basically, you want a compost bin that works as good as it looks! To achieve this, you'll need to think about the best bin for you and your garden in terms of capacity, style and functionality.
Types of Compost Bin
| | | |
| --- | --- | --- |
| Type | Description | Best for |
| Continuous | Enclosed-style bin with lidDesigned to handle a variety of food and garden waste 'Continuous' as waste can be added 'as and when' Decomposition process is steady The compost is removed from the bottom of the bin and can be accessed on average 2-3 times per year Designed to keep out garden pestsInexpensive | Continuously recycling a mix of garden and kitchen waste outdoors |
| Batch | Impressive rate of compositing due to the 'tumbling action' Requires daily turning and monitoring of moisture levels Once waste has been added, you'll need to stockpile any further waste in an open bin, outdoor pile or continuous composter until the composting process is complete | Quick composting |
| Indoor | Composting on a smaller scale. Designed for food and kitchen waste | Composting kitchen waste and those of us without an outdoor area |
Material
Most compost bin are made from heavy-duty, durable plastic however if you're offended by the thought of having plastic in your garden, you may find yourself tempted for a wooden design; there are some aesthetically pleasing wooden compost bins out there, and wood is a great heat retainer, however bear in mind wooden compost bins require significantly more maintenance than a plastic bin as, unless you have a bin made from a rot-resistant wood such as cedar, without regularly treating the wood, the bin will quickly rot.
As a result, plastic compost bins, although basic, are the most popular choice, however avoid budget bins made from thin, brittle plastic as these are likely to crack or split easily after a couple of uses.
Plastic compost bins
Generally made from recycled plastic
Tend to be black in colour to absorb heat
Will not rust or rot
Neat appearance
Inexpensive
Low maintenance
Best at retaining heat
Hot bins
Hot-bins are more expensive than a standard compost bin but they are effective at speeding up the decomposition process using heat generated as a result of the tight-fitting lid. The best hot bins produce compost in as little as 4-5 weeks compared to around six months for a standard compost bin with the result being a finer compost.
Hot bins are roughly the same size as a wheelie bin and can stand on a hard surface meaning they're a popular option for those of use who aren't able to facilitate a compost bin that ideally needs an earthy foundation.
Capacity
When choosing the best size of compost bin, you'll need to think about how much space you have and how much waste you produce.
Smaller compost bins are less effective than larger ones as the bigger the bin, the quicker it'll heat up, speeding up the decomposition process, so ideally you want the largest compost bin you can afford and accommodate. If you're concerned about space, a square bin can be positioned in a corner of your garden, taking up no more space than it needs and these look great when placed flush alongside garden fences, however a round container does not have "cold corners" – areas of the bin which can be difficult to access when it comes to turning the compost. When deciding on the shape and size, you'll need to be clear in your head where you intend on putting your compost bin and choose the style best suited to that location.
Best Budget – Compost Bin
1 x 90L 90 Litre Galvanised Metal Dustbin with Door Hatch and Locking Lid - Garden Allotments Recycling Composter Bin
Our range of high quality craftsmanship garden accessories is a must for the green fingered gardening enthusiast.
Our latest gardening must-have is this 90Litre Large galvanised metal dustbin with door hatch and locking lid feature that can be used as either a garden composter or as a feed storage bin.
This is a lightweight yet robust galvanised bin with simple yet secure locking lid feature is designed to keep contents clean and dry and pests out.
Easily portable with secure side handles and also boasts an innovative easy slide side door hatch feature that is great for stock rotation. In with the new at the top of the bin and use the old from the bottom.
This is a great value Simpa gardening or storage bin sold individually or in multi buy sets of 2 or 4 bins. Dimensions (from widest point including lid): 65cm (H) x 57cm (W)
Last update on 2022-07-01 / Images from Amazon Product Advertising API / As an Amazon Associate I earn from qualifying purchases
Why you need a compost bin
Granted, composting can be done without a bin, however it's a slow process and can look unsightly. Home composting is the most eco-friendly way of recycling garden and selected food waste. It's cheap, easy to do, and the result is an organic fertilizer that's bursting with nutrients, vitamins and minerals.
Food waste such as eggshells, teabags, fruit and vegetable peelings can all be added to your compost bin, along with garden waste including grass clippings, dead leaves, weeds and cuttings. Even shredded paper and fire ash can be used! A rough guide is to mix three parts brown materials (e.g. dead leaves, shredded paper, sawdust) to one part green materials (food scraps, weeds, grass clippings). By combining both fresh material and dried waste in the correct balance, your compost pile will maintain the ideal composition of microorganisms to accommodate a speedy and efficient decomposition process.
You don't want to attract flies, generate an unpleasant odour or attract pests so it's best to avoid adding the following to your compost bin:
cooked food
meat
fish
coal ash
cat or dog feces
meat or bones
oil or grease
toxic materials
dairy products
tissue paper
With garden waste, it's best to avoid diseased plants or perennial weeds as, when it comes to fertilizing your garden, the last thing you want is to reintroduce any harbouring diseases back into the very place you removed them from!! Perennial weeds require a high temperature to meet their demise and most compost bins aren't capable of reaching such levels of warmth.
If you have the space and the budget, it's also worth considering investing in two compost bins; this way whilst you're using the fertilizer in one bin, you can start to fill the other – ensuring there's never a period where you have to stop composting and find an alternative method of disposing of your waste. This will provide you with a continuous supply of compost all year round and save you a fair few trips to the tip and the garden centre.
The end result
Compost is the end product of decomposed organic material. The breakdown of the organic material produces nutrients which is a fantastic fertilizer for plants when absorbed via the roots. Adding this fertilizer to the soil not only improves the quality, but also improves drainage and makes the soil lighter; this stops it becoming hard and compacted.
The best compost bins will produce this gardener's 'gold' as they'll have been designed and manufactured with the following key features in mind:
Waterproof and weather-resistant
Capable of retaining warmth – heat accelerates the composting process
Equipped to allow for drainage – if water levels are too high in the bin this can limit the amount of air circulating, slowing down or preventing the decomposition process occurring
Sufficiently ventilated – slits and/or holes will allow oxygen to circulate within the bin which is needed in order for the decomposition process to take place
Where to put your compost bin
It's important to consider carefully where you're going to be putting your compost bin both in terms of how much space you have and to ensure the conditions are suitable for the decomposition process. The best location for your bin is in the shade, or at least an area that is partially shaded, as the microorganisms that are the driving force when it comes to converting waste to compost, prefer steady constant conditions rather than extreme moisture or temperature – too hot or too cold and the bacteria and fungi will struggle to work their magic.
Ideally, a compost bin should be positioned on a soil base, allowing worms and other helpful earth-based insects easy access. he can get in. If you do have to put your bin on a hard surface, layer the base with a couple of inches of earth just to get the composting process started.
Best of the Rest
Yuciya Compost Bag, Homemade Organic Ferment PE Compost Bag, Kitchen Waste Disposal Compost Bag Remains Bin
Waste utilization: The compost bag turns kitchen and garden waste into useful fertilizer for your plants growth; Improve the physical and chemical physiological state of soil; Mix with soil of some proportion, can be used for flowerbed, vegetable garden, lawn, boskage or etc.
Environmentally friendly materials: Compost bag is made of PE material, environmental-friendly and safe, it is also very easy to use with double handles, top vent and large side window, such a practical compost bag, worth buying for your family!
Zipper: Secure zip fastenings to protect from spillage, easy open.
break down: When the decomposition has completed when temperature no longer rises and the color of compost darkens. This process often takes 3 to 6 months to decompose substances.
Scope of application: It is very suitable for use in private or public areas.
Last update on 2022-07-01 / Images from Amazon Product Advertising API / As an Amazon Associate I earn from qualifying purchases
Sale
Oversized White 5 Liter 1.3 Gallon Kitchen Compost Bin with Plastic Liner & Charcoal Filters - Odor Free Seal To Prevent Bugs And Smell - Dishwasher Safe Removable Food Waste Bin Compost Caddy
✅ ODOR BLOCKING AND FRUIT FLY FREE – Our countertop compost kitchen caddy comes with two thick activated-charcoal filters to trap and absorb odors, leaving your kitchen smelling fresh and clean. The lid effectively blocks smell from escaping and keeps fruit flies away. EASY TO OPEN - The light-lock lid seals out odors and keeps out pests, without creating an obstacle to opening the compost bin. Very convenient for using multiple times while preparing a meal!
✅ HIGH QUALITY & NO ASSEMBLY – We love our compost bin's classic modern look and sturdy construction. Our bin is made of high quality metal: carbon steel that will not rust, stain, or retain odors like other plastic or stainless steel bins. The only assembly requited is to simply insert the filter into the lid! Our composting bin will last you forever and won't break even with frequent wear- it's so easy, you'll want to use it all the time!
✅LARGE CONVENIENT SIZE– Our compost bin is about 75% bigger than most other bins on Amazon, saving you from having to make extra trips to dispose of food waste, while also being small enough to fit right on your counter or store under your sink. Our compost bin can EASILY hold several days of compost material from a busy home kitchen. DESIGN IS COMPATIBLE with standard 6 liter compost bag liners and 4" diameter charcoal filters. Our compost container is great for recycling your food in apartment
✅ REMOVABLE PLASTIC LINER WITH HANDLE MAKES CLEANING A BREEZE - The removable plastic liner makes both emptying your compost bin and cleaning easy and efficient. It's even dishwasher safe! Other compost bins may leak - but with an interior bucket it's leakproof!
✅ MONEY BACK GUARANTEE – We think you will love this compost container! If for any reason you do not, rest assured that you are covered by our Cooler Kitchen 45-day Money Back Guarantee!
Last update on 2022-07-01 / Images from Amazon Product Advertising API / As an Amazon Associate I earn from qualifying purchases
Eco King 600L Composter - Green
Rapido-Click-System for a simple assembly without tools
Easy and comfortable filling through two big flaps
Fast composting
Wind protection cover
Convenient compost withdrawal
Last update on 2022-07-01 / Images from Amazon Product Advertising API / As an Amazon Associate I earn from qualifying purchases
Frequently Asked Questions
Will a compost bin attract flies?
Compost bins which are correctly managed shouldn't attract flies. However, if you do notice the odd fly or two buzzing around make sure that any kitchen waste you put into your bin is covered with garden waste. It's also worth checking that the moisture levels aren't too high as this can result in not enough air circulating within the bin.
Should I get a plastic compost bin?
A plastic compost bin is the best option for smaller gardens and quick composting. For optimum decomposition, it should be on grass or a soil base; the plastic sides and lid are effective at retaining moisture and heat. Plastic also blocks out sunlight which prevents weed growth.
(Visited 168 times, 1 visits today)