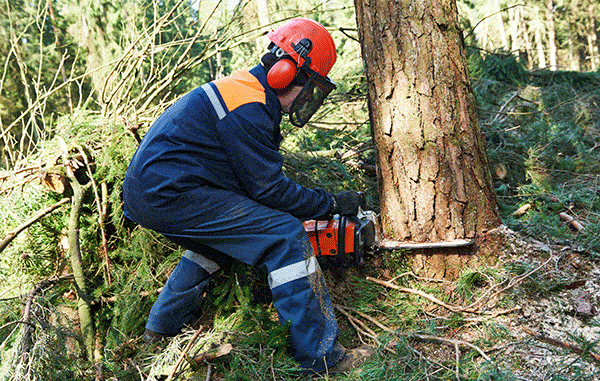 Anyone who has worked with a chainsaw before will know what powerful pieces of equipment they are – and if you are new to the world of woodcutting then you will just have to take our word for it! Chainsaws are purposefully designed to make light work of cutting large logs and trees, so you can imagine the damage that they could do to you if you're not careful!
Best Pick Chainsaw Trousers
Sale
Last update on 2021-10-11 / Images from Amazon Product Advertising API / As an Amazon Associate I earn from qualifying purchases
The issue is that no matter how careful we are when working, accidents can, and do, happen! This is why it is so important to invest in a good quality pair of chainsaw trousers to be worn whenever you are going to be working with a chainsaw. Not only this, but chainsaw trousers can be used whenever you are using any high powered machinery or tools (such as other powered saws etc) to provide that extra level of protection.
How do Chainsaw Trousers Work?
Chainsaw trousers are magical things that really will save your skin in many situations! But how they actually work is quite complicated. Good quality chainsaw trousers use a number of little methods that all work together to ensure they are able to protect your legs from a shredding by a chainsaw!
Firstly, they will have an outer layer that needs to be made from tough yet sliding material, so that hopefully if the chainsaw just slightly touches your leg it will move off again without any damage to the trousers (or you). Underneath this layer, you will find multiple layers of stronger materials, such as Kevlar or ballistic nylon. The purpose of this is to wrap around the drive sprocket of the chainsaw if it is released from the trousers (i.e. the outer layer ripped), which then locks the mechanism, halt the chains, and avoids any damage to your legs.
Type A and Type C Chainsaw Trousers
There are two types of chainsaw trousers that you will see advertised – type A and type C. Type A has protective material for just the front of your legs. This means they can be found as trousers or as chaps to be worn over trousers. They are best for people working on the ground or who are new to wearing chainsaw trousers because they are usually cheaper and lighter (as there is less protection around the back of the trousers). However, they won't be able to fully protect the backs and inside of your legs from any dangerous chainsaw accidents!
Type C chainsaw trousers offer full leg protection, as they have protective material all the way around the legs of the trousers. But this does mean that they are much bulkier and usually more expensive. They offer protection at all angles so are better suited for people climbing trees, professionals completing more complex tasks, or anyone thinking it is better to be safe than sorry! It is worth considering that they will be warmer to wear with being thicker (which will be a good thing in winter but not so much in summer!).
Best Budget Chainsaw Trousers
OREGON Yukon Chainsaw Protective Trousers, Protection Type A Class 1, Size Large (EU 50-52) (295435/L)
Lightweight, comfortable, and abrasion-resistant trousers ideal for arborists, loggers, landscapers, and homeowners for heavy-duty outdoor tasks
Two-way stretch polyester offers five layers of protective material against fuel, oil, and heat while keeping you cool all day
Plenty of available tool storage - two large front pockets and one back pocket with hook and loop closure
KWF Standard certified. Size large (EU 50-52)
EN ISO 11393-2 Class 1 Safety rated for chainsaw protection; recommended by professional loggers
Last update on 2021-10-11 / Images from Amazon Product Advertising API / As an Amazon Associate I earn from qualifying purchases
Features to Look For
There are some main features to look out for when purchasing chainsaw trousers so that you know they are going to last and are going to be up to the task.
Material – Look out for materials that are durable and easy to look after, such as polyester, kevlar or denier. It is important that the materials are washable and hard-wearing but also that they are comfortable and breathable as chainsaw trousers can be quite heavy because of the level of protective linings that they have to provide.
TOP TIP: It is worth mentioning here that most manufacturers will advise that you cannot put your chainsaw trousers in a dryer as this can damage the protective layers in the chainsaw trousers. So it is worth considering purchasing more than one pair if you are going to be using them day in, day out.
Make sure that your chainsaw trousers are in line with safety regulations, such as the EN281-5 safety standard. It is no good buying chainsaw trousers that aren't up to scratch as you will regret going for cheaper options in the long run!
Check the speed of cutting that they will protect up to, and then compare this to the speed that you chainsaw works at. There is little point wearing a pair of chainsaw trousers that will only protect you at speeds of less than 20m/s if your chainsaw is working at over 30m/s!
Sizes – Look out for trousers that offer a range of sizes. Some chainsaw trousers only offer Small, Medium or Large which means that it is unlikely any of the sizes will fit you perfectly! Check the length of the trousers as you don't want ones that are too long when you are using dangerous machinery. Many chainsaw trousers will be able to be fixed with braces too if they are slightly too big around the waist!
Pockets – This might sound like something small, but chainsaw trousers with a number of pockets really will be invaluable! There will always be small items that you are needed to carry around when chopping logs (particularly if you are wanting the chainsaw trousers for professional use) so look out for chainsaw trousers that have big, secure pockets.
Best of the Rest
Last update on 2021-10-11 / Images from Amazon Product Advertising API / As an Amazon Associate I earn from qualifying purchases
Last update on 2021-10-11 / Images from Amazon Product Advertising API / As an Amazon Associate I earn from qualifying purchases
Last update on 2021-10-11 / Images from Amazon Product Advertising API / As an Amazon Associate I earn from qualifying purchases
Frequently Asked Questions
What safety regulations should I look for with my chainsaw trousers?
Chainsaw trousers must meet the EN381-5 safety standard requirements (this can be seen by an emblem with a chainsaw). There will then be a "class number" which explains the quality of the chainsaw trousers in terms of the speed of cutting that they will be able to protect against, from Class 1 at 20m/s to Class 3 and above at 28m/s.
What should I do if I rip my chainsaw trousers?
This really depends on whether the chainsaw protection layer has been damaged. If it is just the outer layer then you should be able to patch up your chainsaw trousers without any problem (just make sure to use a similar material that is going to be strong and durable). However, if the protective layers have been damaged then you must throw away the trousers as they will not offer you the same protection and you could risk being injured.
(Visited 96 times, 1 visits today)