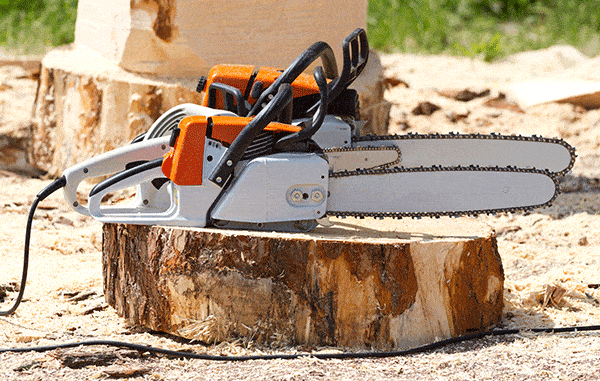 Electric chainsaws are powerful tools that can save you considerable time when working with wood. Gone are the days when you have to use a traditional axe for all of your woodcutting jobs – yes they have their advantages, but electric chainsaws will always allow you to be more efficient!
Whether you are chopping wood for a wood burner, or cutting down trees in your garden, an electric chainsaw will be your new best friend! The issue is that there are so many different electric chainsaws on the market it can be difficult to know which one is right for you, and what features to look for. Our article aims to provide you with information on features, safety and maintenance for your electric chainsaw so that you will be ready to get cutting!
Only Got 5 Minutes?
Best Pick – Bosch UniversalChain 18 Cordless Chainsaw
Sale
Bosch Cordless Chainsaw UniversalChain 18 (battery 2.5 Ah, charger, SDS system, blade length: 200 mm, 18 Volt System, in carton packaging)
Exceptionally light weight at only 3 kg including battery
Streamlined Bosch SDS-system enables tool-free tensioning and chain replacement
Tip Protector with grip-teeth for clean undercuts with minimal branch damage
Switch between delicate pruning, waste management, and cutting firewood easily
Exceptionally light weight at only 3 kg including battery|Streamlined Bosch SDS-system enables tool-free tensioning and chain replacement|Tip Protector with grip-teeth for clean undercuts with minimal branch damage|Switch between delicate pruning, waste management, and cutting firewood easily|
Last update on 2022-05-17 / Images from Amazon Product Advertising API / As an Amazon Associate I earn from qualifying purchases
Want all the most important information about electric chainsaws, and quick? Then this part of the article is for you! We have considered all the most important features to look for when buying the best electric chainsaw and put them all in one place, so all you have to do is read and get buying!
What are you using your electric chainsaw for?
The quality of electric chainsaw that you need depends on exactly what you are looking to use it for. If you have a wood burner and just need to chop softwood for a fire then you won't need a massive amount of power. Whereas if you are wanting to cut hardwood or will be using your tool to cut down branches or trees then you will need more power so a higher spec model will be necessary.
Always think ahead to what you could possibly end up using the tool for – in our opinion it is always better to spend slightly more on a better quality tool than to find the tool you bought isn't up to the task further down the line.
Corded or Cordless
As with many modern power tools nowadays, electric chainsaws come in two main types – corded and cordless. There are a number of different things to consider when trying to choose between a corded or cordless electric chainsaw:
If the chain of your chainsaw can cut through wood then it goes without saying that it can cut through the electrical cord powering your drill. Although cordless models do tend to be heavier, they alleviate the safety aspect of having a trailing cord in the area that you are working.
Location – It is important to think about where you are going to be working. More often than not, if you are going to be using an electric chainsaw, you are not going to be using it right next to your house. If this is the case then, as a general rule, you won't have a mains electricity source to hand! Cordless electric chainsaws can be used away from mains electricity, so can be ready to work in any location you need them to.
But cordless isn't always best…
Cordless models tend to be considerably more expensive than their corded alternatives. With corded models ranging from around £100-200 and decent cordless models starting at around £250 anything up to around £500!
Power – Unless paying for a high spec model, the power in cordless models can be considerably less than those that are mains powered. This means that they could struggle to complete some of the jobs that you are wanting to use them for. Equally, the more heavy-duty the task, the quicker the battery is going to run out. This is fine if you have a number of spare batteries to hand (usually sold separately), or are able to charge your battery and then carry on with the job, but this is really not ideal for bigger jobs.
Best Budget – BLACK+DECKER CS2040-GB Chainsaw
Sale
BLACK+DECKER CS2040-GB Chainsaw Corded, 2000 W, 40 cm
Powerful motor - High performance, quiet and easy to maintain.2000W high torque motor with 12.5m/s chain speed, for fast cutting.
Low-Kickback chain - For smooth and fast cuts through dry wood and live logs
Patented SDS Tool – Free blade tension makes it easy to adjust chain for best cutting performance
Chain break - For maximum safety of operation
Window to gauge oil level
Last update on 2022-05-17 / Images from Amazon Product Advertising API / As an Amazon Associate I earn from qualifying purchases
Power
The power and size of the motor will affect the jobs that you can expect your electric chainsaw to complete. Lower spec models with under 10 amps will usually only be able to cut through smaller branches (around 7 inches and less). Whereas more heavy-duty models, boasting upwards of 15 amps will be able to tackle branches upwards of 20 inches (if not more if you are willing to work with it slowly to get the job done).
Weight
The weight of decent quality electric chainsaws does not tend to vary too dramatically – from around 3kg to 5kg. They are also considerably lighter than petrol models! It is worth considering the weight of the electric chainsaws you are looking at, plus your own strength and ability. Using even the best electric chainsaw is not easy and can lead to fatigue quickly – a heavier tool will only add to this. It will also affect the ease at which you can cut hard to get to branches if working with live trees and bushes – a heavier tool will be more difficult to control when held further away from your body.
Bar length
The bar length is basically everything that it says it is – the length of the bar on the chainsaw that is used to cut things. Obviously the longer the bar, the bigger the size of wood that you will be able to cut through in one move. Most domestic electric chain saws tend to range from between 10-18 inches long. It is important to not opt for something that is more than you can handle! The longer the bar length, the harder it can be to control the tool and balance the weight of it if reaching up high to tackle tall branches.
Handle type
Handle type is actually a lot more important than you would think that it would be when purchasing electric chainsaws! Some models have wrap-around handles that allow much more flexibility in the ways that you can hold the tool to reach those awkward branches. Others offer smaller handles that allow a better grip but will position these in various places around the tool to aid the ease at which the tool can be used.
This really is something that is down to personal preference, so consider what you are going to be using your chainsaw for and if you need it to offer more flexibility in cutting angles.
Maintaining My Electric Chainsaw
Maintaining your electric chainsaw will help to ensure that it runs smoothly and effectively whenever you are wanting to use it. Not only this but it will help to avoid any unnecessary wear or damage to your tool. It is always better to take the time to maintain your electric chainsaw than to have to replace broken parts! That said (as much as we are sure you are more than capable of maintaining your chainsaw!) we would recommend that you take your electric chainsaw to be serviced by professionals once a year to keep it in the best condition.
Now, onto the parts that you can do yourself:
Chain Tensioning – This is important not just to maintain your chainsaw but also for your safety. The vibrations of the tool, and constant use can cause the chain to loosen, which could then lead to it jumping off the guide bar – damaging either your machine or you. Tensioning tools tend to be provided with your electric chainsaw and will allow you to adjust the tension of your chain as necessary. Some models even offer tool-free tensioning, which saves considerable time and hassle. The perfect tension is when the chain is neatly in contact with the bar but also it can be moved around the bar by hand.
IMPORTANT ADVICE: Make sure to let your chain cool before adjusting the tension.
Lubrication – Lubricating your electric chainsaw is important to avoid wear of the chain and guide bar. We would recommend lubricating your chainsaw after every use. The best electric chainsaws will also come with an easily visible oil reservoir to see how much oil is left in the tool.
Sharpening the chain – This is important to ensure your device cuts effectively. Equally, a blunt chain will make the chainsaw work extra hard, so could lead to overheating.

Always check your manufacturer's instructions for exactly how to sharpen your chain

Remember that your chain needs sharpening when your cutting debris changes from wood chips to dust

Use a round file to sharpen the teeth at right angles to the rollers when the chain is locked in position

Clean the chain of any dust or debris after every use to avoid wear to your tool. It is also worth cleaning your air filter to avoid this getting clogged and causing overheating of the chainsaw.
Electric Chainsaw Safety
Any large garden tools can be dangerous if not used correctly. This is, even more, the case with electric chainsaws, which could cause serious accidents if not used correctly! To help avoid this, we have compiled a list of tips to keep you safe when using your new electric chainsaw.
Safety helmets are a must when using chainsaws – particularly if you are working with live trees in your garden. They will not only protect your head if the bar kicks back, but they will also keep you safe from branches that could drop if trying to cut down a large part of a tree.
Some safety helmets will have ear defenders attached, if not then this is something else that is worth investing in. Electric chainsaws can be very loud tools, so ear defenders are so important!
Clothing and boots – Although buying a whole outfit just for cutting wood might seem a bit extreme, it really is something that you should consider! Chainsaw trousers are made of particular fabric that will slow down a spinning chain if it comes into contact with your trousers. Although it won't stop the chain completely, it will give you time to correct your mistake and move the chain away from your leg! Equally, chainsaw gloves and safety boots will protect your hands and feet from the tool!
Anti-kickback brake or inertia chain brake – helps to stop kickback (when a chainsaw hits another object and bounces up towards the person controlling it).
Should I Consider a Petrol Chainsaw?
Electric chainsaws are amazing and have been developed massively in recent years. They can complete almost all wood chopping tasks that you could need around your garden, with more high-quality models even capable of cutting down some smaller trees. But sometimes you may just need that little bit of extra "umph" that a petrol chainsaw can provide.
Petrol chainsaws will be able to cut down larger trees and have a longer running time. They also offer greater power and cutting speed than their electric counterparts. But, they also tend to be heavier and require a lot more maintenance. You also have to consider fuel – not just the cost of fuel, but also the fumes that this emits and the extra work required.
Best of the Rest
Last update on 2022-05-17 / Images from Amazon Product Advertising API / As an Amazon Associate I earn from qualifying purchases
Sale
BLACK+DECKER GKC1825L20-GB 18v Chainsaw-25cm, 18 V, Orange
A lightweight and cordless chainsaw with 25 cm cutting width - ideal for logging, pruning, reducing windfall, preparing firewood and other general DIY maintenance tasks
Weighing only 3.1 kg with the weight evenly balanced between handle and the cutting bar
Secondary bale handle with cover offer better handling and control during the application; the handle cover offers additional protection
Tool-free tensioning provides quick and simple chain fitting and adjustment
Powered with 2.0 Ah lithium-ion battery offering approximately 220 x 3.5 cm cuts per battery charge
Last update on 2022-05-17 / Images from Amazon Product Advertising API / As an Amazon Associate I earn from qualifying purchases
Last update on 2022-05-17 / Images from Amazon Product Advertising API / As an Amazon Associate I earn from qualifying purchases
Frequently Asked Questions
What type of oil should I use on my electric chainsaw?
The bar and chain of your electric chainsaw will need lubricating regularly as it is a moving part. It is important to only use the specific bar and chain lubrication oil for your electric chainsaw to ensure that it stays well maintained. Most manufacturers will recommend their own brand of oil, however, there are generic oils that can be purchased. We would recommend spending the extra bit of money for a higher quality oil as they will include fewer contaminants and last longer.
What should I do if my chain breaks on my electric chainsaw?
Replacement chains can be purchased for almost all electric chainsaws. We would always recommend having a space chain to hand in case your chain breaks during a job that you are completing. Each manufacturer will provide specific instructions on how to replace the chain on your electric chainsaw.
Can an electric chainsaw overheat?
Yes, chainsaws can overheat so this is something to watch out for! Tools that are not well oiled, or that are overworked can be prone to overheat, which can then damage the mechanisms inside. This is even more common during the summer months when they are working in hotter temperatures.
(Visited 179 times, 1 visits today)