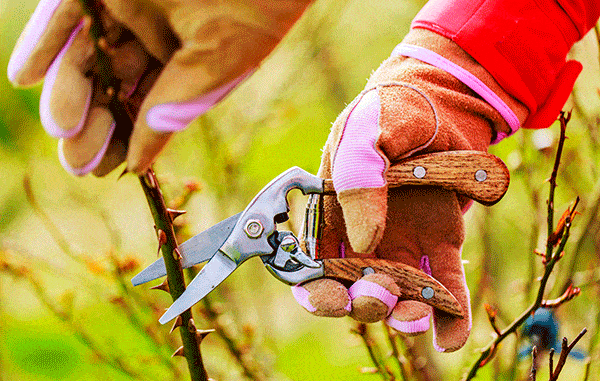 Used for cutting through flowers, stems, small branches and even vegetables – secateurs are every gardener's best friend! Whether you have a small, quaint garden with a couple of shrubs, or rambling, plant-filled grounds, you will no doubt have used for secateurs. But it can sometimes be difficult finding the best secateurs not just for your garden but also for your money – we hope this article will help you with that!
Only Got 5 Minutes?
Best Pick – Felco FEL2 Model 2 Original Secateurs
Sale
FELCO Model 2 Secateurs (Large)
Comfortable, lightweight, sturdy aluminium alloy handles
High quality hardened steel blades, forged aluminium alloy handles, wire cutting notch
Anvil blade with sap groove, rubber cushion shock aborbers
For a medium to large hand, right Handed; the handles have a non slip coating
Lifetime guarantee, all parts replaceable
Last update on 2022-04-30 / Images from Amazon Product Advertising API / As an Amazon Associate I earn from qualifying purchases
Types of Secateurs
There are two types of secateurs – anvil and bypass.
Anvil secateurs use the squeezing motion of your hand to bring a blade straight down onto a blunt cutting platform – basically like a knife on a chopping board. These types of secateurs are better used on dead plant matter or wood as they are more likely to damage plant that is left if used with live plants or shrubs. The blades can also become blunt more quickly than with bypass secateurs – due to them landing on a blunt surface instead of rubbing against another sharp surface – so will need sharpening more regularly.
Bypass secateurs involve the same hand motion, but this causes two blades to come together like scissors. Bypass secateurs can be used on live plants as they are much sharper and provide a neater cut, so are perfect for pruning shrubs and flowers. They are also sharp the whole way along the blade, so are better suited for awkward angled cuts. The downside to bypass secateurs is that they are not all suitable for left-handers due to the scissor motion.
Main Features
There are some main features to consider to help you purchase the best pair of secateurs for the jobs that you will be completing. We have provided as much information as possible of this below.
Ratchet mechanism – Some secateurs come with an additional mechanism to aid in easing cutting. A ratchet mechanism is where the blade closes gradually over two squeezes of the handles. This makes these tools perfect for anyone with smaller hands or people who are less strong/suffer from arthritis, as they can be closed over a couple of pushes of the handles instead of one. However, they do tend to be heavier than other models.
Check the maximum cutting diameter of a device before purchasing as this will affect the stems and branches that you can cut through. The cutting diameter is determined by the size of the jaw opening, not just the size of the tool – so don't always go for the larger tool presuming it will have a larger cutting diameter.
Central spring mechanism – This is important, as some cheaper models will tend to have a cheaper spring mechanism. This means that they will likely break more easily and be less able to stand the pressure and force of harder branches. As the saying goes, "buy cheap, buy twice"!
Better quality steel blades, such as carbon steel, will need less sharpening and provide a better cut – so less damage to your plant or shrub!
Consider the material that your secateurs will be made out of. Lightweight plastics and aluminium will be easier to use but could be less able to withstand heavy use.
The weight of your secateurs can vary massively depending on the model. It also isn't always the case that stronger models will be heavier, due to some newer models being made out of lightweight metals.
Adjustable centre bolt – This means that you will be able to adjust the blade movement to ensure that your secateurs are providing the exact cut that you are looking for.
Best Budget – JEOutdoors ZEM Pruning Shears
Sale
Last update on 2022-04-30 / Images from Amazon Product Advertising API / As an Amazon Associate I earn from qualifying purchases
Additional Features to Consider
Arguably, just as important as the main features, we have thought of many other features that could make or break your relationship with your secateurs. Many good quality secateurs will last for a number of years, so it is important that you have considered everything and that they are right for you!
Safety catches – Many secateurs will now come with a safety device that is designed to stop the blades from opening/closing when on. Although this is always important (as tools can be left lying around or end up some unknown place in the shed!), it is particularly important if you have children around. The safety catch will be too complicated for most young children to figure out – so avoids any unwanted accidents!
Replaceable parts – More high-end secateurs will offer parts to be sold separately when they need replacing. In an ideal world, your tool will last forever and parts won't need replacing for new – however, anything can happen when cutting back plants so replacing parts is always better than having to replace the whole tool!
Bright colours – Many secateurs come in standard shades of green (presumably to match the theme of the garden!). As much as this looks lovely – if you are working with any more considerable sized plant/garden then it can be very easy to "lose" your precious secateurs if they camouflage into their surroundings! Therefore we would always recommend purchasing brightly coloured secateurs.
Wristband/holster – Similar to the bright colours feature – many secateurs will come with either a wristband loop or a holster. This is a fantastic time-saving device if you are using more than one tool, or have a considerable number of plants to prune.
Closed-loop lower handle – Devices with a closed-loop instead of a straight handle will be easier to open if they get stuck around a stem or branch. However, consider how big the loop is if you have larger hands or always wear gloves when gardening.
Lower handle that rotates as you squeeze – These aren't found often in secateurs, but this simple design saves a lot of fatigue in your hand, making them considerably easier to use.
Geared Mechanism – Some models offer something clever called "geared mechanisms". This means that whatever amount of force you put into the handles when squeezing them together, this mechanism will double – or even triple – this force, making it much easier to cut through thicker, harder plants and shrubs.
Soft grip material – This feature is pretty self-explanatory – soft-grip material will make your tool easier to use for longer periods of time.
Battery pruners – Some more expensive secateurs are now battery operated. This makes them much easier to use and leaves you suffering from less fatigue in your hand after considerable use.
Sap groove – used to remove debris with greater ease.
Non-stick coating – this will help to avoid debris sticking to the blades so that they are easier to wipe down after use and will provide a neat cut for longer before needing to be cleaned.
Looking After Secateurs
Maintaining your secateurs is important, as you will no doubt need them at many points throughout the year! Keep reading for some top tips on how to keep your secateurs pruning perfectly!
Make sure to sharpen your secateurs whenever they begin to feel blunt or find it harder to cut through your plant. The blades can be sharpened using steel or whetstone. Blunt blades cause more damage to plants, which can lead to fungal infections/insect damage. Once they have been sharpened, simply wipe them over with an oily cloth and they will be ready to use again!
Rust can quickly take over secateurs if left unchecked! Remove rust with a wire brush whenever possible.
In the hope of preventing rust – ensure all sap/debris is wiped off your secateurs after every use. Failure to do this could leave your secateurs sticky and at risk of corrosion.
Best practice would be to lubricate the moving mechanisms in your secateurs after every use. However, we appreciate this is not always possible! As a minimum, lubricate your secateurs after sharpening and if you know that they are going to be out of use for any length of time (such as over winter).
If cutting back diseased foliage, we would recommend disinfecting your secateurs after use, to avoid transferring this onto other plants.
Best of the Rest
Spear and Jackson 6358RS Razorsharp Ratchet Anvil Secateurs, Silver
Ratchet action allows for easy pruning in four short simple steps
Suited to dead or thicker woody stems, easily copes with material of 20 mm diameter
High quality carbon steel blade, PTFE coated for smoother cutting and resistance to rust
Lightweight cast aluminium body with a metal locking catch, loop handle and non slip grip for safer use
Grow your own British growing 2018 award winners
Last update on 2022-04-30 / Images from Amazon Product Advertising API / As an Amazon Associate I earn from qualifying purchases
Bosch Cordless secateurs EasyPrune (Integrated 3.6 V Battery, 450 Cuts/Battery Charge, In Blister Pack) Generation 1
The Easy garden tools from Bosch - the handy helpers, for all small projects
Effortless cutting and pruning with Power-Assisted cutting settings: Easy cutting of branches up to 25 mm thanks to the electric motor
Smooth and clean cuts: Use the garden shears for clean cuts of both thick and thin branches while encouraging healthy plant growth due to the stainless steal blades
Long-lasting battery: Up to 450 cuts with just one battery charge thanks to powerful integrated battery
Easy-to-charge: Use the micro USB cable to charge the tool anywhere; the light will indicate when the battery is fully charged
Last update on 2022-04-30 / Images from Amazon Product Advertising API / As an Amazon Associate I earn from qualifying purchases
Frequently Asked Questions
How do loppers differ from secateurs?
Loppers are considerably larger than secateurs – although tend to use the same mechanism to cut. They are used to cut bigger branches or stems that even your best secateurs cannot get through!
How do I get the best cut with my secateurs?
Where possible, it is always best to cut your stem or branch with a slight angle. Too sharp of an angle and the stem could dry out, equally if you cut straight across then this could cause rot. Also, be sure to cut not too far above the bud, but also not so that the secateurs are going to damage the bud when closing.
I'm left-handed but need a bypass pruner – are there any available for me?
There are a number of brands that have now released left-handed secateurs that function just as well as their right-handed counterparts.
(Visited 130 times, 1 visits today)