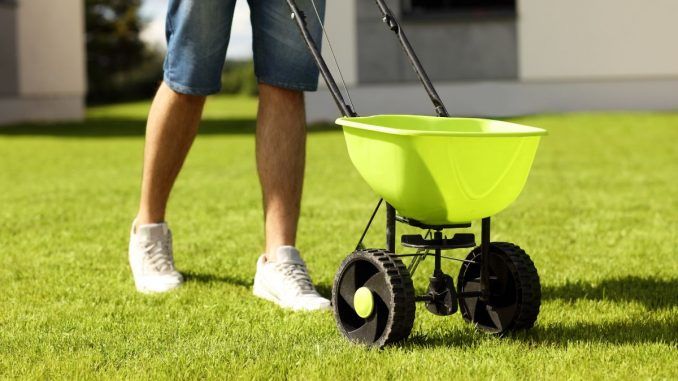 Whether you're laying an entirely new lawn or trying to tackle pesky patches, to ensure the best results it's essential that grass seed and fertiliser are applied evenly and accurately over the outdoor area being treated. If the product is not evenly distributed, you run the risk of under-application or, worse-still, over-application, which can lead to burning and significant damage to the grass and soil, which can result in a frustratingly lengthy recovery period. So, how do you achieve this ideal balance of distribution? A lawn spreader.
Best Pick – Lawn Spreader
EverGreen 18920 Easy Spreader Plus, 620.0 mm*240.0 mm*300.0 mm
Designed for the easy application of EverGreen lawn treatment products and grass seed
Sophisticated dispensing mechanism with adjustable settings to ensure correct application rate
Drop spreader allows accurate application, preventing product from escaping out the sides and landing on beds and borders
Easy to assemble
Convenient on/off switch for safe turn-around
Last update on 2021-04-18 / Images from Amazon Product Advertising API / As an Amazon Associate I earn from qualifying purchases
A lawn spreader is a device designed for outdoor use that spreads grass seed and fertilizer over a designated area. It helps ensure even distribution and reduces waste, and using a lawn spreader is much more time-efficient than if you were to sow the seed or fertiliser by hand. It also makes the process of applying fertiliser safer as there is less chance of potentially hazardous chemicals landing on plants or paths where they potentially could come into contact with children or pets.
Only got 5 minutes
What type of lawn spreader do I need?
There are many types of adjustable lawn spreaders on the market, ranging from a basic drop spreader with a low number of settings, to the more high-tech rotary spreaders with multiple settings. Some lawn spreaders can also be used to melt snow and ice during the colder months; you'll just have to make sure you choose a model that's compatible with antifreeze products.
When choosing a lawn spreader, the size of the area you intended on distributing seed and fertiliser over is the most important factor you'll need to consider.
Drop Lawn Spreaders
A drop lawn spreader is a simple device – basically a large plastic or steel container on wheels. The fertilizer or seed is poured into the container and falls out when the bucket is wheeled across the grass. This type of spreader is ideal for smaller lawns, or when more control over the spreading process is needed. With a drop lawn spreader, the seed and/or fertiliser will be dispensed in a controlled manner from an outlet between the wheels. The flattened grass where the wheels have passed over will offer a useful visual guide when it comes to ensuring even coverage, as you should be able to line up the lawn spreader with the previous row and consequently avoid any gaps or overlapping.
Suitable for small to medium-sized gardens
Capable of accurate and even distribution of both grass seed and fertiliser; more so than a rotary spreader
Speed of distribution is dictated by your pace and the size of the outlet on the underside of the hopper
A decent drop lawn spreader will have a range of adjustable settings
The best drop lawn spreaders will have a control mechanism on the top of the spreader handle, enabling you to power-up or power-down the spreader
Best option for spreading around rocks, garden furniture, decorative features or ponds.
Rotary Lawn Spreaders
A decent rotary spreader with a generous hopper capacity will allow you to distribute seed and fertiliser over a greater area without having to stop and repeatedly refill.
Best suited to covering medium to large areas
Features a bucket-like hopper sitting higher off the ground than a drop spreader
The grass seed or fertiliser product is released from the base of the hopper onto a spinning distribution disc, which then 'flings' out the product in an arc-like motion
Quicker than a drop lawn spreader but not as accurate or evenly distributed
Can be difficult to maneuver in tight areas and over undulating ground
Speed of distribution is dictated by your pace and the size of the opening on the underside of the hopper
The best drop lawn spreaders will have a wide range of adjustable settings and feature a control mechanism, usually located on the handle, enabling you to power-up or power-down the spreader
Key features of a lawn spreader
Adjustable Spreader Settings
The best lawn spreaders will have distribution settings that are accessible and that can be easily adjusted. This is a key feature as seed and fertiliser should be applied at different rates, and this may vary if certain areas require more or less coverage than others. It's also worth checking that the dispensing mechanism operates smoothly, is rust-resistant and not prone to clogging.
Construction
The best lawn spreaders will be constructed from a lightweight, stable, durable steel frame; this is particularly important for large capacity models or towed spreaders. The hopper should ideally be made from heavy-duty plastic or lightweight steel such as aluminium. The wheels should be durable, ideally pneumatic, and should rotate cleanly around the axle.
Best Budget – Lawn Spreader
Woodside 12L Garden Lawn Seed/Fertiliser Spreader Grass Weed Feed Salt Gritter
VERSATILE - The easiest way for spreading seed, fertiliser, sand, salt etc around your lawn. Strong, sturdy and smooth running.
12 LITRE - The spreader has a large 12 litre capacity which is great because you get to cover a large area in one go.
ADJUSTABLE - 10 stage controllable spread rate giving you full control. Built in baffle plate acts as a filter to help take the load off the spreading shaft.
PROFESSIONAL - The professional finish allows this item to be perfect for both private and commercial use.
SPECIFICATION - Size: L: 55cm x D: 17cm x H: 22cm. Handle height: 109cm. Wheel diameter: 19cm. Colour: Green. Material: Plastic.
Last update on 2021-04-18 / Images from Amazon Product Advertising API / As an Amazon Associate I earn from qualifying purchases
Spreading Mechanism
A decent spreading mechanism will ensure even distribution of seeds or fertiliser; this is vital as, if the product is not evenly distributed, there's the risk of insufficient application in certain areas, resulting in malnourished, unsightly patches or, worse-still, over-application, which can lead to burning. The best lawn spreaders will have a spreading mechanism which is made from anti-rust steel and that is corrosion resistant.
Durability
Like any garden tool, a lawn spreader needs to be able to stand up to outdoor use. In reality not all lawns are perfectly flat so you want a spreader that's built to withstand hitting lumps and bumps, the odd knock or collision, and one which can be used in all weathers as, let's face it, the good old UK weather is hardly predictable! The best spreaders will be constructed from a steel frame, with a heavy-weight plastic or lightweight metal container, with all mechanisms encased. It's certainly worth having a read of the product description to see what assurances the manufacturer offers in terms of how the spreader has been designed to last, and the type and length of warranty the lawn spreader is sold with; you may need to register your purchase online in order to activate the warranty so check if this is the case; then you have 100% peace of mind that should anything happen, you're likely to be covered for repair or replacement.
Size of Hopper
The capacity of a lawn spreader is determined by the size of the hopper – the container where the grass seed or fertiliser is emptied into and then discharged through an outlet in the base. How big the hopper needs to be will be determined by the size of the area you intend on treating. Too small of a hopper capacity and you'll be stopping to refill every five minutes, wasting time and increasing the risk of uneven coverage i.e. areas being missed or spreaded over twice. Too big of a capacity and you're pushing along a lawn spreader that's far bulkier and heavier than it needs to be, and one which is likely to prove tricky to maneuver around smaller gardens as its been primarily designed for use over large areas.
The aim when it comes to capacity is to keep the number of refills to a minimum to ensure the process of spreading is as quick and fluid as possible.
Manoeuvrability
Most lawn spreaders are push-powered, however for large areas it's worth considering a towed lawn spreader, which can be hooked up to the majority of ride-on mowers or quad bikes.
For undulating or sloped gardens, a lawn spreader with pneumatic tyres is worth considering. Decent quality tyres will make your lawn spreader much easier to maneuver, and minimises the risk of the wheels getting stuck and potentially damaging your turf.
Desirable features of a lawn spreader
Multiple settings to regulate dispersion rate
Compact design for portability and easy storage
Pneumatic tyres
Can be used with antifreeze products
Foldable push-handle.
Lightweight for ease of use
Factory calibrated
Generous hopper capacity
Solid construction – steel frame and robust hopper
Rust-proof and weather resistant
Easy-clean
Smartphone holder
Lengthy, inclusive manufacturer's warranty
Maintenance
To keep your lawn spreader working at its optimum operating condition and prolong its longevity, it's recommended that you clean your lawn spreader after each use.
How to clean a standard lawn spreader
Empty out any unused grass seed or fertiliser.
Wash down your lawn spreader and hopper using hot (not boiling) soapy water.
Clean the axles and wheels.
Lubricate axle bushings with a light spray lubricant to protect them from rust.
Ensure all parts are thoroughly dry before storing away.
Best of the Rest
dirty pro tools™ 55 lbs Professional rotary spreader lawn fertiliser grass weed seed grit feeder
Spread width up to 3 meters, uick and easy application of lawn care treatments over large areas with each strip
Large wide wheels making it easier to use on sloping lawns, large 55 lbs in weight not volume capacity
Wheels 20 cms high strength poly plastic, Heavy duty self lubricating nylon gear
Variable settings Heavy duty self lubricating nylon gear, ideal for dispersing a variety of grass seeds granules and during the winter season
Last update on 2021-04-18 / Images from Amazon Product Advertising API / As an Amazon Associate I earn from qualifying purchases
Last update on 2021-04-18 / Images from Amazon Product Advertising API / As an Amazon Associate I earn from qualifying purchases
Scotts EasyGreen 16055 Rotary spreader, 290.0 mm*600.0 mm*330.0 mm
Variable settings to apply lawn food or grass seed
Spreading width is 122-340 cm
Adjustable handle bar for comfortable use and storage
Use with Lawn Builder, Evergreen and Miracle-Gro granular lawn care and/or grass seed products only
Material is made up of Steel frame and plastic hopper and Tank Material is Plastic
Last update on 2021-04-18 / Images from Amazon Product Advertising API / As an Amazon Associate I earn from qualifying purchases
Frequently Asked Questions
What is the best way to grow grass?
The best way to grow grass is to use a quality grass seed mix and a lawn spreader. You should sow the grass seed using the lawn spreader and spread the seed in two directions (lengthways and widthways) to achieve the most accurate coverage possible.
How fast should you walk with a rotary lawn spreader?
The faster you walk, the faster the distribution disc will spin, increasing the distance that the grass seed or fertiliser will be spread over. If you aim to walk roughly 1m per second (average walking pace), you should get the desired application rate, however, it's worth consulting the user manual to check.
(Visited 9 times, 1 visits today)