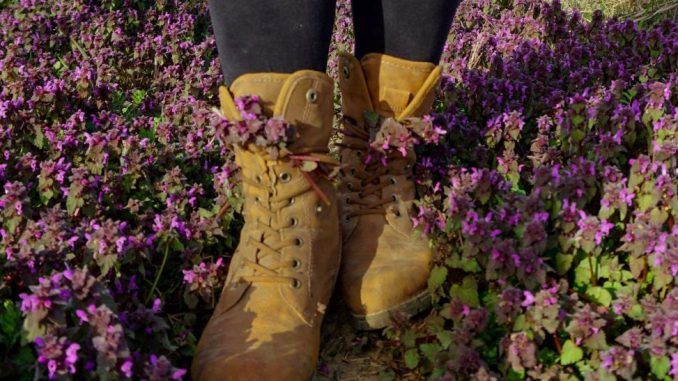 It's time to dust off your trowel, charge up your mower, and freshen up your decking. In the not-too-distant future the sun will be shining (hopefully!) and summer will be in full-flow with flowers blooming, kids playing and the BBQ smoking. However, in order to be able to enjoy your garden to the full, you'll need to get it back to its former 'pre-winter' glory. There'll be plenty of mowing, pruning, potting and weeding to be done and in order to work quickly, comfortably and safely, you're going to need to make sure you're kitted out in some suitable gardening attire and a decent pair of garden boots should be at the top of that list!
No one wants to be stuck in the garden with wet, cold, achy feet, limping along after one big toe had an unfortunate encounter with a plant pot; the best gardening boots will ensure that your feet stay dry and warm; you feel secure, comfortable and supported; and your trotters are protected from any unexpected external force or pressure. From time-to-time, we all might nip out in our pumps to hang out the washing or let the dog out in our slippers, but as any serious gardener will tell you, a workman is only as good as his tools and a decent pair of gardening boots should be at the forefront of any gardener's toolkit!
Only got 5 minutes
Why you should invest in a good pair of gardening boots
If you're one of the many Brits who've never given much thought to gardening attire, you'd be forgiven for questioning whether investing in a pair of boots specifically for gardening is really necessary.
However, with more accidents than ever occurring in our gardens, it's clear that precautionary measures need to be taken. For anyone who sees themselves carrying out garden maintenance this summer, whether it be mowing the lawn, weeding the flowerbeds or cutting back branches, protecting your feet, just as you would your eyes or hands, is something you'd do well to consider.
The Royal Society for the Prevention of Accidents reported that in 2019, the most common accident in UK garden's was a fall with 115,000 being reported nationwide. A record amount of rainfall has been recorded in recent months and, as a result, our gardens are, in a word, wet. Trying to steady yourself on wet turf and mud in order to remain upright is not only dangerous, but tedious and unnecessary. The best gardening boots will have grip so you can move around freely without the worry of slipping or losing your footing. This is particularly beneficial for older gardeners, who risk serious injury from even a minor slip or stumble.
As well as helping you remain upright, with a good pair of gardening boots, you can rest-assured your feet will remain protected from any drops or impact from rocks, sharp objects or garden tools.
Choosing the best gardening boots
With a huge range of gardening boots available online, it can feel a little overwhelming when it comes to narrowing down your search and choosing the best pair for you. Whether you're looking for plain or fancy, wellies or ankle steel-toe-caps, there's a few key factors worth considering before you make your final choice.
Style/type
Ask the majority of gardeners about fashion and wait for the look of absolute distaste. Practicality beats fashion. Everytime. To some extent we do agree – when working outdoors for prolonged periods you want a pair of boots that are fit for purpose and most importantly, comfortable!
However, gone are the days when gardening boots have to look like a pair of wellies only your grandad would wear. There are gardening boots out there to suit a range of tastes, in a variety of styles, whilst still being functional, comfortable and protective.
The following features are worth looking out for when it comes to choosing the best gardening boots for you.
Style
When it comes to gardening boots, the main variation when it comes to style is length – knee-high gardening boots tend to be the best option when it comes to heavy-duty outdoor work, whereas if your time in the garden tends to be spent doing the odd bit of weeding and pruning, you should be fine with a calf or ankle-length gardening boots.
Material
Particularly in the UK, where a wet and soggy July weekend isn't uncommon, most gardening boots are made out of rubber due to it being waterproof, inexpensive and durable. A downside to rubber gardening boots is the lack of ventilation – the air circulating inside is limited, which can result in hot, sweaty and potentially swollen feet and ankles.
An alternative to rubber is synthetic materials such as neoprene, which offer better levels of ventilation, however aren't as waterproof as rubber. Breathable lining surfaces that wick away excess perspiration by circulating air through the interior are also becoming increasingly popular.
Ease of use
From pull-on, knee-high wellies to velcro ankle boots, you're going to want to know your boots are secure and you're not going to face a tedious struggle everytime you want to put them on or take them off. For speed, a slip-on boot would offer the quickest turnaround however, if a more secure fit is what you're looking for, with increased support and stability, then opting for a pair of gardening boots with velcro or buckles may be better suited to what you're looking for.
Last update on 2022-06-28 / Images from Amazon Product Advertising API / As an Amazon Associate I earn from qualifying purchases
Boots Vs Shoes Vs Clogs
| | | |
| --- | --- | --- |
| Type | Pros | Cons |
| Boots | Ensure your feet remain dry, warm and protected in wet and muddy conditions. Quick and easy to pull on Tend to have good air circulation | Rubber boots easily puncture Long boots can restrict movement and flexibility Open top can result in garden mess falling into the boot, and cold feet! |
| Shoes | Secure, supported fit Offer good levels of grip Usually well-insulated to keep feet toasty! | Not ideal for work in overgrown, waterlogged or muddy areas No lower-leg protection Can be time-consuming to put on/take off |
| Clogs | Easy to slip on/slip off Inexpensive Suitable for wandering around the garden; a touch of light weeding, potting; or planting | Foam clogs tend to be soft so offer limited protection from falling debris or penetration from sharp objects such as thorns or forks Not suitable for heavyweight gardening tasks such as digging, mowing, aerating or DIY, as feet are exposed and vulnerable to injury from impact and/or penetration |
Mid/long length gardening boots
If you're likely to be working in wet or muddy conditions, long grass, or in overgrown areas, you'll want to consider a pair of mid to long length gardening boots in order to keep your feet and lower legs warm and dry. Choosing the right size of gardening boot is vital to ensure the boots are comfortable and offer maximum support.
Shaft height
The shaft is the length of the upper part of the boot, from the ankle to the top. Knowing this length will allow you to determine how far up your calf the boots will sit, and whether you've enough distance between the top of the boot and the back of your knee to be able to bend your legs comfortably.
It's worth taking note if the boot has a small wedge or heel as this is not included in the shaft height; the measurement will be from the top of the heel to the highest point of the boot.
Shaft circumference
Shaft circumference, unlike shaft width, is taken at the top of the boot leg and gives you an idea of how easy the boots will be to slip on and off.
It's worth taking note of the material of the boot as, should the upper part of the boot be made from elasticated material, this will allow for stretch, which won't be accounted for in the shaft circumference measurement.
Shaft width
The shaft width is the circumference of the boot leg at its widest point which usually correlates with the widestpart of the calf. The best long gardening boots will be available in a range of shaft/calf widths, or at least offer the option of a 'wide' fit.
Key features
Regardless of the style of boot you opt for, there's a few key features it's worth looking out for to ensure you get the best deal when investing in a pair of gardening boots.
Thermal lining
Ergonomic, comfortable design
Sturdy construction
Easy slip on/slip off
Boot 'tabs' for easy pull-on
Waterproof
Flexible
High level of traction for maximum grip
Range of sizes e.g. wide fit
Made from good quality, durable synthetic materials
Secure fit
Easy clean
Lengthy manufacturer's warranty/guarantee
Made from recycled/recyclable materials
Frequently Asked Questions
How can I stop spiders getting in my gardening boots?
You can minimise the risk of spiders getting into your gardening boots by storing them upside down or covering/blocking the 'entrance' to your boots with newspaper. If you're storing your boots somewhere where there's evidence or sightings of creepy crawlies, it's always best to give your gardening boots a good shake before you put them on… just in case!!
What are gardening boots?
Gardening boots are boots designed specifically for working outdoors. Safety, comfort and practicality are the three main reasons why it's worth investing in a good pair of gardening boots. The best gardening boots should reduce the risk of slips and falls, whilst also protecting your feet from injury; they should keep your feet dry, warm and well-ventilated, whilst offering support and flexibility.
(Visited 597 times, 1 visits today)