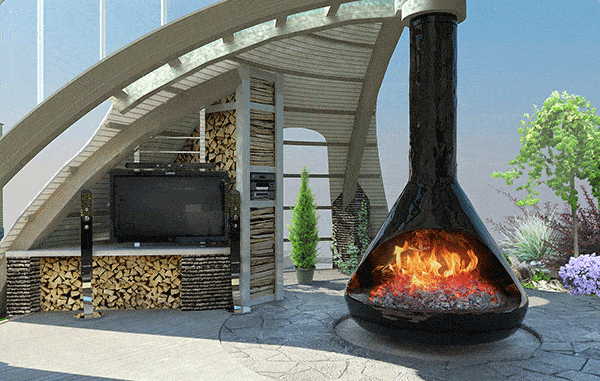 If you're looking for an outdoor heater to enjoy evenings in your garden, whatever the season, you will no doubt have come across chimineas – a freestanding, front-loading oven or fireplace with a bulbous body and usually a vertical smoke vent or chimney.
Chimineas have become increasingly popular as they serve as a warm and toasty focal point for friends and family to gather around after the sun has set, enabling you to stay outside, with good company and conversation, even when there's a chill in the air.
Made from clay, cast iron or steel, with a range of attractive designs and finishes, there's one that would look perfectly at home in your garden, whatever your style – whether traditional or contemporary. There are plenty of modern burners on the market that have updated the chiminea concept by trading in the rustic look for sleek, sharp, steel lines that will give any garden a modernist touch.
Best Pick Chiminea
Sale
Last update on 2022-05-19 / Images from Amazon Product Advertising API / As an Amazon Associate I earn from qualifying purchases
Only Got 5 Minutes?
If you've decided on a chiminea as the latest addition for your outdoor area, first you need to decide on which material your chiminea will be made from – clay, steel or cast iron. When choosing, you should consider:

the size of your garden or patio
whether you prefer a mobile or fixed model
if you have pets or young children
whether you want a chiminea for just heating or also, cooking
the fuel you are planning to planning to use
Advantages
Clay
Cast Iron
Steel
Safest option for pets or children Easy to assemble Traditional & decorativeProduces mid-range temperaturesKind to the environment

Can be used for cookingAble to heat large areasProduces high temperatures

Can be moved around easilyCan be used for cookingEasy to maintainCan use a range of fuels


Disadvantages
Heavy so difficult to move aroundSusceptible to cracking Not suitable for heating large areasVulnerable to weather damageCannot be used with coal
Heavy so difficult to move around Can be harmful to the environment depending on fuelProne to rustOuter shell reaches extremely temperatures
Can be harmful to the environment depending on fuel Not suitable for heating large areasNot capable of reaching the temperature of clay or cast iron


Once you've decided on which model best meets your needs, you'll need to consider which accessories will help you get the most out of your chiminea:

Chiminea cover (recommend for all modes)
Chkminea guard (if you have pets or young children)
Poker
Pumice/lava stones
Floor protector (required if you're planning to have your chiminea on decking or any other surface which is not heat-resistant)
Stove paint
Clay chiminea sealant
Choosing a chiminea instead of a patio heater will give you an attractive focal point to enjoy, not only providing heat, but also a stylish garden feature in its own right, which can be used all year through – whether warm, hazy summer evenings or a crisp, sharp afternoon in winter, a good-quality, well-maintained chimenea will help you make the most of your garden all year round.
The three basic models
Clay
Do you have a colourful, rustic garden? Do you want a chiminea which is kind to the environment? If so, then a clay chiminea is likely to be the most suitable option for you. The most traditional of the three models, clay has been used for hundreds of years and, although over the years the design has evolved, the authentic Mexican style has largely stayed the same. Available in a variety of finishes, a good-quality clay chiminea, with a large mouth at the front, is perfect for those who favour the original chiminea design. The open front of a clay chiminea gives the fire a strong draw of air for a cleaner, hotter flame.
If you're only planning on burning wood – a more environmentally-friendly option than coal – then a clay chiminea will do just that with minimal mess. Despite the fact they aren't able to withstand the high temperatures of a coal fire, they still combust wood, charcoal, cardboard and garden waste better than steel or iron, leaving little residue. Most manufacturers do recommend layering the fire-bed with lava stones to avoid cracking over time, and a coat of clay sealant over the exterior shell will further improve the longevity of a clay chiminea.
If you have pets or children, safety will obviously be a concern – both iron and steel chimineas will reach temperatures which, on contact, are likely to result in nasty burns. A clay chiminea does not conduct heat like metal does and so should remain cool/moderately warm to touch.
A clay chiminea is also the easiest to install – once you have positioned the stand on a fire-resistant surface, all that needs to be done if for your chiminea to be lifted on top and you're ready to go!
Cast Iron
If you're intending on heating a large area then a cast iron chiminea is likely to be the best option for you. It is worth remembering that unlike the clay models, iron chimineas tend to be very heavy so make sure you're happy with the idea that your chiminea will need to stay in the same spot, unless you have a few extra bodies to help you move it around.
If you have pets or young children, decide on a location which is well out of their way as a cast iron chiminea is capable of reaching extremely high temperatures with the outer shell retaining the heat even after the fire has extinguished.
If you're buying a chiminea in the hope of using it for cooking, go for metal – whether it be cast iron or steel as most have a grill accessory on top which can be used to BBQ, fry, toast or even cook a pizza!
In terms of fuel, a cast iron chiminea will combust a range of fuels – wood, charcoal or coal – so the temperature, to some extent, can be controlled i.e. a higher temperature reached from coal than could be with wood or paper.
Steel
Of the three models, steel is the easiest to maintain – it doesn't rust like iron or crack like clay. Steel also weighs less than iron and so can be moved around more easily, meaning you can change the location of your chiminea.
The downside of steel is that it doesn't reach the temperatures of iron or clay and so is unsuitable for heating large areas, or for those of us who want to feel super-toasty when sat around in the evening.
Steel chimineas are still suitable for cooking – some models come with grills or cooking plates, which can be used to boil a kettle or heat a saucepan.
Best Budget Chiminea
Last update on 2022-05-19 / Images from Amazon Product Advertising API / As an Amazon Associate I earn from qualifying purchases
Chiminea care
Chimineas may go back hundreds of years and the design and idea be somewhat basic but these outside heaters are not indestructible.
Some iron or steel models may claim to be weather resistant but generally, chimineas require at least some protection from the British weather. An insulated cover will keep your chiminea looking fresh and prevent damage from the wet and cold. A cover is essential for clay models as clay should be kept as dry as possible to avoid cracking, and iron is prone to rust, however care should be taken to never cover a wet chiminea. This seals the moisture in so make sure it's thoroughly dried before covering.
As well as using a cover, give any signs of wear on a metal chiminea a rub with wire wool, and a coat of stove paint before each winter – this should prevent the exposed area from rusting. .
Whilst in use, starting a fire too quickly is the most common reason for chiminea damage. If the temperature of the chiminea rises too quickly, the sudden increase can cause the chiminea to split. Clay chimineas are most prone to this. You need the temperature to rise slowly. Start building your fire steadily – adding fuel gradually. Keep the fire small for around half an hour before you start building it up. A gradual rise in temperature is what you're aiming for.
Chiminea accessories
General accessories
Once you've decided on which model is best suited to you and your garden, you'll need to consider which accessories are worth investing in.
Chiminea cover
Whichever chiminea you decide on, you need a cover – some retailers include one in the price but if not, you will need to invest in one. A cover should stop a metal chiminea from rusting and if you have a cast-iron model, it means you can keep it protected without moving it indoors. For clay chimineas, a heavy-duty, insulated cover will keep out the frost during winter – this is important as the absorbed moisture can cause the shell to crack. Covers should be waterproof, UV resistant, and shaped to fit perfectly, often with a drawstring at the bottom.
Poker
A poker allows you move hot fuel around, shift ash and get more air under the fire.
Chiminea guard
This is usually five panels which surround the chiminea, keeping children and pets safe from the hot surface – worth considering, especially for cast-iron models.
Pumice/lava stones
Use pumice stones to line the bottom of a clay chiminea – this should prevent the clay shell cracking.
Stove paint
Stove paint comes in a spray and is used on iron or steel chimineas. Inevitably heat resistant paint wears away over time leaving the metal exposed and vulnerable to rust. When you spot a bare patch, rub it down with wire wool, and apply a fresh layer of stove paint.
Floor protector
Do you have decking? If so, you'll need to protect it. A floor protector stops stray sparks from damaging the wood or any other surface which is not heat resistant.
Clay chiminea sealant
Another preventative measure to avoid cracking in clay chimineas – clay sealant aims to keep moisture and frost out, to try and minimise the risk of cracking.
Cooking accessories
Removable BBQ grill
Toasting fork
Cooking iron
Long-handled frying Pan
Popcorn popper (to be used with a frying pan)
Pancake pan
When using your cast iron or steel chiminea for cooking, always use dry wood or ideally, charcoal. Let the flames die down first and then cook over the embers.
Safety
As you're thinking about buying a chiminea, you'll obviously have thought about safety, especially if you have young children or pets. A chiminea encloses the majority of the flame, which helps reduce the likelihood of an accidental mishap, however it is important to keep in mind that the flames and heat generated from burning any type of fuel can be dangerous.
To help increase safety, and decrease the chance of an unintentional fire, or damage to your land or property, these easy-to/follow safety guidelines should be followed. Doing so will allow you to relax and enjoy your chiminea in the knowledge all preventative safety measures have been taken. All that's left is for you and your friends and family to sit back and enjoy!
Always place the chiminea/chiminea stand on a flat, non-flammable surface (decking is wood-based so a floor protector is likely to be required).
Keep your chiminea away from flammable materials such as plants,washing lines and garden furniture.
Be careful not to overfill your chiminea – if flames are coming out of the funnel, your fire is too large.
Never leave a lit chiminea unsupervised.
Don't throw water on the fire unless it's an emergency – keep a bucket of sand or dirt nearby instead.
Always supervise pets and young children around a lit or emberring chiminea.
Consider investing in a pair of fire-proof gloves to protect your hands and forearms – useful if you ever have to reach into the fire, or touch a hot chiminea for any reason.
Best of the Rest
Sale
Last update on 2022-05-19 / Images from Amazon Product Advertising API / As an Amazon Associate I earn from qualifying purchases
Last update on 2022-05-19 / Images from Amazon Product Advertising API / As an Amazon Associate I earn from qualifying purchases
Frequently Asked Questions
Chiminea or firepit?
A chiminea will require minimum attention in terms of feeding the fire and is easier to maintain. Along with the fact you can move a chiminea around – changing its location in your garden – unlike a fire pit.
What fuel should I use for cooking?
Charcoal is the best fuel for cooking.
Which type of chimenea will last the longest?
Obviously this depends on how often the chiminea is used; how it is maintained; and it's exposure to the elements but, generally speaking, a cast iron model has the potential to last the longest.
(Visited 841 times, 1 visits today)