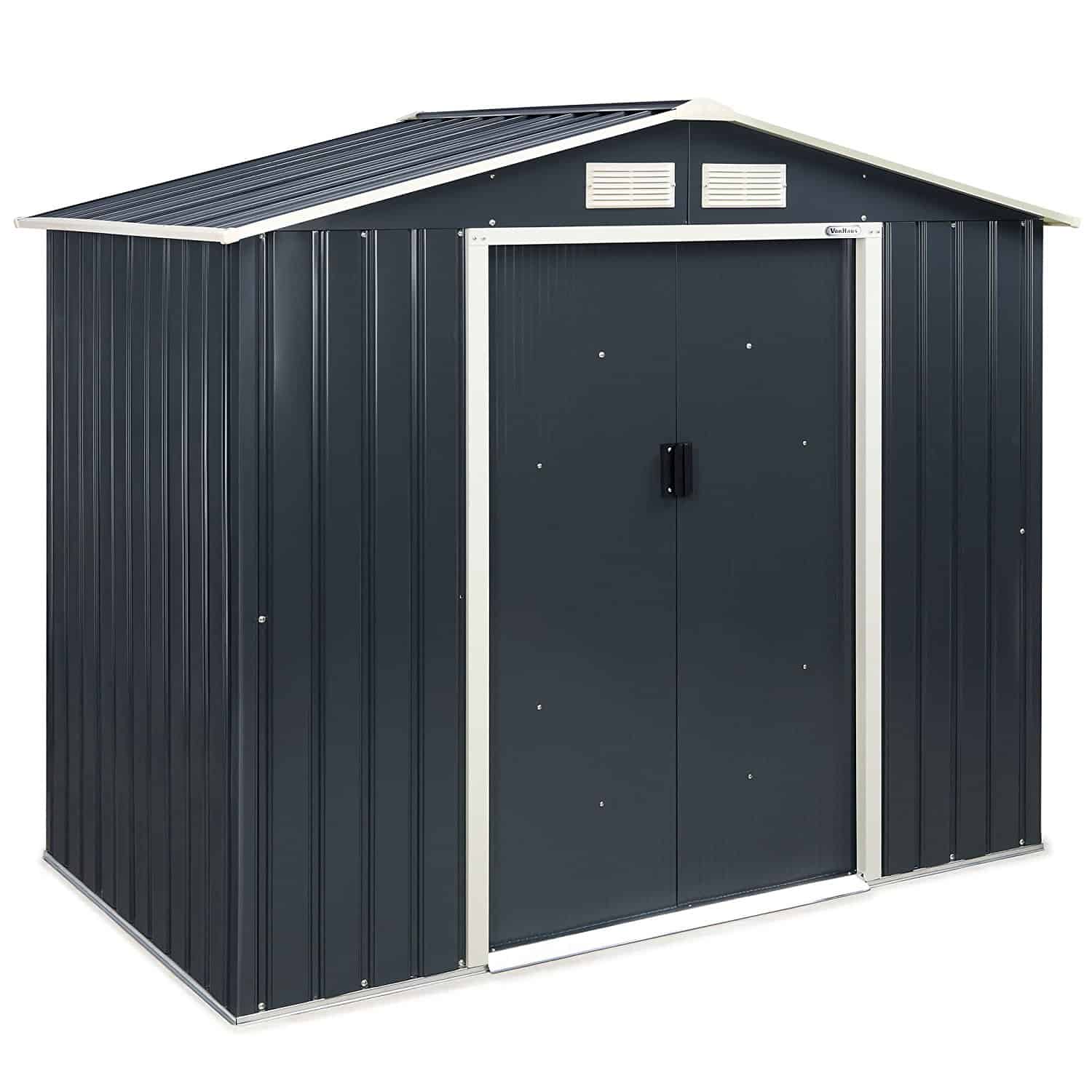 Highlights
This VonHaus 7ft x 4ft metal garden shed is a great sized shed, featuring ventilation, no windows for privacy and security, double opening front doors and a solid weatherproof metal construction.
We like the size offered by this shed, it provides ample room thanks to it's 7ft length without taking over the entire garden thanks to it's 4ft depth. There is plenty of head room with the 6 foot height to the shed.
Another great feature this shed has to offer is the ultra low maintenance. Metal sheds are great for this and this model from VonHaus is a great example. No need to treat or paint them, just a quick rinse down each year should keep it looking as good as new for years to come.
Pricing
At Garden Shed Reviews we don't list pricing of the garden sheds we review for one simple reason. They would be out of date the second we publish the review and we would be constantly modifying our content to try and keep the pricing up to date.
Instead we price the garden sheds and garden buildings we review in a price category and provide you with a link to check the latest prices yourself, you can find this below.
Pros and Cons
Pros
Maintenance free
Air vents to reduce condensation
2 year warranty
Spacious yet small footprint
Cons
Lack of windows or skylights
Strength and Safety
One of the things we have put on the negative list of features to this shed is the lack of light entering the shed. This is something that we argued about here at Garden Shed Reviews. It is a great benefit to have lots of natural light rushing into your shed via Windows or Skylights, similar to the ones offered by the Keter Factor Outdoor Plastic Storage Shed.
However there is also a school of thought that says windows and skylights give opportunistic thieves a chance to take a look at it's contents and also an easy method of entry. So it is something that we often debate as a pro and a con.
The shed can easily have a bracket and padlock attached providing extra security, or you can make use of the hole in the built in handles to attach a padlock with a slightly elongated clasp on it.
One of the main features we like about a metal shed is breaking into it tends to make a great deal of noise, this is something that gives us great piece of mind. If someone has to make a lot of noise to break into our shed they are less likely to do it than say a plastic one that they can simply pop a window and be in quietly and quickly.
Build Quality
VonHaus make a wide variety of products, from power tools to sheds. We have reviewed some of their power tools over at our sister site Tools Review, what we can say about the brand is they make good quality products at budget prices.
This 7ft x 4ft metal garden shed is comparable with much dearer models from brands such as Walton's. Whilst it may be lacking some of the features or brand recognition the build quality is comparable and we really do like what VonHaus have to offer.
Once assembled the Von Haus metal storage shed performs very well in our legendary wobble test. It is a great shed that you get an indication of as soon as you start to lay the parts out on the floor. They don't feel flimsy like you sometimes get with metal sheds. It has re-enforcement bars that help it keep structure and rigidity.
What is the wobble test, I hear you ask? Well from our experience building structures, sheds and outdoor buildings over the years the first thing we do upon completion is give the thing a good wobble. If it can't stand up to our standard wobble test we either did something wrong or the shed isn't fit for purpose. The wind will no doubt give your garden shed more than a good wobble over it's time in your garden.
Once the shed has been built, give it a good wobble by taking a firm hand to each corner of the shed and the centre of it. You will soon see how all the components you have spend time screwing together work together to create a great shed that is a pleasure to use.
Guarantee
VonHaus offer a 2 year guarantee by simply upgrading the warranty online once you have purchased this Metal Garden Storage Shed. It is easy to do and well worth it.
After 2 years you should know if you are going to have issues or not and with it being a metal maintenance free storage shed it should last you well into the future. We are sure you will not need to use the warranty, but should you do you have the piece of mind.
Installation and Assembly
Whether you are building a plastic, metal or wooden shed or garden building you need to plan, prepare, allow plenty of time and be patient.
Building a shed or garden building of any size requires you to get your base level first, lay out all the components of the shed, check them off against the instructions and allowing plenty of time for construction. But there is more to it than that.
We always recommend getting a friend in to lend a hand, provide moral support and make the tea with any shed build. We feel that the most important type of shed for having a friend on hand to build is a metal shed. The reason being before the shed is fully built the panels can blow around a little in the wind, they have pre-drilled holes that need lining up when driving screws and bolts in place and it can be hard to support two panels and fasten them together all at the same time.
The instructions that come with the VonHaus metal garden storage shed are very detailed, a little long winded, but we would rather that than be left scratching our heads on what they meant. If you follow them to the letter you will be up and running in no time.
When assembling any metal shed ensure you have all the ingredients you require first. This includes all of the components and fastenings, these can be checked off against the instructions which comes with a parts list. Next up making sure we have the correct tools required. We recommend the following:
A set of pliers and an adjustable spanner, this helps fasten nuts and bolts.
A knife to open any packaging.
A range of screwdrivers, there is often several sizes of screws.
An impact driver to speed up the process.
A tape measure, this is useful for ensuring that the area you are placing it is big enough.
Speaking of impact drivers, if you are considering getting one for any DIY related task, a good time to pick one up is when you are looking at a project like building a shed, it will speed things up no end. Our sister site Tools Review has a great review looking at the top 5 impact drivers of the moment. Link below.
Dimensions
Width: 4 Feet, 3 Inches / 1.3 Metres
Depth: 6 Feet, 9 Inches / 2.1 Metres
Height: 5 Feet, 2 Inches / 1.6 Metres
Summary
VonHaus is a budget brand, but it isn't budget quality! This shed whilst lacking a little in the height department is a great shed, that stands up to the weather, the wobble test and requires very little maintenance.
This VonHaus metal garden storage shed, provides plenty of storage space with it's 7ft length, without taking over your garden thanks to it's small footprint of being only 4ft deep. We really like this shed and are happy to recommend it.
Ratings
(Visited 193 times, 1 visits today)
7ft x 4ft VonHaus Metal Garden Shed Review
Build Quality

Price

Ease Of Assembly

Will It Last?